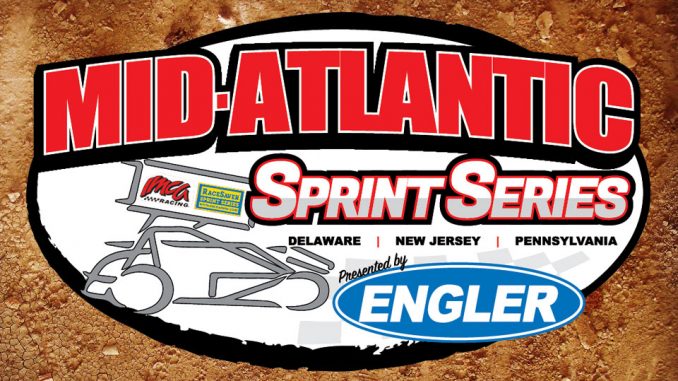 BRIDGEPORT, N.J. – The stage is set. The schedule is official. Teams are anxious to start bat­tling. The IMCA RaceSaver Mid-Atlantic Sprint Series, with the headline sponsor Engler Machine and Tool at the helm, will start its points chase at the fastest track in the east, Bridge­port Speedway in New Jersey, on Sunday, April 30.
MASS Sprints can officially announce their schedule with stops in New Jersey, Pennsylvania and Delaware, at tracks such as Bridgeport, Grandview, Delaware International, Big Diamond, Georgetown, Williams Grove and Susquehanna Speedways.
This diverse schedule will test drivers' skill and stamina as teams battle throughout the season to crown a champion. Drivers like Tim Tanner, Tommy Carberry, Bryant Davis, Stef Carberry, Joe Kay, Eddie Wagner, Jeff Geiges, Craig Pellegrini, David Bonner and Logan Diehl, among oth­ers, intend to fight for the crown.
As the new series on the block, the management team has worked hard to make the first season start off with a splash. Their first task was to make sure the purse stayed true to RaceSaver roots with at least $300 to win and $150 to start for all races.
MASS secured major marketing partners to come on board to help encourage MASS mem­bers to race as often as they can.
Fifty dollars in cash will be paid to all heat race winners with multiple random cash awards. Most race nights will be sponsored by different companies that will offer parts giveaways, cash, fuel, tires, certificates and more.
The best offers are from Engler Machine and Tool and DMI; these companies have given more than $6,500 worth of components to raffle off at the end of the year. Engler is supplying a new injection and DMI is handing out a brand-new XR-3 Bulldog rear end and complete front end kit. Raffle tickets will be distributed on Engler- and DMI-sponsored race nights. Additional tickets will be awarded to teams holding the top five spots in points and members who have raced in three consecutive MASS events.
"We have surpassed over $10,000 in contingency awards for our first season. We owe a lot to our marketing partners that have come on board. The positive support and generosity are amaz­ing," says Jeff Geiges, MASS general manager.
Erika Wagner, MASS marketing and PR manager, says, "We have all put in countless hours to make sure our vision for this series is set in motion."
Included in the ever-growing list of marketing partners are Mach-1 Chassis, Robison Racing Prod­ucts, Thayer Performance Engines and Products, JDL Graphics, Bitner Automotive, Bruce's Auto Body, Professional Design Services LLC, Todd's Performance, Kelly Racing Fuel, Lawrence Colli­sion, A Cut Above the Rest Excavating Maintenance and Trucking, Geiswite Creations, CSI Shocks, and ERK Steering.
2017 Mid-Atlantic Sprint Series schedule – Sunday, April 30 at Bridgeport, N.J., Speedway; Saturday, May 20 at Susquehanna, Pa., Speedway (co-sanctioned with PASS);  Sunday, May 28 at Grandview Speedway, Bechtelsville, Pa.; Friday, June 2 at Big Diamond Speedway, Minersville, Pa.; Saturday, June 10 at Delaware Speedway, Delmar; Saturday, June 17 at Bridge­port Speedway; Saturday, June 24 at Grandview Speedway; Saturday, July 8 at Bridge­port Speedway; Friday, July 21 at Bridgeport Speedway; Saturday, July 29 at Bridge­port Speedway; Friday, Aug. 18 at Williams Grove Speedway, Mechanicsburg, Pa. (co-sanc­tioned with PASS); Saturday, Aug. 26 at Bridgeport Speedway; Friday, Sept. 15 at Grandview Speedway; Friday, Sept. 22 at Bridgeport Speedway.
Non-points races are Saturday, Oct. 14 at Grandview Speedway; Saturday, Oct. 28 at Georgetown, Del., Speedway and Saturday, Nov. 4 at Bridgeport Speedway.