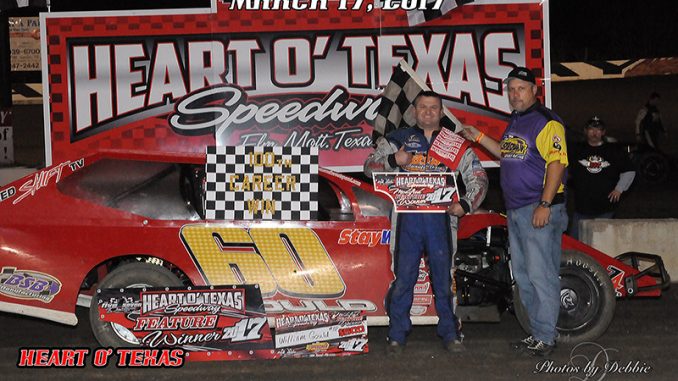 CALERA, Okla. – The weekend that William Gould described as "pretty good" began with his IMCA Modified career 100th feature win and ended with his 101st.
Gould used a late restart to take the lead and the milestone Modified checkers on March 17 at Heart O' Texas Speedway. He raced to the front from eighth starting and won going away in the Kennedale Speedway Park 20-lapper the next night.
"We had a pretty good weekend," said Gould. "I probably had a third-place car Friday but the cau­tion came out with two laps to go. I was lucky to win, period."
"On Saturday, the track was racy and we were able to get our third straight win," he added. Gould had also won the Back The Blue Night feature March 11 at 281 Speedway; his first two checkers of the season came at Abilene Speedway's Ice Breaker.
From Calera, Okla., Gould posted his single-season best 25 feature wins and won the IMCA na­tional championship in 2013. He won 24 times and repeated as the top driver in the Razor Chas­sis South Central Region in 2014.
"With the cost of racing, IMCA is the best option and that's really what we've focused on the last four or five years," said Gould. "You're only as good as your last race but the national champion­ship is always something to be proud of."
His IMCA resume also boasts three track, a state and special series titles.
"I've always wanted to be the best I could be and I know the best I can be today is not going to be good enough tomorrow," Gould said. "If you're not always working to be better, you need to find something else you're passionate about."
He'll be a regular this season at Heart O' Texas and Kennedale, as well as at any "oddball" shows that pop up and will let state, regional and national point races play out as they may.
"If the lights are on and we can race, I feel like that's what we should be doing," Gould said. "They say you have to be consistent to win track championships but I don't care about being consistent unless I'm the most consistent winner. You've got to win races before you win anything else."
Gould is the 48th IMCA Modified driver to reach the 100 win mark. Among the other drivers with triple digit checkers in the division is his uncle Ronny, now 24th on the all-time list with 129 IMCA victories.