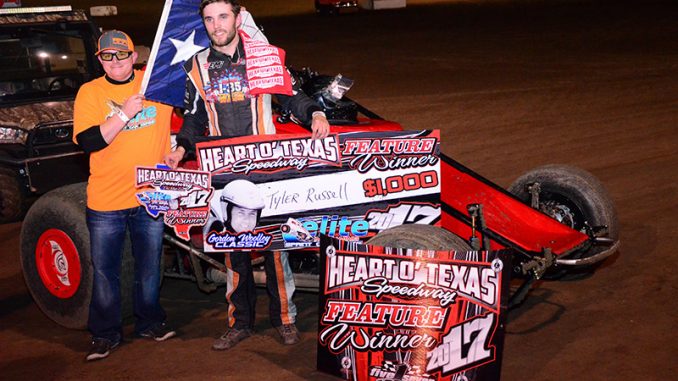 ELM MOTT, Texas (March 10) – Tyler Russell didn't lead the most laps, just the most important one.
Russell was in the right place at the right time when leader Paul White lost the handle in Friday's opening night event for the Elite Non-Wing Sprint Car Series at Heart O' Texas Speedway.
Quick to capitalize on White's white flag lap misfortune, Russell motored by to win HOT's Gordon Woolley Classic feature for IMCA RaceSaver Sprint Cars and $1,000.
"It was nice to have a little luck," said Russell, who battled back and forth with Marcus Thomas while chasing White much of the first 19 circuits. "He threw some real haymakers at me. I was running low, Marcus was running high and we were going to have a good three-way race with Paul on that last lap."
A late yellow added to the drama by setting up a green, white, checkered finish. Thomas, Justin Zimmerman, Johnny Miller and Blake Edwards rounded out the top five. White recovered to finish sixth.
The classic was the first race of the season for Russell, who drew the third starting spot after finishing second to three-time IMCA national champion Miller in their heat race.
"I don't run a lot of non-wing stuff but Heart O' Texas is only about 15 minutes from my house," said Russell, who plans to be a Saturday regular at Kennedale Speedway Park in his third season in the division. "It was really a good race and a good way to start the season."
Woolley, a Waco native, won the IMCA national championship in 1963. He died last month at the age of 94.
Feature results – 1. Tyler Russell; 2. Marcus Thomas; 3. Justin Zimmerman; 4. Johnny Miller; 5. Blake Edwards; 6. Paul White; 7. Bryan Debrick; 8. Robert Vetter; 9. Richard Miller; 10. Jason Gunnels; 11. Randy Henderson; 12. Blake Moore; 13. Dustin Welch; 14. Dale Wester; 15. Chris Clark; 16. Jake Bland; 17. Sam Stockton; 18. Nathan Moore; 19. Junior Jenkins.