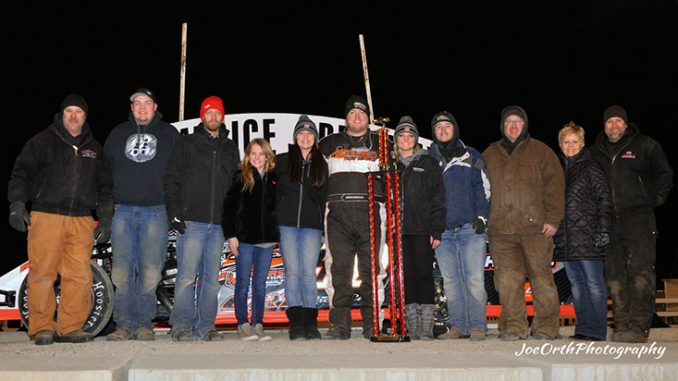 BEATRICE, Neb. (March 10) – After setting the new Spring Nationals feature win record on Thursday, Jordan Grabouski added to it Friday evening.
Grabouski completed his sweep of IMCA Modified features, earning another $2,500 for his career ninth checkers at Beatrice Speedway's traditional season-opening special.
"I had a good car again. Everybody else was kind of running the middle while I ran the bottom," said Grabouski, also a double winner at Spring Nationals in 2011 and 2015. "This was a great way for us to start the season. You always want to win both (features) but there are so many good drivers here that the odds are against it."
Grabouski started eighth, took the lower line to the front and passed fellow heavy hitter Dylan Smith for the lead before midway in the 30-lapper. He was running with lapped traffic before a caution with 12 circuits to go, then set sail on the ensuing restart and couldn't be caught.
Hunter Marriott, Jesse Sobbing, Jimmy Gustin and Kyle Brown completed the top five.
His latest Spring Nationals wins are Grabouski's first two in as many starts this season and the 162nd and 163rd of his IMCA career, tying him with Jay Noteboom for eighth all-time in the division. The two-time and defending national champion was already on the ballot for the upcoming Fast Shafts All-Star Invitational.
"I grew up at Beatrice Speedway," Grabouski said. "Winning Spring Nationals means a lot to me, especially when you look at how many cars they have here every year."
More than 260 cars from 11 states competed over the course of the 24th annual event, moved to Thursday and Friday because of a less than spring-like forecast for the weekend.
Other Friday winners at Beatrice were Justin Addison in the Karl Chevrolet Northern SportMods, Jason See in the IMCA Sunoco Stock Cars, Andrew Borchardt in the IMCA Sunoco Hobby Stocks and Dillon Richards in the Mach-1 Sport Compacts.
Feature Results
Modifieds – 1. Jordan Grabouski, Beatrice; 2. Hunter Marriott, Brookfield, Mo.; 3. Jesse Sobbing, Malvern, Iowa; 4. Jimmy Gustin, Marshalltown, Iowa; 5. Kyle Brown, Madrid, Iowa; 6. Dylan Smith, Osceola; 7. Johnny Saathoff, Beatrice; 8. Ricky Alvarado, Delta, Colo.; 9. Tyler Frye, Belleville, Kan.; 10. Shane Hiatt, Rising City; 11. Eddie Belec, Arvada, Colo.; 12. Curt Lund, Redwood Falls, Minn.; 13. Josh Blumer, Marysville, Kan.; 14. Jay Noteboom, Hinton, Iowa; 15. Clay Money, Penokee, Kan.; 16. Clint Luellen, Minburn, Iowa; 17. Jesse Hoeft, Forest City, Iowa; 18. Josh Most, Red Oak, Iowa; 19. Brandon Beckendorf, Danube, Minn.; 20. Thor Anderson, Doon, Iowa; 21. Clayton Christensen, Spencer, Iowa; 22. Terry Phillips, Springfield, Mo.; 23. Jeremy Frenier, Fort Morgan, Colo.; 24. Jacob Murray, Hartford, Iowa.
Heat winners were Grabouski, Gustin, Sobbing, Frye, Smith, Marriott, Brown and Christensen. "B" feature winners were Phillips, Hoeft, Alvarado and Blumer.
Northern SportMods – 1. Justin Addison, Norfolk; 2. Colby Langenberg, Norfolk; 3. Austin Luellen, Minburn, Iowa; 4. Erik Laudenschlager, Minot, N.D.; 5. Tyler Soppe, Sherrill, Iowa; 6. Jarred Hackler, Juniata; 7. Jesse Skalicky, Fargo, N.D.; 8. Lance Borgman, Beatrice; 9. Josh Sink, Red Oak, Iowa; 10. Taylor Metz, Washington, Kan.; 11. Brian Osantowski, Columbus; 12. Jake McBirnie, Boone; 13. Darin Roepke, LeMars, Iowa; 14. Austin Heacock, Peosta, Iowa; 15. Mary Lenz, Elmwood; 16. Lee Horky, Fairbury; 17. Cole Wayman, Lincoln; 18. Arie Schouten, Blair; 19. Johnathon Logue Jr., Boone, Iowa; 20. Rick Rohr, Beatrice; 21. Carter VanDenBerg, Oskaloosa, Iowa; 22. Joe Schidler, Omaha; 23. Brett Meyer, Lytton, Iowa; 24. John Foreman, Orange City, Iowa.
Heat winners were Soppe, VanDenBerg, Wayman, Luellen, Metz, Langenberg, Laudenschlager and Addison. "B" feature winners were Rohr, Heacock, Borgman and Logue.
Stock Cars ­– 1. Jason See, Albia, Iowa; 2. Jason Kreft, Beatrice; 3. Marcus Fagan, Adair, Iowa; 4. Mike Albertsen, Audubon, Iowa; 5. Alvie Christofferson, St. Joseph, Mo.; 6. Gary Mattison, Lamberton, Minn.; 7. Jay Schmidt, Tama, Iowa; 8. Heath Tulp, Kanahwa, Iowa; 9. Jason Ward, Sioux City, Iowa; 10. Les Lundquist, Sioux City, Iowa; 11. Zach Ankrum, Sioux City, Iowa; 12. Caleb Crenshaw, Fort Worth, Texas; 13. Clay Christian, Avoca, Iowa; 14. Reid Keller, Webster City, Iowa; 15. Dan Nelson, Holmesville; 16. Dustin Schmidt, Fairbury; 17. Damon Murty, Chelsea, Iowa; 18. Jason Schoenberger, Russell, Kan.; 19. Brandon Murphy, Worthington, Minn.; 20. Jed Williams, Shickley; 21. Jason Rogers, Selden, Kan.; 22. Jeremie Gibbs, Sioux City, Iowa; 23. Dan Mackenthun, Hamburg, Minn.; 24. Randy Brands, Boyden, Iowa.
Heat winners were Jay Schmidt, Rogers, Murty and Dustin Schmidt. Fagan won the "B" feature.
Hobby Stocks – 1. Andrew Borchardt, Mason City, Iowa; 2. Roy Armstrong, Beatrice; 3. Luke Ramsey, Bedford, Iowa; 4. Jeff Ware, Columbus; 5. Jesse VanLaningham, Beatrice; 6. Brendon Stigge, Fairbury; 7. Chad Borgman, Beatrice; 8. Chad Lonneman, Adrian, Minn.; 9. Blake Arends, Little Rock, Iowa; 10. Tyler Davis, Fairbury; 11. Cody Williams, Minneapolis, Kan.; 12. Tyler Saathoff, Hickman; 13. Kevin Bruck, Dunlap, Iowa; 14. Jacob Harms, Beatrice; 15. Shawn Slezak, Milligan; 16. Dustin Gulbrandson, Sioux Falls, Iowa; 17. Nick Ronnenbaum, Onaga, Kan.; 18. Brady Bencken, Oakley, Kan.; 19. Chuck Madden Jr., Avoca, Iowa; 20. Greg Gilbert, Osceola, Iowa; 21. Steven Pierce, South Sioux City; 22. Adam Tiernan, Granger, Iowa; 23. Derek Husted, Sioux City, Iowa; 24. Corey Madden, Avoca, Iowa.
Heat winners were Armstrong, Borchardt, Ware and Slezak. "B" feature winners were Ronnenbaum and Bruck.
Sport Compacts – 1. Dillon Richards, Beatrice; 2. Denny Berghahn Jr., Bellevue; 3. Barry Taft, Argyle Iowa; 4. Jake Newsom, Sioux City, Iowa; 5. Cole Krichau, Lincoln; 6. John Martinez, Beatrice; 7. Drake Bohlmeyer, Beatrice; 8. Zach Bohlmeyer, Beatrice; 9. Brooke Fluckiger, Columbus; 10. David Norquest, York; 11. Richard Crow, Grand Island; 12. Nick Lindblad, Beatrice; 13. Kyle Owen, Nebraska City; 14. Tommy Etherton, Lincoln; 15. Bubba Brown, Jackson, Minn.; 16. Dustin Thompson, Villisca, Iowa; 17. Colten Point, Denison, Iowa; 18. Levi Heath, Wilton, Iowa; 19. Andrew Harris, Dakota City; 20. Tyler Thompson, Sioux City, Iowa.
Heat winners were Taft, Fluckiger, Drake Bohlmeyer and Heath. "B" feature winners were Owen and Tyler Thompson.