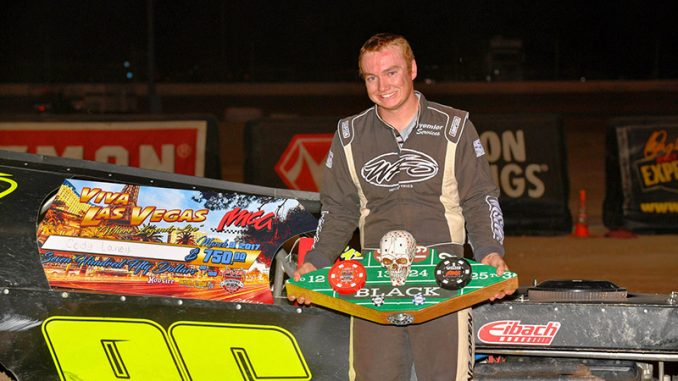 LAS VEGAS, Nev. (March 9) – Cody Laney hit the $750 IMCA Modified jackpot Thursday night, leading start to finish in the Las Vegas Motor Speedway Dirt Track special.
Kyle Heckman started inside Laney on the front row and ended in second. The 20-lapper stayed green to midway and Laney held Heckman in check following another restart with two to go.
The feature was represented by drivers from seven states and played out in front of a full house. Ethan Dotson, Scott Pounds and Logan Drake completed the top five finishers.
Sanctioned Modifieds run at LVMS again on Friday.
Feature results – 1. Cody Laney; 2. Kyle Heckman; 3. Ethan Dotson; 4. Scott Pounds; 5. Logan Drake; 6. Leland Hibdon; 7. Randy Brown; 8. Walter Ball; 9. Randy Thornell; 10. Troy Morris Jr.; 11. John Parmeley; 12. Robert Miller; 13. Don Martin; 14. Blake Thornell; 15. Bill Wilker; 16. Da­vid Breaux; 17. Brenda Kirby; 18. Billy Wormsbecker; 19. Reed Payne; 20. Rob Sanders; 21. Joey Franklin; 22. Justen Yeager; 23. Jake Donnelly; 24. Jason Pike; 25. Wade Taylor.