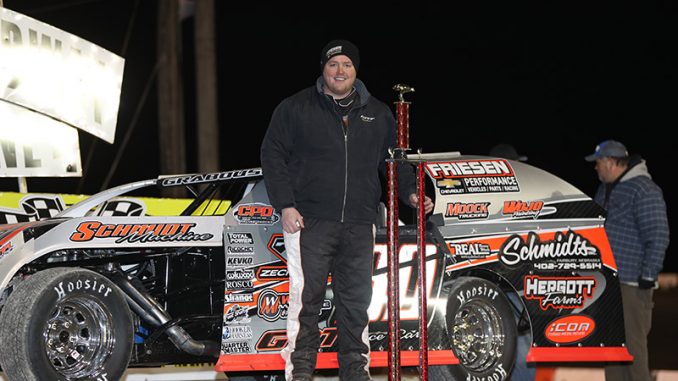 BEATRICE, Neb. (March 9) – The eighth time was every bit as good as the first Thursday night for Jordan Grabouski.
Grabouski won the opening night IMCA Modified feature at his hometown Beatrice Speedway's Spring Nationals for a record eighth time, earning $2,500.
Kyle Brown, 13th starting Hunter Marriott, Jacob Murray and hard charger Dylan Smith rounded out the top five. Smith, a Spring Nationals winner in 2013, had started 18th.
Grabouski started inside the second row, passing Brown and Anthony Roth on his way to the front early on. He wasn't challenged as the 30-lapper wound down.
"We had a lot of work to do before tonight. We've got a brand new GRT and being able to win tonight made all the late nights in the shop worth it," said Grabouski, the defending and two-time IMCA national champion and already a 2017 Fast Shafts All-Star Invitational ballot candidate.
"I used to go to Spring Nationals every year when I was growing up and as a kid can remember drivers coming from all over to race here," he added. "It's kind of crazy that I could win this eight times. It hasn't sunk in yet."
Grabouski's career-first Spring Nationals victory came in 2008.
Two hundred and twenty-nine cars, including 75 Modifieds, from 10 states competed Thursday at Beatrice. The 24th annual Spring Nationals was moved up a day because of the cold weekend forecast
Also Thursday night, Lance Borgman was the Karl Chevrolet Northern SportMod winner, Damon Murty topped the IMCA Sunoco Stock Car feature and Brady Bencken paced the IMCA Sunoco Hobby Stocks.
Modifieds, Stock Cars, Northern SportMods, Hobby Stocks and Mach-1 Sport Compacts are on the Friday card. Hot laps are at 5 p.m. and racing starts at 6 p.m.
Feature Results
Modifieds – 1. Jordan Grabouski, Beatrice; 2. Kyle Brown, Madrid, Iowa; 3. Hunter Marriott, Brookfield, Mo.; 4. Jacob Murray, Hartford, Iowa; 5. Dylan Smith, Osceola; 6. Ricky Alvarado, Delta, Colo.; 7. Jesse Sobbing, Malvern, Iowa; 8. Johnny Saathoff, Beatrice; 9. Chris Abelson, Sioux City, Iowa; 10. Eddie Belec, Arvada, Colo.; 11. Anthony Roth, Columbus; 12. Tyler Frye, Belleville, Kan.; 13. Clint Luellen, Minburn, Iowa; 14. Jay Noteboom, Hinton, Iowa; 15. Shane Hi­att, Rising City; 16. Josh Gilman, Earlham, Iowa; 17. Adam Armstrong, Beatrice; 18. Tyler Hall, Fertile, Minn.; 19. Mike Greseth, Harwood, N.D.; 20. Bob Moore, Sioux City, Iowa; 21. Benji La­Crosse, Green Bay, Wis.; 22. Tim Watts, Beloit, Kan.; 23. Jimmy Gustin, Marshalltown, Iowa; 24. Terry Phillips, Springfield, Mo.
Heat winners were Roth, Murray, Armstrong, Phillips, Abelson, Brown, Grabouski and Alvarado. "B" feature winners were Noteboom, Smith, LaCrosse and Sobbing.
Northern SportMods – 1. Lance Borgman, Beatrice; 2. Justin Addison, Norfolk; 3. Colby Langenberg, Norfolk; 4. John Logue Jr., Boone, Iowa; 5. Carter VanDenberg, Oskaloosa, Iowa; 6. Brian Osantowski, Columbus; 7. Jake McBirnie, Boone, Iowa; 8. Benji Legg, Beatrice; 9. Jesse Skalicky, Fargo, N.D.; 10. Mike Tanner, Smithville, Mo.; 11. Arie Schouten, Blair; 12. Lee Horky, Fairbury; 13. Todd Boulware, Jefferson, S.D.; 14. Ethan Braaksma, Newton, Iowa; 15. Jason An­drews, Estherville, Iowa; 16. Nelson Vollbrecht, Stanton; 17. Jarred Hackler, Juniata; 18. Matt Andrews, Seward; 19. Taylor Metz, Washington, Kan.; 20. Brett Meyer, Lytton; 21. Tyler Watts, Beloit, Kan.; 22. Tyler Soppe, Sherrill, Iowa; 23. Austin Heacock, Peosta, Iowa; 24. Austin Luellen, Minburn, Iowa.
Heat winners were Schouten, Watts, VanDenBerg, Addison, Borgman, Vollbrecht, Legg and Osan­towski. "B" feature winners were Braaksma, Metz, Heacock and Tanner.
Stock Cars – 1. Damon Murty, Chelsea, Iowa; 2. Dustin Schmidt, Fairbury; 3. Randy Brands, Boyden, Iowa; Jay Schmidt, Tama, Iowa; 5. Dan Nelson, Holmesville; 6. Jed Williams, Shickley; 7. Caleb Crenshaw, Fort Worth, Texas; 8. Shane Stutzman, Milford; 9. Dan Mackenthun, Ham­burg, Minn.; 10. Jason See, Albia, Iowa; 11. Heath Tulp, Kanawha, Iowa; 12. Alvie Christofferson, St. Joseph, Mo.; 13. Marcus Fagan, Adair, Iowa; 14. Tyler Phelps, Beatrice; 15. John Meyer, Odell; 16. Jason Kreft, Beatrice; 17. Gary Mattison, Lamberton, Minn.; 18. Jason Schoenberger, Russell, Kan.; 19. Les Lundquist, Sioux City, Iowa; 20. Mike Albertsen, Audubon, Iowa; 21. Shawn Primrose, Norfolk; 22. Jason Rogers, Selden, Kan.; 23. Nathan Chukuske, Welcome, Minn.; 24. Jason Ward, Sioux City, Iowa.
Heat winners were Brands, Nelson, Lundquist and Murty. Mackenthun won the "B" feature.
Hobby Stocks – 1. Brady Bencken, Oakley, Kan.; 2. Damon Richards, David City; 3. Brendon Stigge, Fairbury; 4. Andrew Borchardt, Mason City, Iowa; 5. Luke Ramsey, Bedford, Iowa; 6. Jeff Ware, Columbus; 7. Nick Ronnenbaum, Onaga, Kan.; 8. Jacob Harms, Beatrice; 9. Corey Mad­den, Avoca, Iowa; 10. Mark Saathoff, Beatrice; 11. Chad Borgman, Beatrice; 12. Taylor Huss, Fairbury; 13. Blake Arends, Little Rock, Iowa; 14. Chad Lonneman, Adrian, Minn.; 15. Greg Gil­bert, Osceola, Iowa; 16. Jeff Watts, Beatrice; 17. Aaron Shearn, Sioux City, Iowa; 18. Tyler Davis, Fairbury; 19. Chuck Madden Jr., Avoca, Iowa; 20. Brandon Wergin, Milford, Neb.; 21. Kevin Bruck, Dunlap, Iowa; 22. Jesse VanLaningham, Beatrice; 23. Roy Armstrong, Beatrice; 24. Nate DeSive, Oneill, Neb.
Heat winners were Stigge, Arends, Borchardt, Gilbert, Ronnenbaum and VanLaningham. "B" fea­ture winners were Davis, Richards and Ramsey.