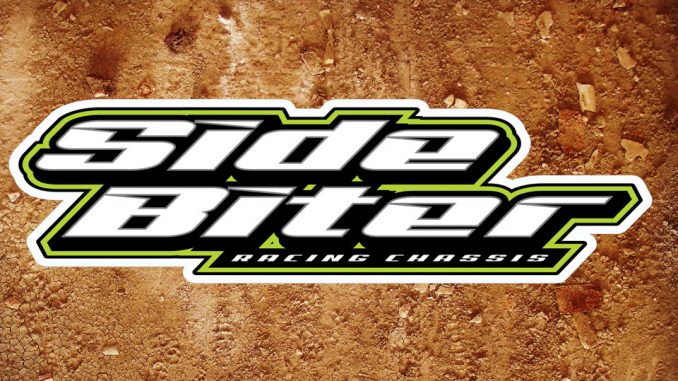 CLEAR LAKE, Iowa – A chassis builder nestled in the heart of the region is the new title sponsor for IMCA's North Central Region for Modifieds.
Sidebiter Chassis, owned by long-time driver Ryan Ruter, steps up to the new sponsorship role and provides part of the $6,000 point fund to be paid to top 10 drivers in the region that includes tracks in Illinois, Iowa, Minnesota, North Dakota, Saskatchewan, South Dakota and Wisconsin.
"This is something we've been interested in doing for a number of years. When we got the oppor­tunity to become a regional title sponsor, we jumped on it," Ruter said. "It's a great way for us to support IMCA racers driving all makes of chassis while getting our name out more."
Sidebiter is recently relocated from a shop at Ruter's Kanawha farm home to a 100×100 square foot building in Clear Lake. The newly-constructed facility includes a showroom, shock repair cen­ter and parts warehouse as well as assembly and custom fabrication areas.
"There's room to expand here in the next five years. There are a lot of Modified drivers in this area and we're here to service all makes and models of chassis," said Ruter. "We've already got a really good parts inventory and if there's something a driver needs that we don't have, we can get it for them."
Ruter's racing career started "back in the day" in the 'B' mod class. He moved up to a Modified 19 years ago and has been building cars himself for a dozen years.
"I like being able to race at a lot of different tracks," said Ruter, a veteran of the Kupper Chevrolet Dakota Classic Tour, Super Nationals, the Duel In the Desert and numerous forays around the Midwest. "There are IMCA tracks all over and you can race a lot of different nights of the week."
An open house at Sidebiter's new home will be held later this spring.
The champion of the Sidebiter Chassis North Central Region earns $2,500, with $1,250 for se­cond, $625 for third, $325 for fourth, $300 for fifth and $200 for sixth through 10th.
Drivers must display two Sidebiter Chassis decals on their race car to be eligible for point fund shares. Those checks will be presented during the national awards banquet in November, or mailed beginning the next week from the IMCA home office.
More information about Sidebiter chassis and services is available by calling 641 357-1600 and at the www.ruterracing.com website.
"Adding Sidebiter Chassis as our North Central Region title sponsor is a result of the growth of not only IMCA in this region but Side Biter with the construction of their new facility," IMCA Marketing Director Kevin Yoder observed. "They've positioned themselves as one of the top chassis builders not only in the Midwest, but the entire country, and one we're confident to endorse to anyone."