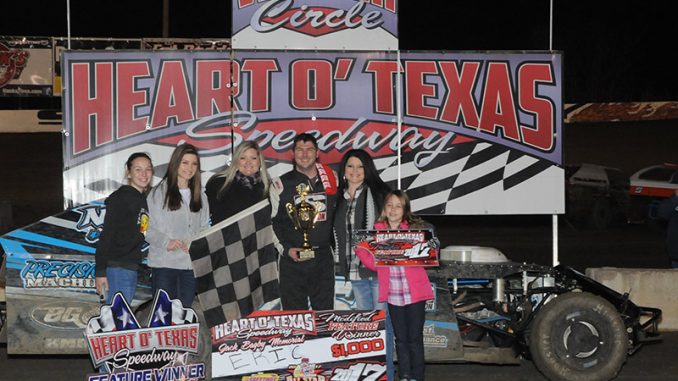 WACO, Texas (March 3) – Prior to Friday night, Eric Tomlinson had never won an opening night feature.
He ended that streak and earned $1,000 along with the IMCA Modified checkers in this year's Heart O' Texas Speedway lidlifter, adding his name to the Fast Shafts All-Star Invitational ballot with the Jack Bagby Memorial victory.
"We've got one win in one race and we're on the All-Star ballot. It's a heck of a way to start the season," Tomlinson said. "I'd never won on opening night and never imagined I'd win the Jack Bagby Memorial."
Tomlinson drew the pole start after finishing third in his heat and led all 20 laps. He kept William Gould and Chris Elliott at bay following a restart with two laps to go and beat Gould across the stripe by four car lengths.
Elliott, Kevin Green and David Goode completed the top five.
Justin Nabors also parlayed a front row start into a $1,000 feature win, beating Chris Cogburn and Gabe Tucker to the Scoggin-Dickey Parts Center Southern SportMod finish.
Westin Abbey led Dillon Smith and Wade White across the stripe in the IMCA Sunoco Stock Car feature and Kevin Smith was the IMCA Sunoco Hobby Stock winner, in front of Hayden Wade and Damian Snyder.
Feature Results
Modifieds – 1. Eric Tomlinson; 2. William Gould; 3. Chris Elliott; 4. Kevin Green; 5. David Goode; 6. Dwayne Grantham; 7. Brian Walker; 8. Fred Wojtek; 9. Josh McGaha; 10. Jerry Frydrych; 11. Raymond McSpadden; 12. Robert Scrivner; 13. Justin Radcliff; 14. Justin McCoy; 15. C.J. Gray; 16. Brandon Hood; 17. Jeff Hoegh; 18. William McGuire.
Southern SportMods – 1. Justin Nabors; 2. Chris Cogburn; 3. Gabe Tucker; 4. Sid Kiphen; 5. James Skinner; 6. Rodney White; 7. Garett Rawls; 8. Jake Upchurch; 9. Wayne Melton; 10. Jeff Shepperd; 11. Ronnie Bell; 12. D.L. Wilson; 13. James Hanusch; 14. Dale Melton Jr.; 15. Casey Brunson; 16. Tom Grothues; 17. T.J. Green; 18. Justin Shaw; 19. Carlton Brunson; 20. Gene Burnett; 21. James Guyton.
Stock Cars – 1. Westin Abbey; 2. Dillon Smith; 3. Wade White; 4. Ronnie Warren; 5. Mike McCarthy; 6. Travis Norman; 7. A.J. Dancer; 8. Brian Schoenbaum; 9. Andy Roller; 10. Robert Black; 11. John Frydrych; 12. Kenny Merritt.
Hobby Stocks – 1. Kevin Smith; 2. Hayden Wade; 3. Damian Snyder; 4. Joe Williams; 5. Justin Webre; 6. Joshua Kimball; 7. Jordan Kornegay; 8. Shannon Dulock; 9. Wesley Warren.