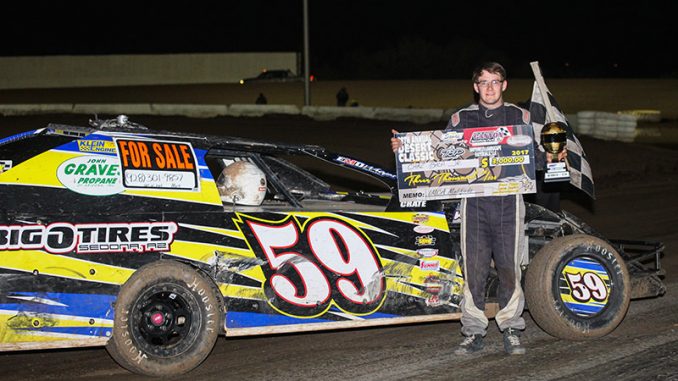 By Tony Steele
PEORIA, Ariz. (Feb. 24-25) – The 29th annual IMCA Desert Classic at Canyon Speedway Park is in the record book and Chaz Baca Jr. wrote his own chapter with the win in the 40-lap headliner for IMCA Modifieds.
Baca powered his way from dead last in his heat race early in the night to victory lane in the $3,000 to win main event.
"I've won at Canyon multiple times in a mod-lite but this is the first time in Modified," Baca said following the top paying checkers of his career in the sanctioned class. "We had a caution with four to go and I was nervous because I knew Cody Laney was right behind me and Hunter Marriott was coming up quick."
After a post race tech violation had gotten Baca disqualified from his second finishing position in Friday qualifying, he started last in his heat race and 13th in the feature field. Picking off cars one by one, Baca set his sights on pole starter Brian Schultz.
Schultz was strong early on, before the frontrunners caught up with the back of the field. The leader's setup seemed to fade after halfway point as Schultz passed the lead off to Baca in the late stages of the race.
Baca was not seriously challenged the remainder of the way and made his way to the winner's circle. Laney finished in the runner-up spot while Schultz took home third after leading the majority of the race. Marriott had restarted at the back after getting sideways to miss a spinning car and charged all the way back to fourth while Marlyn Seidler rounded out the top five.
Baca, piloting a Mark Stewart-owned ride, was already on the Fast Shafts All-Star Invitational ballot. The win was also his first of 2017.
"With 40 laps, I thought a top five finish would be great. Winning was feasible depending on the track," he said. "As it became multi-laned I became more confident. It was nerve wracking there at the end because I didn't know for sure where anybody else was but as it turned out I was able to win by about half a straightaway."
Jason George rebounded to take the Karl Chevrolet Northern SportMod race while George Fronsman dominated en route to sweeping the IMCA Sunoco Stock Cars. Joe Vlasity checked in for night two and checked out on the field in the IMCA Sunoco Hobby Stocks.  
Feature Results  
Modifieds – 1. Chaz Baca Jr.; 2. Cody Laney; 3. Brian Schultz; 4. Hunter Marriott; 5. Marlyn Seidler; 6. Spencer Wilson; 7. Grey Ferrando; 8. Austin Kuehl; 9. Bryson Curry; 10. Steve Johnson; 11. Eric Center; 12. Garth Dushanek; 13. Bubba Stafford; 14. Michael Dotson; 15. Don Hagen; 16. Kenny Gill; 17. Jeff Stafford Sr.; 18. Kelsie Foley; 19. John Parmeley; 20. David Ven­nard; 21. Guy Norton; 22. Ryan Roath; 23. Cory Sauerman.  
Northern SportMods – 1. Jason George; 2. Dale Irby; 3. Mark Madrid; 4. Chris Caldwell; 5. Jim MacNeil; 6. David Harrington; 7. Dale Kunz; 8. Dennis Gates; 9. Nick Langer; 10. J.C. Parmeley; 11. Brandyn Johnson; 12. Billy Ayers Jr.; 13. Steve Duffy; 14. Ron Poe.  
Stock Cars – 1. George Fronsman; 2. Cody Center; 3. Tate Johnson; 4. Brent Hartmann; 5. Jason Suchta; 6. Glen Hatlestad; 7. Matt Short. 
Hobby Stocks – 1. Joe Vlasity; 2. Merle Zachrison; 3. Dean Zachrison; 4. Joe Peterson; 5. Paul O'Connor; 6. Kyle Cardinal; 7. David Kendall; 8. John Barron; 9. Ashley Stafford; 10. Bradley Stafford.