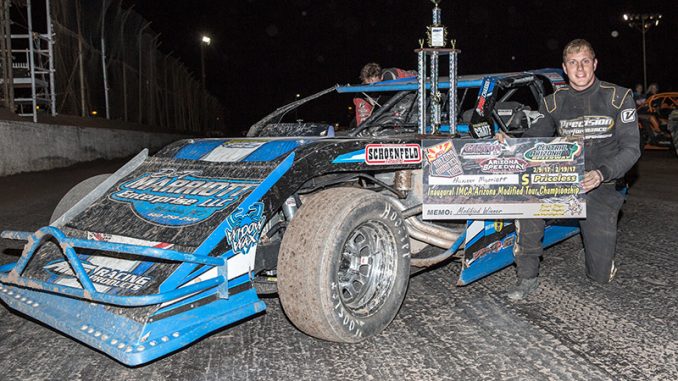 By Mike Spieker
PEORIA, Ariz. (Feb. 17) – Hunter Marriott claimed the inaugural Arizona IMCA Modified Tour champi­onship in style Friday night as he topped a 29-car field to win the 25-lap series finale.
Marriott drove his way from the fourth starting position to capture his first $1,250 feature win of the tour. He was already on the ballot for the upcoming Fast Shafts All-Star Invitational.
"I really liked the car. We had some good runs and we've been trying hard all week. The races and tracks have been tough but we prevailed on this one," said Marriott in victory lane. "I'm just thankful to be here."
Marriott used the second attempt at a lap nine restart to drive around the outside of Curt Lund to take the lead down the back straightaway. Once out front, Marriott withstood a couple late race restarts, holding off Cody Laney and Lucas Schott, to become the sixth different winner in as many races.
"I saw Lucas get up [to the outside] once before and [Lund] slowed up going into turn one too much," said Marriott. "I was able to get down and take his line away and I figured after that I needed to back to the bottom and it worked out."
On the first lap nine restart, the leaderboard was shaken up as Jimmy Gustin, Lund, and Jeff Tay­lor went three wide for the lead. As they exited turn four, Gustin was spun in front of the field, which caused several cars to get stacked up in the incident. As a result, Gustin was among five other drivers who were unable to continue.
Laney was one of the big movers, advancing nine positions to finish second after starting 11th. After making his way into the top three on lap 12, Laney rode in the tire tracks of Schott, trying to size him up.
"I got to third and I saw Lucas was following [Marriott]," said Laney. "I was pretty good around the bottom and was able to get by Lucas. I could reel in Marriott a little bit, but then the corner started getting slick and I kept messing up my entry. But we had a really good car coming from 11th."
Schott, Lund and Taylor rounded out the top five.
Marriott claimed the points championship by 25 markers over Spencer Wilson, followed by Schott.
Robbie Conway wheeled his way from 14th to take the lead at the halfway point of the 18-lap Karl Chevrolet Northern SportMod feature. Conway used lapped traffic to his advantage as he got by Miles Morris to take the lead out of turn two. Conway went on to take the win by over six seconds over Morris Morris.
Brady Bjella was disqualified in post-race tech. That handed the point championship over to Mor­ris.
The IMCA Sunoco Stock Car main event was dominated once again by Brendon LaBatte. The Saskatchewan driver led all 20 laps en route to his second consecutive feature win. He was fol­lowed to the line by Aaron Spangler, Troy Jerovetz, Jason Rogers and Elijah Zevenbergen.
With his fourth place finish, Rogers secured the Stock Car points title.
With the high probability of precipitation forecasted for the rest of the weekend, Arizona Modified Tour officials elected to scratch the remaining two rounds scheduled at Central Arizona Speedway.
Feature Results
Modifieds – 1. Hunter Marriott; 2. Cody Laney; 3. Lucas Schott; 4. Curt Lund; 5. Jeff Taylor; 6. Chase Allen; 7. Ethan Dotson; 8. Jason Wolla; 9. Josh McGaha; 10. Spencer Wilson; 11. Bryson Curry; 12. Ryan Roath; 13. Shawn Strand; 14. Jesse Williamson; 15. Paul Stone; 16. Tripp Gay­lord; 17. Bricen James; 18. Ryan Gaylord; 19. Joey Price; 20. Trent Guest; 21. Norman Uptain Jr.; 22. Austin Kuehl; 23. Jason Briese; 24. Jimmy Gustin; 25. Troy Gemmill; 26. Jesse Sobbing; 27. Justin Zeitner; 28: Scott Sluka; 29. Tim Ward.
Northern SportMods – 1. Robbie Conway; 2. Miles Morris; 3. Eric Folstad; 4. Jason George; 5. Austin Kiefer; 6. Dwayne Melvin; 7. Ron Poe; 8. Kyle Smith; 9. Dylan Schriner; 10. Mike Tanner; 11. Mike Goodwin; 12. Dale Kunz; 13. Dennis Gates; 14. Cory Hemphill; 15. Terry Bahr; 16. Brian Roode; 17. Mark Madrid; 18. David Harrington; 19. Tommy Wyman; 20. Brady Bjella.
Stock Cars – 1. Brendon LaBatte; 2. Aaron Spangler; 3. Troy Jerovetz; 4. Jason Rogers; 5. Elijah Zev­enbergen; 6. George Fronsman; 7. Cody Center; 8. Andrew Altenburg; 9. Race Fisher; 10. Tony Hill; 11. Manny Baldiviez; 12. Joe O'Bryan; 13. Jay Jensen; 14. Richard Veralrud; 15. Larry Brigner; 16. Jody York; 17. Lonnie Foss.