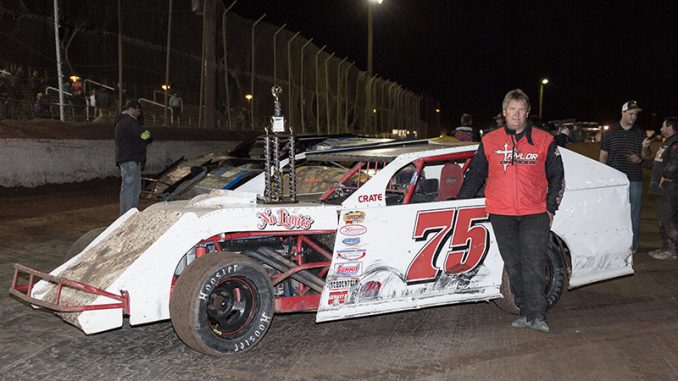 By Mike Spieker
PEORIA, Ariz. (Feb. 16) – The outstanding parity of the inaugural Arizona IMCA Modified Tour continued Thursday at Canyon Speedway Park as Spencer Wilson became the fifth different winner in as many nights.
Seventy-one IMCA Modifieds were checked in for the first of two nights at the Peoria, Ariz. one-third mile dirt oval. Wilson netted $1,250 for the victory along with  spot on the Fast Shafts All-Star Invitational ballot.
After getting by Ryan Roath on lap two, Wilson took command of the race lead and set sail. At the midpoint of the race, Wilson had amassed a three second advantage over second-running Jimmy Gustin and looked to have the race in hand.
However, Wilson encountered heavy traffic in the latter stages of the race, which allowed Gustin to erase Wilson's huge lead in a matter of a few laps.
With Gustin all over his rear bumper in the closing laps, Wilson made a quick and definitive move to get by a lapped car, which ultimately sealed the win for him.
"I knew I had to hold the bottom," Wilson said from victory lane. "To beat the best in the business, it feels great."
Wilson left the door open for Gustin on a few occasions while the lead duo battled in lapped traffic. Each time Gustin went for it, but he was never able to clear Wilson to take the lead. With eight to go, Gustin's best opportunity to get by Wilson came out of turn four when Gustin pulled even with the Minot, N.D. driver. However, they made fairly significant contact as they fought for the same real estate down the front stretch and Wilson maintained the point.
"I got underneath [Wilson] a couple times. That last time I just didn't see his blinker and we ended up second," Gustin said. "But I finally beat Hunter [Marriott]. That's what I've been wanting to do all weekend."
Marriott, Josh McGaha, and Jeff James rounded out the top five.
Andrew Altenburg jumped out to the lead to begin the IMCA Sunoco Stock Car main event and paced the field until lap nine. That's when Saskatchewan driver Brendon LaBatte passed Altenburg to take over the point. LaBatte led the final 11 laps to take the win over Troy Jerovetz and Jason Rodgers.
Cory Hemphill turned in a stout performance in the Karl Chevrolet Northern SportMod main event. Hemphill took the lead from Jason George on lap four before opening up a comfortable advantage over the field.
He withstood a late charge from Robbie Conway, fresh off a victory at Arizona Speedway on Tuesday night, and went on to take the win. Brady Bjella was third.
Feature Results:
Modifieds – 1. Spencer Wilson; 2. Jimmy Gustin; 3. Hunter Marriott; 4. Josh McGaha; 5. Jeff James; 6. Chase Allen; 7. Ryan Roath; 8. Curt Lund; 9. Shawn Strand; 10; Mike Wedelstadt; 11. Chaz Baca Jr.; 12. Tim Ward; 13. Jesse Sobbing; 14. Lucas Schott; 15. Ethan Dotson; 16. Jesse Williamson; 17. Bob Moore; 18. Scott Sluka; 19. Ryan Gaylord; 20. Garrett Funk; 21. Jerry Schram; 22. Sean Jerovetz; 23. Casey Skyberg; 24. Trent Guest; 25. Zack Madrid; 26; Tyler Peterson; 27. Brendon Gemmill; 28. Clint Luellen; 29. Troy Gemmill.
Stock Cars – 1. Brendon LaBatte; 2. Troy Jerovetz; 3. Jason Rogers; 4. Race Fisher; 5. Elijah Zevenbergen;  6. Cody Center; 7. Aaron Spangler; 8. Tony Hill; 9. Larry Brigner; 10. George Fronsman; 11. Jay Johnson; 12. Jody York; 13. Andrew Altenburg; 14. Richard Veralrud; 15. Lonnie Foss; 16. Manny Baldiviez; 17. Joe O'Bryan.
Northern SportMods – 1. Cory Hemphill; 2. Robbie Conway; 3. Brady Bjella; 4. Miles Morris; 5. Austin Kiefer; 6. Mark Madrid; 7. Tom Wyman; 8. Ron Poe; 9. Eric Folstad; 10. Terry Bahr; 11. Dennis Gates; 12. Kyle Smith; 13. Dwayne Melvin; 14. Jason George; 15. Brian Roode; 16. Dale Kunz; 17. Mike Tanner; 18; Dylan Schriner.