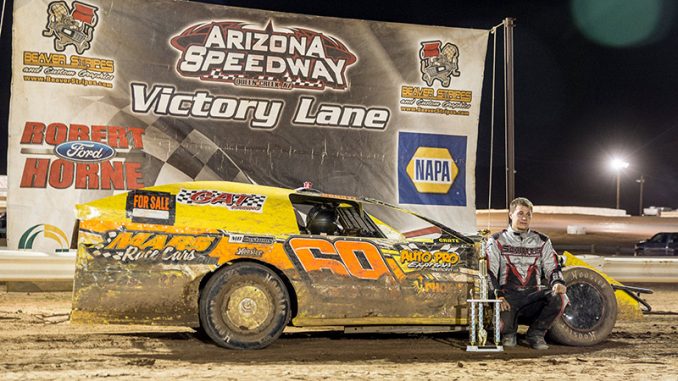 By Mike Spieker
QUEEN CREEK, Ariz. (Feb. 14) – Lucas Schott found victory lane Tuesday at Arizona Speedway to become the fourth different Modified winner in as many nights of the inaugural Arizona IMCA Modified Tour.
Front row starter Troy Gemmill shot out to a comfortable advantage and looked as though he had the car to beat early on.  The first caution fell on lap seven and Schott put pressure on Gemmill as the pack charged into turn one on the restart.
On the following circuit, Schott completed a big slide job on Gemmill in turn two to momentarily take the lead, but Gemmill countered with a crossover move to regain the point.
Lap nine proved to be disastrous for Gemmill as his no. 721 machine slowed to a stop. As a result, Schott inherited the lead for the ensuing restart.
Once the race resumed, Schott was untouchable as he drove to the $1,250 win and Fast Shafts All-Star Invitational berth by a comfortable margin.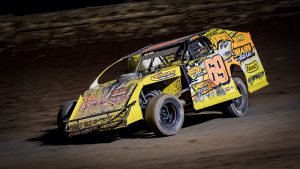 Thirteenth starting Chase Allen, Jeremy Thornton, Jimmy Gustin and Jeff Taylor completed the top five.
The IMCA Sunoco Stock Car main saw a last-lap pass for the win as Jason Rodgers edged George Fronsman by two one hundreth's of a second for the victory.
Rodgers, who came from fourth, led only one lap the entire feature; the last. Aaron Spangler was third.
Robbie Conway prevailed in an equally dramatic Karl Chevrolet Northern SportMod feature.
Conway made his bid for the lead with three circuits to go but just as he did so, the caution flew for a spin that occurred right in front of the leaders. Fred Ryland led the field to the green-white-checkered restart and immediately jumped out to a three car length lead.
As they came to the white flag, Conway pulled even with Ryland out of turn four and led by a half car length at the line. Conway completed the pass in turn one and drove away from Ryland on the final lap to steal the win.
Racing continues tonight (Thursday) at Canyon Speedway Park. All tour events are broadcast on IMCA.TV.
Feature Results
Modifieds – 1. Lucas Schott; 2. Chase Allen; 3. Jeremy Thornton; 4. Jimmy Gustin; 5. Jeff Taylor; 6. Don Earven; 7. Tyler Peterson; 8. Jeff James; 9. Bob Moore; 10. Spencer Wilson; 11. Hunter Marriott; 12. Jesse Sobbing; 13. Corey Sample; 14. Sean Jerovetz; 15. Bill Brack; 16. Mark Stewart; 17. Casey Skyberg; 18. Kelsie Foley; 19. R. Royce Henry; 20. Terry Haven; 21. Tim Ward; 22. Troy Gemmill; 23. Ross Statham; 24. Eric Center; 25. Curt Lund; 26. Ryan Gaylord; 27. Marlyn Siedler; 28. Justin Zeitner.
Stock Cars – 1. Jason Rogers; 2. George Fronsman; 3. Aaron Spangler; 4. Elijah Zevenbergen; 5. Brendon LaBatte; 6. Troy Jerovetz; 7. Manny Baldiviez; 8. Race Fisher; 9. Larry Brigner; 10. Andrew Altenburg; 11. Cody Center; 12. Tony Hill; 13. Steve Kihle; 14. Joe O'Bryan; 15. Michael Brigner; 16. Darryn Werkmeister; 17. Jody York; 18. Kevin Parker; 19. Richard Veralrud; 20. John Drake; 21. Matt Hokanson; 22. Joey McCullough; 23. Austin Ward.
Northern SportMods – 1. Robbie Conway; 2. Fred Ryland; 3. Austin Kiefer; 4. Eric Folstad; 5. Brian Roode; 6. Jason George; 7. Cory Hemphill; 8. Miles Morris; 9. Kyle Smith; 10. Dwayne Melvin; 11. Chris Caldwell; 12. Dylan Ickes; 13. Dennis Gates; 14. Zack Tate; 15. Brady Bjella; 16. Tom Wyman; 17. Dale Kunz; 18. James Meile; 19. Tyler Mecl; 20. Dale Irby; 21. Jesse Johnson; 22. Mike Tanner; 23. Andrew Clower.