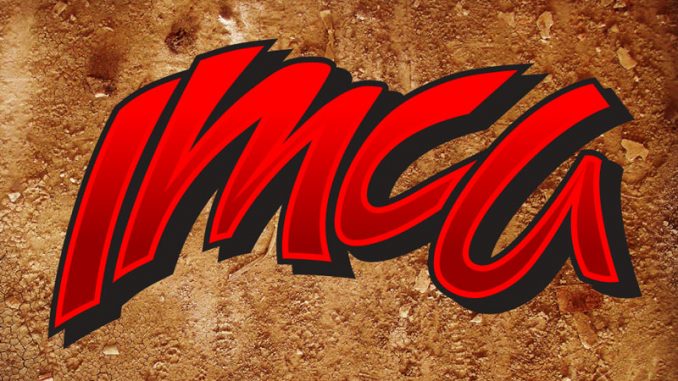 VINTON, Iowa – IMCA's Sport Compact division has a national decal program of its own beginning this season while Big Daddy Race Cars and Summit Racing Equipment both have new roles in backing the Hobby Stocks starting in 2017.
While Sport Compact drivers have been receiving decal packets, this season will be the first where they are required to provide proof of decal placement to become eligible for national point fund shares.
In addition to Speedway Motors and division title sponsor Mach-1, Sport Compact drivers must display Karl Performance and DynaBatt and Screamin' Demon – both Performance Distributors brands – decals.
"All these decals were sent to Sport Compact drivers last year but this season will be the first where they have a specific location to put them on their race car," IMCA Marketing Director Kevin Yoder noted. "Hopefully this will alleviate the number of questions drivers have had about decal placement. They must also send in photos proving decal placement, like all other divisions, by Aug. 1 to be eligible for shares of their national point funds. The same deadline applies for Modified, Stock Car, SportMod and Hobby Stock drivers to make themselves eligible for national and/or regional point fund shares."
Big Daddy steps up as new title sponsor of the Southern Region, while continuing as title sponsor of the Northern Region for Hobby Stocks.
Summit has a new role in the national Hobby Stock decal program, along with Speedway Motors, Big Daddy Race Cars, Performance Bodies, Karl Performance and division title sponsor Sunoco Race Fuels.
Decal programs for Stock Cars and both SportMod divisions remain unchanged.
EngineQuest returns as title sponsor of both Northern and Southern Stock Car regions. Speedway Motors, Holley, Intercomp, Fast Shafts, MSD and division title sponsor Sunoco complete the program.
Karl Chevrolet returns as title sponsor for the Northern SportMods and Scoggin-Dickey Parts Center is back as title sponsor for the Southern SportMods. Drivers in both divisions must display Karl and SDPC decals on their race cars, plus Speedway Motors, KRC, Smiley's, Bassett and Fast Shafts stickers.
Late Model and Sprint Car drivers also receive decals but there is no designated placement for those divisions at this time.
"While Late Models and Sprint Cars don't have a required location for their decals, we recommend having both sides the same and utilizing the front or bottom of the doors, or the wing on a Sprint Car," said Yoder. "All classes should get the decals on their car as soon as they receive them and we will be verifying their placement through photos and track visits all season."
"Decals must be in full color, within required size parameters and in the required location," he continued.
Compet­itors in all eight IMCA divisions will receive Speedway Motors Weekly Racing decals, which are to be dis­played on both sides and on the right rear of their car. Modified, Late Model, Stock Car and SportMod drivers are also required to display Hoosier decals above the rear tire on both sides of their car.
Details of the decal program for IMCA Modifieds are to be announced.
"Requirements for decal placement are again very similar to last year. We will start mailing decal packets around the middle of March to drivers who have purchased 2017 licenses," Yoder said. "We have an extensive database of companies that do wraps and can email placement location information to others on request."
Decal packets will also include applicable contingency sign-up forms, which must be filled out and returned to the IMCA home office. The rookie of the year application will be published in the point section of the Inside IMCA newsletter each month through July.
"I suggest that drivers send in pictures of their cars early in the season," Yoder said. "There are times throughout the year when sponsors contact us about using those pictures in advertisements, or other racing publications inquire for use with stories, so it's always handy to have those on hand."
Car photos can be emailed to Yoder at kyoder@imca.com or mailed to his attention at the IMCA home office, Box 921, 1800 West D Street in Vinton, Iowa, 52349.