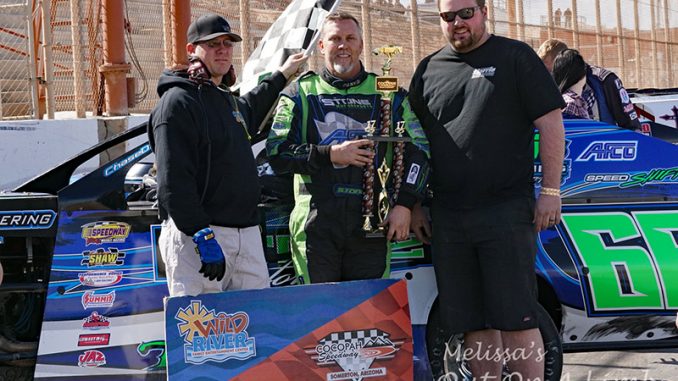 YUMA, Ariz. (Feb. 11-12) – Paul Stone considered asking to keep the one spoon as a souvenir after drawing the pole start for the second installment of the Arizona IMCA Modified Tour.
After inclement weather postponed the main event from Saturday night to Sunday afternoon, Stone had two better mementos: A trophy and a check for $1,250.
Stone led all 20 laps, pulling away from Hunter Marriott and Spencer Wilson after a caution with seven circuits left.
"I think this was the first time in 19 years of racing that I've ever drawn the pole for a big show like this," said Stone, new to the Fast Shafts All-Star Invitational ballot. "I've given other guys a hard time for starting on the front row because there's only one direction you can go from there."
Both the IMCA Sunoco Stock Car and Karl Chevrolet Northern SportMod features were in the books and Modifieds were in staging when rain brought an early end to the Saturday program.
"That was a little bit cruel," Stone said, after some tossing and turning. "It gave me I don't know how many extra hours to think and sweat about it."
As it turned out, Stone didn't have much to sweat about until late in the race when he saw Marriott's number creeping upwards on the leader board.
"I thought to myself 'Oh boy, here we go,'" Stone admitted, "but everything worked out for us."
Lucas Schott, Josh McGaha and Jesse Sobbing were next across the state as the top six was represented by as many different states.
Long tows Elijah Zevenbergen, Jason Rogers and Kyle Frederick ran 1-2-3 in the IMCA Sunoco Stock Car feature. Nick Spainhoward was promoted to first in the Karl Chevrolet Northern SportMod main event after a disqualification in post-race tech.
Joshua Cordova captured the IMCA Sunoco Hobby Stock feature ahead of Scott Shaw.
Feature Results
Modifieds – 1. Paul Stone; 2. Hunter Marriott; 3. Spencer Wilson; 4. Lucas Schott; 5. Josh McGaha; 6. Jesse Sobbing; 7. Jimmy Gustin; 8. Lance Mari; 9. Shawn Strand; 10. Ryan McDaniel 11. Ethan Dotson; 12. Jeremy Thornton; 13. Tim Ward; 14. Ryan Gaylord; 15. Jeff Taylor; 16. Jesse Williamson; 17. Cody Laney; 18. Nick Decarlo; 19. Cory Sample; 20. Bob Moore; 21. Jason Wolla; 22. John Parmeley; 23. Leland Hibdon; 24. Jeff James; 25. Clint Luellen; 26. Chaz Baca; 27. Justin Zeitner; 28. Kelsie Foley; 29. Troy Gemmill.
Stock Cars – 1. Elijah Zevenbergen; 2. Jason Rogers; 3. Kyle Frederick; 4. George Fronsman; 5. Jody York; 6. Manny Baldiviez; 7. Andrew Altenburg; 8. Thomas Daffern; 9. Brendon LaBatte; 10. Tony Hill; 11. Larry Brigner; 12. Steven Kihle; 13. Joe O'Bryan; 14. Jake Smith; 15. Joe Haines; 16. Race Fisher; 17. Micheal Mabbitt; 18. Daren Olney.
Northern SportMods – 1. Nick Spainhoward; 2. Brady Bjella; 3. Miles Morris; 4. Chris Toth; 5. Mike Tanner; 6. Adolfo Noriega; 7. Brian Roode; 8. Joshua Cordova; 9. Austin Ruskauff; 10. Corey Clayton; 11. Dwayne Melvin; 12. Jason George; 13. Jesse Johnson; 14. Ron Pegues; 15. Dale Kunz; 16. Dennis Gates; 17. Zack Tate; 18. Kyle Smith; 19. Fred Ryland; 20. Corey Hemphill; 21. Mark Madrid; 22. Tommy Wyman; 23. James Dupre; 24. Allen Webb; 25. Kenny Wyman Jr.; 26; Steven Daffern; 27. Clint Clausen; 28. Tyler Mecl.
Hobby Stocks – 1. Joshua Cordova; 2. Scott Shaw; 3. Jim Robinson; 4. Brent Wofford; 5. Jason Beshears; 6. Craig Ebers; 7. Cory Tharp; 8. Lyle Driscoll.