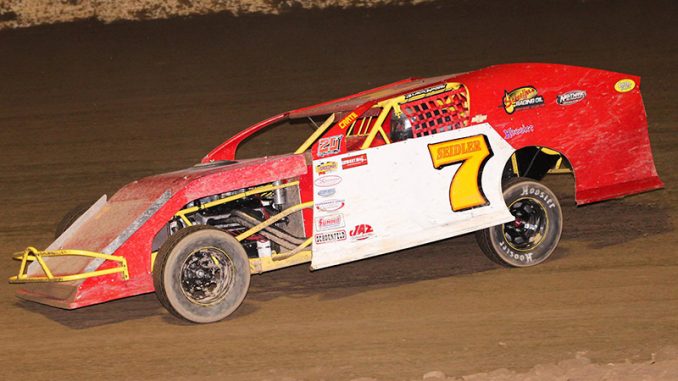 Schultz, Seidler score IMCA Modified wins at Cactus Clash
YUMA, Ariz. (Feb. 3-4) – Brian Schultz had never won a feature the way he did before Friday night at Cocopah Speedway while Marlyn Seidler continued his Arizona success in Saturday's IMCA Modified Cactus Clash headliner.
Schultz motored his way to the front from 15th starting and passed Tim Ward coming to the check­ers to win the opening night event at Yuma. Seidler reeled in leader Leland Hibdon, took charge following a mid-race restart and held off all challengers following a series of late yellows on night two.
Both checkers were good for $1,000 and put the winners on the ballot for the upcoming Fast Shafts All-Star Invitational.
Ward had moved to a lower line before Schultz eked ahead to lead "maybe the last 100 feet."
"That was my first time doing that. I have never passed anybody that late in a race to take the win," said Schultz. "I hadn't even cleared Tim before I took the checkers."
The 13th starting Seidler, 14th starting Spencer Wilson and Scott Sluka rounded out the top five in the 20-lapper. Brett Simala worked his way from 18th on the initial grid to sixth.
"I told myself I had a lot of laps to make things happen," said Schultz, who ran second to Seidler in their "B" race. "I went on the bottom all the way around early, then to the top in (turns) one and two for the middle of the race, then to the top side all the way around toward the end."
Seidler's Saturday night checkers came from the inside row two start. After chasing down Hibdon for the front spot, he had to deny a bid by Ward before getting some distance on the competition.
"We've been coming to Arizona since about 2010 and have won quite a few times," Seidler said following IMCA career win number 80.
"You don't see a lot of gray hair in race cars any more, especially in Modifieds, and I've got a head full of it," added Seidler, who won a pair of track championships last season in his home state of North Dakota at the age of 63. "It's always a big deal for us when we can come here and win."
Hibdon, Ryan McDan­iel, Ward and Schultz completed the top five.
Cactus Clash IMCA Sunoco Stock Car winners were Tony Hill and Elijah Zevenbergen.
Hill took Friday honors in front of Manny Baldiviez and Thomas Daffern. Zevenbergen lined up last in the Saturday field and beat Hill and Baldiviez across the stripe.
Jason George and Chris Toth paced Karl Chevrolet Northern SportMod features. George, Kyle Smith and Miles Morris made up Friday's top three. James Dupre bounced back from a tough opening night to finish second behind Toth on Saturday, with Austin Kiefer third.
Craig Ebers, Jim Robinson and Joshua Cordova ran 1-2-3 in Friday's IMCA Sunoco Hobby Stock headliner. Adolfo Noriega won on Saturday, ahead of Scott Shaw and Scott Jeffery.
Feb. 3 Feature Results
Modifieds – 1. Brian Schultz; 2. Tim Ward; 3. Marlyn Seidler; 4. Spencer Wilson; 5. Scott Sluka; 6. Brett Simala; 7. Joseph Altig; 8. Walter Ball; 9. Steve McCollough; 10. Brent Schlafmann; 11. Garrett Funk; 12. R. Royce Henry; 13. Duane Rogers; 14. Bill Miller; 15. Keith Altig; 16. Ty Rog­ers; 17. Bobby Horton; 18. Mike Corning; 19. Jeremy Thornton; 20. Kelsie Foley; 21. Michael Mar­tin; 22. Terry Haven; 23. Ross Statham.
Stock Cars – 1. Tony Hill; 2. 
Manny Baldiviez; 3. Thomas Daffern; 4. Elijah Zevenbergen; 5. Troy Jerovetz; 6. Steven Kihle
; 7. Jimmy Davy; 8. 
Henry Buijnorouski; 9. Joe Haines
; 10. George Fronsman.
Hobby Stocks – 1. Craig Ebers; 2. Jim Robinson; 3. Joshua Cordova; 4. Scott Shaw; 5. Mike Erwin; 6. Jason Beshears; 7. Jeffrey Callis; 8. Harvey Quinn.
Northern SportMods – 1. Jason George; 2. Kyle Smith; 3. Miles Morris; 4. Joshua Cordova; 5. Corey Clayton; 6. Charles Hunt; 7. Adolfo Noriega; 8. Ron Poe; 9. Dale Irby; 10. Chris Toth; 11. James Dupre.
Feb. 4 Feature Results
Modifieds – 1. Seidler; 2. Leland Hibdon; 3. Ryan McDaniel; 4. Ward; 5. Schultz; 6. Thornton; 7. Duane Cleveland; 8. Sluka; 9. Funk; 10. McCollough; 11. Jason Briese; 12. Garth Dushanek; 13. Foley; 14. Jacob Hobscheidt; 15. Simala; 16. Mitchell Niemi; 17. Schlafmann; 18. Cole Petersen; 19. Henry; 20. Ball; 21. Douglas Rivera; 22. Altig; 23. Miller; 24. Rogers.
Stock Cars – 1. Zevenbergen; 2. Hill; 3. Baldiviez; 4. Daffern; 5. Fronsman; 6. Kihle; 7. Haines; 8. Davy; 9. Buijnorouski; 10. Jerovetz.
Hobby Stocks – 1. Adolfo Noriega; 2. Shaw; 3. Scott Jeffery; 4. Beshears; 5. Robinson; 6. Ashley Hunt; 7. Brent Wofford; 8. Mike Erwin; 9. Callis.
Northern SportMods – 1. Toth; 2. Dupre; 3. Austin Kiefer; 4. George; 5. Smith; 6. Hunt; 7. Troy Jerovetz; 8. Noriega; 9. Clayton; 10. Crystal Hemphill; 11. Allen Webb; 12. Steven Daffern; 13. Poe.