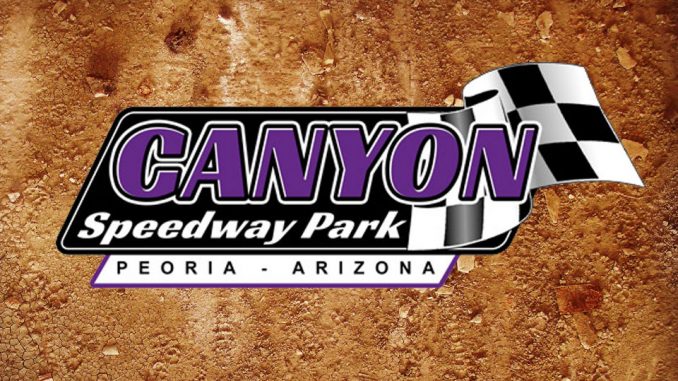 By Tony Steele
PEORIA, Ariz. (Jan 29) – North Dakota driver Jason Wolla, known by fans as "The Big Show," put on an impressive show as he swept the weekend Winter Challenge IMCA Modified features at Canyon Speedway Park.
Wolla's second win of the weekend on Sunday came with 33 IMCA Modifieds checked in. He drew the outside front row and once the green flag dropped he never looked back for the $1,000 victory.
The battle for second and third heated up for most of the race between local drivers Brian Schultz, Jason Noll and Garrett Funk. As Wolla approached lapped traffic, a late caution closed the almost straightaway lead he had built and Schultz took advantage.
Wolla slipped up in turns one and two on the final lap where Schultz peeked to the inside, but in the end the move proved futile as Wolla sped away into the last turn, eventually taking the checkered flag and sweeping the weekend. Schultz was second with Funk, Noll and Garth Dushanek rounding out the top five.
J.C. Parmeley made an impressive late pass on Jason George to take home the Karl Chevrolet Northern SportMod main event. Tony Hill redeemed himself from a tough Saturday by taking the Sunday IMCA Sunoco Stock Car checkers and Steve Soboski swept the weekend in the IMCA Sunoco Hobby Stocks in unconventional fashion.
It looked as though another sweep was ready to take place in Northern SportMod action. Saturday winner Jason George led the majority of the race in. A late restart with less than five to go gave Parmeley a chance, but the pass could not be completed.
Parmeley was given another chance just a couple laps later and this time he took advantage, going around the outside of George in turn one. The second try stuck and Parmeley was able to get away from George to take the win with Austin Kiefer, Chris Toth and David Jones filling in the top five.
Hill came back with a vengeance on Sunday afternoon after a rough outing on day number one at Peoria. Bo Partain led during the early portion of the race after starting on the pole position but fifth starting Hill charged his way through and took the lead around the halfway point.
Partain later spun in an incident in turn four, leaving the door open for Troy Jerovetz to challenge the race leader. Jerovetz could not quite keep up as the top two sped away from the field, leaving the Cortez, Colo., driver to take the $500 payday ahead of Jerovetz, Race Fisher, Aaron Spangler and local driver George Fronsman.
The most interesting finish to the day came in the Hobby Stocks as Soboski was awarded the win, although he did not cross the finish line first. Soboski was sent to the back with Joe Vlasity after contact sent Vlasity around early in the race.
The remainder of the race had all eyes on Soboski and Vlasity as they charged through the field. Bret Bierman led the majority of the race but on the final lap Vlasity found himself within a car length of Bierman and took his shot. Vlasity drove in too deep in turn three, making contact with Bierman and sending the leader around while collecting Don Berner in the incident.
Vlasity crossed the line first but was put to the back for rough driving, giving the win to Soboski. Confusion came as officials initially wanted to award Bierman the win, but Bierman never crossed the line so the win went to Soboski.
Merle Zachrison, Dean Zachrison, Bret Bierman and Don Berner were the remainder of the top five.
Hobby Stocks are on the card again during the Steve Stroud Memorial program on Feb. 11.
Feature Results
Modifieds – 1. Jason Wolla; 2. Brian Schultz; 3. Garrett Funk; 4. Jason Noll; 5. Garth Dushanek; 6. Ronnie Wallace; 7. Leland Hibdon; 8. Mike Strobl; 9. Ethan Dotson; 10. Cody Laney; 11. Spencer Wilson; 12. Ryan Roath; 13. Tim Ward; 14. Guy Norton; 15. Colin Winebarger; 16. Mark Stewart; 17. Steve Stultz; 18. Bubba Stafford; 19. Troy Gemmill; 20. Scott Sluka; 21. Trevor Miller; 22. Grey Ferrando; 23. Kelsie Foley; 24. Lance Mari; 25. John Parmeley.
Heat winners were Funk, Foley, Dushanek, Noll and Mari. Wilson won the "B" feature.
Stock Cars – 1. Tony Hill; 2. Troy Jerovetz; 3. Race Fisher; 4. Aaron Spangler; 5. George Fronsman; 6. Cody Center; 7. Eric Lloyd; 8. Larry Brigner; 9. Chaz Baca Jr.; 10. Vance Honea; 11. Steven Kihle; 12. Tate Johnson; 13. Jason Jensen; 14. Bo Partain; 15. Lonnie Foss.
Heat winners were Jensen, Spangler and Hill.
Hobby Stocks – 1. Steve Soboski; 2. Merle Zachrison; 3. Dean Zachrison; 4. Bret Bierman; 5. Don Berner; 6. Cory Parent; 7. Susie Mikkelson; 8. Kurt Kesselring; 9. Michael Soboski 10. Aaron Collier; 11. Bret Larned; 12. Joe Vlasity; 13. Paul O'Connor; 14. Bradley Stafford.
Heat winners were Parent and Vlasity.
Northern SportMods – 1. J.C. Parmeley; 2. Jason George; 3. Austin Kiefer; 4. Chris Toth; 5. David Jones; 6. Chris Caldwell; 7. Kenny Wyman Jr.; 8. Bill Miller; 9. Tommy Wyman; 10. Dylan Ickes; 11. Dennis Gates; 12. Lupe Gomez; 13. Chuck Black; 14. Steve Duffy; 15. Nick Langer; 16. David Ruth; 17. Bill Ferguson; 18. David Harrington.
Heat winners were George and Gomez.