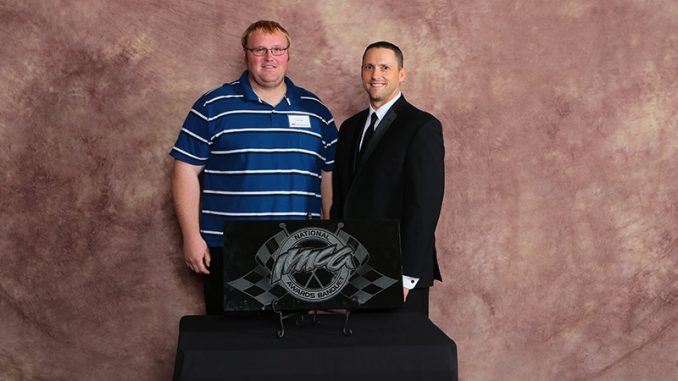 BELLEVILLE, Kan. ­– Tyler Frye will make room for a couple more trophies in his IMCA display case.
Frye raced to Xtreme Motor Sports IMCA Modified national and Jet Racing Central Region rookie of the year honors. The Belleville, Kan., clipper won eight of 48 starts this season in IMCA's prem­ier division.
"When we started the season, we told ourselves that rookie of the year would be something we could accomplish," said Frye, the 2015 Karl Chevrolet Northern SportMod national champion. "By the middle of the season we knew it was possible and kept working."
"It took a lot of nights to figure out what I wanted to do as a driver and what we wanted the car to do," he continued. "I would have liked to get more starts this season but that wasn't possible for a variety of reasons."
His first win came in just his eighth Modified start, on April 9 at RPM Speedway. Two of the four wins Frye registered between May 21 and June 11 came at Salina Speedway.
"I had won the track championship at Salina before in a SportMod and it meant a lot to me to be able to do it again in the Modified," said Frye, 20th in national standings and third in regional points. "I race with a lot of great guys at Salina. Winning another track championship there feels pretty good."
He ran at eight different tracks in Kansas and Nebraska and hopes to make 2016 the foundation of a long career in the Modified division.
"We take a lot of pride in having been able to run with the other drivers in this region," Frye said. "Hopefully we can improve and just get better and better throughout my Modified career."
Starts: 48
Wins: 8
Additional Top Fives: 20
HIS CREW: Wife Diana, son Trevin, father Troy and stepmother Berdina Frye, Dave Wilber and Stacy Saip. 
HIS SPONSORS: Harris Auto Racing of Boone, Iowa; the Vanous family, KR92 Radio, Purple Splash, Jen­sen Earthworks, Tammy Frye and Wicked by Design, all of Belleville; BSB Manufactur­ing of Wellington; Jeff Cyphers of Concordia; Tornado Alley Water Fowl of Emporia; Feldkamp Furniture of Kansas; EngineQuest of Las Vegas, Nev.; Stephenville Starter of Stephen­ville, Texas; Sample Rac­ing Transmissions of Hastings, Neb.; Fisher Race Engines of Oshkosh, Wis.; the Myers family of Axtell, Neb.; Jake Olmstead of Kearney, Neb.; Icon Pistons of Carson City, Nev.; High Velocity Heads of Knoxville, Tenn.; and Dirt Defender of Red Oak, Texas.