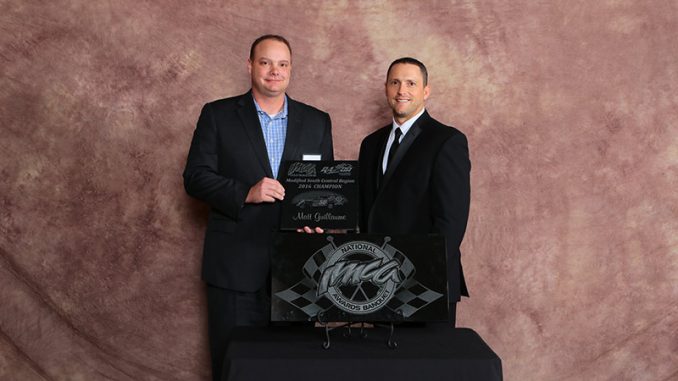 HASLET, Texas – Matt Guillaume changed his focus and reigned in a different IMCA region this season.
After posting three consecutive championships in the EQ Cylinder Heads Southern Region for Stock Cars, Guillaume ran exclusively in the Xtreme Motor Sports IMCA Modified division.
The result was seven feature wins, Boyd Raceway track and Allstar Performance state titles, and the Razor Chassis South Central Region crown.
And the Haslet, Texas, hotshoe accomplished all that in an 11-year-old Gould Chassis.
"After running two divisions full-time last year, we gave the Modifieds more focus this season," said Guillaume. "We've got some really good competition in Texas and get to race against a really di­verse group of drivers."
"We had success at Abilene early in the season and won night two of the Ice Breaker, for exam­ple," he added. "You have to run well on Fridays at Boyd to put yourself in position to win and you have to hustle every Saturday at Kennedale Speedway Park just to make the feature."
Guillaume had collected the Abilene win and four Boyd checkers before topping the July 16 show at KSP.
He put the finishing touches on the regional championship chase by winning the Sept. 24 finale at 281 Speedway.
"We had a lot of DNF's but we were running strong when we broke. We were in play to win a lot of nights before breaking," Guillaume said. "There were very diverse problems that sidelined us. It was one thing on one night and something else another night."
His luck began to turn around late in the season. Suspension changes made after the IMCA Speed­way Motors Super Nationals preceded a second place finish on championship night at Kenne­dale and the win at 281.
"Things really started to click off and we got some good finishes," Guillaume said. "We're already excited about going into next year."
Part of that enthusiasm is because he'll have chassis builder and 2013 champion William Gould in his corner again.
"I really attribute a lot of my success this season to him," said Guillaume. "He made me an offer to buy one of his cars. His knowledge and expertise helped me a lot and I was very appreciative of his patience."
Starts: 43
Wins: 7
Additional Top Fives: 18
HIS CREW: Wife Kimberlee, Dave Zalazny, Joe Wodarski and William Gould. 
HIS SPONSORS: Gould Racing Chassis of Calera, Okla.; BSB Manufacturing of Wellington, Kan.; Five1Seven Designs of Whitney; Stephenville Starter of Stephenville; Dirt Defender of Red Oak, Texas; Ferris Roofing of Haslet; All-Pro Clutch and Driveline of Abilene; La Mexicana Tortilla Fac­tory of Duncanville; and The Dog House Pet Salon of Springtown.