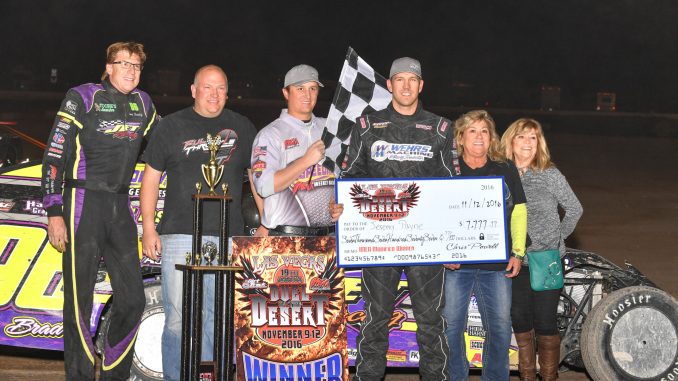 LAS VEGAS, Nev. (Nov. 12) ­– Jeremy Payne extended his Duel In The Desert record to five career championships Saturday at Las Vegas Motor Speedway.
Payne completed his charge from 10th starting to the lead just before midway in the 40-lap main event for Xtreme Motor Sports IMCA Modifieds on the half-mile Dirt Track, then ran away from a succession of challengers for the $7,777 payday.
The new Fast Shafts All-Star Invitational ballot qualifier was chased across the stripe by Tim Ward, Johnny Saathoff, Johnny Scott and Peyton Taylor.
Ward had started 12th and Saathoff 13th, while Scott came out of a last-chance race and made the top four all the way from 27th starting.
Defending race winner and pole starter Lucas Schott was the early leader, with Ricky Thornton Jr. and Bobby Hogge IV right behind. Thornton used the low line to take the front spot away on lap 11, then got together with Hogge during a three-wide battle to stay in the lead.
Hogge exited with a flat tire, Thornton was sent pitside for questionable driving and Schott got the lead back, with Payne restarting second.
Quick to challenge, Payne peaked inside Schott while Jordan Grabouski loomed in third. A bobble by Schott in the first set of turns proved to be the lap 19 opportunity Payne was looking for and he was first when the next circuit was scored.
Grabouski also caught Schott and was reeling in Payne before being sidelined with a broken front end. Ward was a couple car lengths off the pace before a lap 31 caution. Payne pulled away from that point, winning by a full straightaway.
His first four Duel In The Desert crowns came in 2005, 2006, 2012 and 2013.
A caution with five trips around the track left in the Karl Chevrolet Northern SportMod main event opened the door for Shawn Harker.
Harker had started the 25-lapper from the pole but lost the lead from outside row one starter and fellow qualifying feature winner Curtis Van Der Wal on lap three.
Van Der Wal got some distance on Harker before back-to-back cautions on lap seven. The race stayed green until lap 20, and both Harker and Doug Smith slipped underneath Van Der Wal on the ensuing restart.
While he was able to catch Smith for second on the next circuit, Van Der Wal couldn't get closer than 10 car lengths behind Harker in the $1,777 to win event.
Smith, Robert Elliott and Michael Johnson completed the top five.
Checkers flew for Chaz Baca, in the 10-lap Young Guns feature for Modified drivers 19 and un­der.
Baca and Ethan Dotson passed Kelsie Foley following an early restart. Baca had a half a straighta­way advantage over Dotson before a lap seven caution.
He held off Dotson to get the win while Foley raced her way back to third.
Bill Brack checked out on the rest of the field from the get-go in winning the 10-lap Legends fea­ture for Modified drivers ages 55 and over.
Christy Barnett motored from the eighth row starting to finish a distant second. Kevin Wright was third.
More than 250 drivers from 22 states and three Canadian provinces competed in the Nov. 9-12 Duel, making the 19th annual special the biggest IMCA sanctioned event in the Larry Shaw Rac­e Cars Western Region again this year.
Results
Modified feature ­– 1. Jeremy Payne, Springfield, Mo.; 2. Tim Ward, Chandler, Ariz.; 3. Johnny Saathoff, Beatrice, Neb.; 4. Johnny Scott, Cameron, Mo.; 5. Peyton Taylor, Batesville, Ark.; 6. Rob Sanders, Bakersfield, Calif.; 7. Lucas Schott, Chatfield, Minn.; 8. Dominic Ursetta, Arvada, Colo.; 9. Todd Shute, Des Moines, Iowa; 10. Josh Most, Red Oak, Iowa; 11. Jason Noll, Peoria, Ariz.; 12. Jason Beaulieu, Campbell River, B.C.; 13. Alex Stanford, Chowchilla, Calif.; 14. Eddie Belec, Arvada, Colo.; 15. Brad Pounds, Bakersfield, Calif.; 16. Ryan McDaniel, Olivehurst, Calif.; 17. Kyle Brown, Madrid, Iowa; 18. Jason Wolla, Ray, N.D.; 19. John Hansen, Brush, Colo.; 20. Jordan Grabouski, Beatrice, Neb.; 21. Stormy Scott, Cameron, Mo.; 22. Bobby Hogge IV, Salinas, Ca­lif.; 23. Ricky Thornton Jr., Chandler, Ariz.; 24. Terry Phillips, Springfield, Mo.; 25. Ricky Al­varado, Grand Junction, Colo.; 26. Jesse Sobbing, Malvern, Iowa; 27. Chris Abelson, Sioux City, Iowa; 28. Lance Mari, Imperial, Calif.
Young Guns feature – 1. Chaz Baca, Mesa, Ariz.; 2. Ethan Dotson, Bakersfield, Calif.; 3. Kelsie Foley, Tucson, Ariz.; 4. John Parmeley, Phoenix, Ariz.; 5. Kendra Vollmer, Idaho Falls, Idaho; 6. Bubba Stafford Jr., New River, Ariz.; 7. Braxton Yeager, Green River, Wyo.; 8. Sting Ray Robb, Payette, Idaho; 9. Brylon Holder, Bakersfield, Calif.; 10. Chase Rudolf, Norwalk, Iowa; 11. D.J. Shannon, Merced, Calif.; 12. Tanner Black, Albert, Kan.; 13. Bricen James, Albany, Ore.
Legends feature – 1. Bill Brack, Mead, Colo.; 2. Christy Barnett, El Paso, Texas; 3. Kevin Wright, Rock Springs, Wyo.; 4, Lawrence O'Connor, Port Hardy, B.C.; 5. Roger Bonneville, Cal­gary, Alb.; 6. Chris Clark, Jackson, Wy.; 7. Steve Simpson, Kingman, Ariz.; 8. Terry DeCarlo, Mar­tinez, Calif.; 9. Steve Streeter, Madera, Calif.; 10. Bill Lundock, Wiggins, Colo.; 11. Rex Mer­ritt, Billings, Mo.; 12. Steve Noland, Terra Bella, Calif.; 13. Mitch Machado, Rohnert Park, Calif.; 14. John Pierce, San Jose, Calif.; 15. Randy McDaniel, Olivehurst, Calif.; 16. Pichael paul Jr., Petaluma, Calif.
Northern SportMod feature ­– 1. Shawn Harker, Nebraska City, Neb.; 2. Curtis Van Der Wal, Oskaloosa, Iowa; 3. Doug Smith, Lanesboro, Iowa; 4. Robert Elliott, Clinton, Okla.; 5. Michael Johnson, Bakersfield, Calif.; 6. Lee Jensen, Bakersfield, Calif.; 7. Robbie Conway, Westhope, N.D.; 8. Chris McKellar, Bakersfield, Calif.; 9. Fred Ryland, Brentwood, Calif.; 10. Rick Diaz, Los Banos, Calif.; 11. Ron Tex Jr., Papillion, Neb.; 12. Jason George, Laveen, Ariz.; 13. Brylon Holder, Bakersfield, Calif.; 14. Nick Spainhoward, Bakersfield, Calif.; 15. Arie Schouten, Blair, Neb.; 16. Brian Cooper, Yuba City, Calif.; 17. Matt Lewis, Bakersfield, Calif.; 18. Jordan Hagar, Bakersfield, Calif.; 19. Todd Cooper, Yuba City, Calif.; 20. Shawn Pudwill, Piedmont, S.D.; 21. Mark Abouzeid, Durham, Calif.; 22. J.R. Herrera, Price, Utah; 23. Chris Toth, Holtville, Calif.; 24. Matthew Hagio, Prunedale, Calif.