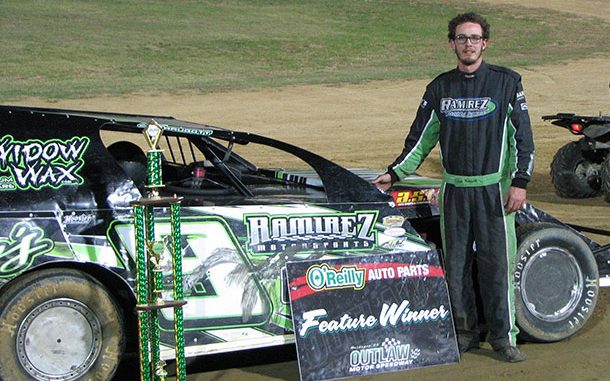 MUSKOGEE, Okla. (Oct. 29) – The treat Cole Traugott took home from Outlaw Motor Speedway's pre-Halloween October Fest special was a check for $2,000.
Traugott led all 30 laps of Saturday's main event for Xtreme Motor Sports IMCA Modifieds, pulling away from Dalton Clay as the race ended green, white, checkered.
"The whole track was good from top to bottom," said Traugott, new to the Fast Shafts All-Star Invitational ballot, "but the dominant line was the top."
He had started outside pole but used the lower groove to take the lead on the opening circuit. Traugott followed the middle line early on and gradually moved up on the oval, catching lapped traffic before midway.
"It's a 4-1/2 hour trip for us from home to Outlaw and we won here twice this season," said Traugott, who also topped the opening night IMCA Weekend Blowout in June.
Tate Cole, Brett Hansen and Fausten Willhite rounded out the top five.
Dale Richardson was the IMCA Sunoco Stock Car winner and Travis Johnson was first to the checkers in the IMCA SportMod main.
Feature Results
Modifieds – 1. Cole Traugott; 2. Dalton Clay; 3. Tate Cole; 4. Brett Hansen; 5. Fausten Willhite; 6. Kayden Menasco; 7. Carl Conley II; 8. Jessie Hoskins; 9. Scott Smith; 10. Joe Duvall; 11. Chuck Bumgarner; 12. Eric Beshoner; 13. Shaun Pinkerton; 14. Travis Bragg; 15. Treven Geter; 16. David Solberg; 17. William Gould; 18. Floyd Dixon; 19. Casey Lindell; 20 Kyle Olberding; 21. Darien Austin; 22. Ron Yates; 23. Danny Womack; 24. Kevin Cooper; 25. Mike Duvall.
SportMods – 1. Travis Johnson; 2. Frank Graven; 3. Robert Elliott; 4. Jeff Rozelle; 5. Don Reid; 6. Kristi Byrd; 7. Nathan Brundidge; 8. Robert Riley; 9. Dustin Leatherman; 10. Jessie Hoskins; 11. Alan Oliva; 12. Frank Stapp; 13. Mike Moschak; 14. Tyler Herrin; 15. Steve Little; 16. Josh McAnally; 17. Rodney Cantrell; 18. Lynn Combs; 19. Luke Leatherman; 20. Bobby Miller; 21. Preston Crawford.
Stock Cars – 1. Dale Richardson; 2. Caleb Crenshaw; 3. Kyle Slader; 4. Bobby Prewett; 5. Mike Wiseman; 6. Kody Boatright; 7. Keith Heaslet; 8. Paul Taylor; 9. Seth Eldridge; 10. Kyle Woody; 11. Josh Claborn; 12. Bubber Smith.