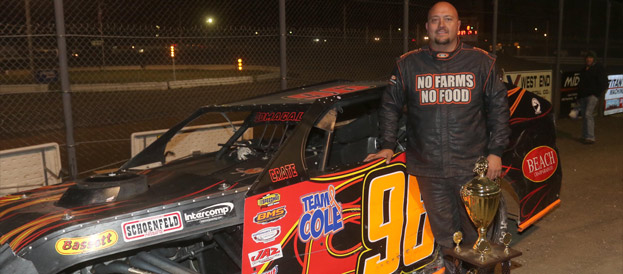 JAMESTOWN, N.D. (Oct. 15) – Tracy Domagala won't just return to Jamestown Speedway next fall to defend his Xtreme Motor Sports IMCA Modified Stampede title.
He'll come back to buy a souvenir sweatshirt … the one with his name listed among the winners of the prestigious event.
Domagala earned $2,000 along with a spot on the ballot for the 2017 Fast Shafts All-Star Invitational.
"This has to be one of the biggest events in the three-state area," Domagala said. "The trophy and the money are great but having your name on the sweatshirt for the rest of your life is really special."
Fifty-two IMCA Modified drivers vied at the 45th annual Stampede. Domagala, whose best finish in three starts this season at Jamestown was 11th, started ninth in the main event.
"We knew we had a pretty tough row to hoe but we've been figuring some stuff out with this new Taylor Chassis," he said. "I thought if I stuck on the bottom that maybe it would come in. Around lap 15 I got next to the leader (Tyler Hall) and ran with him side-by-side for a few laps."
"After I cleared him, with about 10 laps left, I stayed on the bottom," Domagala continued. "From where I started I had thought a top five finish would be a good goal. Winning this race is a pretty big deal."
Hall, 15th starting Jason Wolla, Mike Greseth and Mark Dahl rounded out the top five.
The Stampede was rescheduled from the final weekend of the point season due to inclement weather. Ryan Schroeder topped the $500 to win race for non-feature qualifiers.
Feature results – 1. Tracy Domagala; 2. Tyler Hall; 3. Jason Wolla; 4. Mike Greseth; 5. Mark Dahl; 6. John Corell; 7. Ryan Mikkelson; 8. Josh Eberhardt; 9. Jarrett Carter; 10. Mark Trautner; 11. Dave Shipley; 12. Rich Pavlicek; 13. Marlyn Seidler; 14. John Nord; 15. Tyler Peterson; 16. Andrew Michel; 17. Eric Edwards; 18. Hank Berry; 19. Shawn Nostdahl; 20. Troy Heupel; 21. Marcus Tomlinson; 22. Jordan Huettl; 23. Greg Friestad; 24. Randy Kollman.
Non-qualifier feature results – 1. Ryan Schroeder; 2. Travis Olheiser; 3. Dan Aune; 4. Mike Johnson; 5. Wayne Johnson; 6. Bob Banish Jr.; 7. Jordan Zillmer; 8. Quentin Kinzley; 9. Rusty Kollman; 10. Ben Mickelson; 11. Adam Fischer; 12. Kelly Hagel; 13. Dwight Wegner; 14. Kit Baumann; 15. Jerry Martin; 16. Travis Ulmer; 17. Josh Jones; 18. Jeremy Keller; 19. Chad Bush; 20. Myles Tomlinson; 21. Randy Klein; 22. Josh Anderson; 23. Jerry Lamb; 24. Tony Marsh; 25. Chad Hausauer; 26. Allan Fetzer; 27. Trent Grager; 28. Travis Hagen.