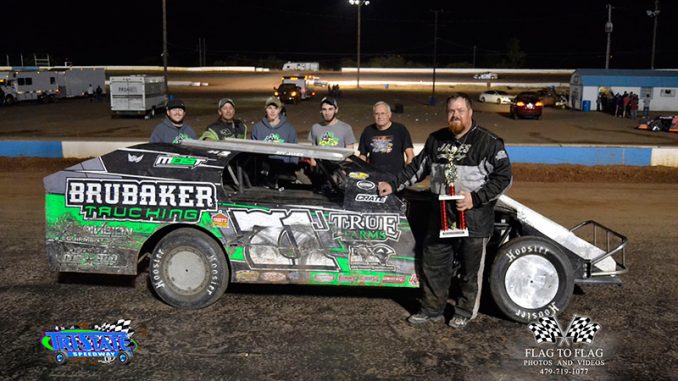 POCOLA, Okla. (Oct. 15) – Jeff James' second competitive trip to Tri-State Speedway resulted in a second big payday.
James, winner of the Spring Kegger special at Pocola, led all 30 laps of Saturday's $3,000 to win Spooker main event for Xtreme Motor Sports IMCA Modifieds.
"Isn't that crazy? I won the spring one and the fall one. That's $5,000 in two races," said James. "It's a long ways (a little over 450 miles from his home in Stanton, Iowa) but it's a nice payday."
As a bonus, the win put James on the ballot for the 2017 Fast Shafts All-Star Invitational.
Jeff Taylor, Steve Holzkamper, Todd Van Eaton and William Gould rounded out the top five.
James had won his qualifying feature on Friday night and started outside pole. Taylor, Holzkamper and Gould all challenged from the inside after early restarts but could not get past.
He'd won the Kegger and the Friday qualifier running the lower line, but James followed the high side to the checkers in the main event.
"I didn't know that Jeff (Taylor) wasn't right on my back bumper," admitted James, who motored to the win by half a straightaway.
Defending race winner Tate Cole started 15th and finished sixth. James had made his one visit to Pocola prior to the Kegger in the late 1990s as a spectator.
Mike Wiseman was the $750 IMCA Sunoco Stock Car winner on Friday.
He'd also started outside the front row and led start to finish, catching up with the back of the pack with five circuits left in the 20-lapper.
A four-time winner at Pocola during the regular point season, Wiseman won ahead of Buck Schafroth, Justin Green, Andrew Bohanan and Devon Johnson.
Feature Results 
Modifieds – 1. Jeff James; 2. Jeff Taylor; 3. Steve Holzkamper; 4. Todd Van Eaton; 5. William Gould; 6. Tate Cole; 7. Fausten Willhite; 8. Richie Tosh; 9. Mike Cook; 10. Casey Findley; 11. Drew Armstrong; 12. Scotty Allen; 13. Travis Bragg; 14. Rex Merritt; 15. Toby Lindell; 16. Robby Arnold; 17. Kevin Guinn; 18. Mike Striegel; 19. Kayden Menasco; 20. Daniel Tarkington; 21. Jordan Turner; 22. Dalton Clay.
Stock Cars – 1. Mike Wiseman; 2. Buck Schafroth; 3. Justin Green; 4. Andrew Bohanan; 5. Devon Johnson; 6. Kyle Slader; 7. Daniel Tarkington; 8. Chance Asher; 9. Kevin Atkinson; 10. H. Duane Rose; 11. Seth Eldridge; 12. Shawn Blair; 13. Jody Milligan; 14. Jalen Brewton; 15. Bo Medlock; 16. Randy Reeves.