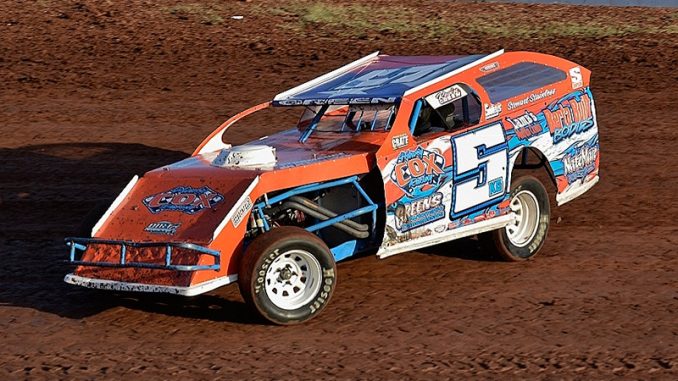 By J.M. Hallas
ABILENE, Texas (Oct. 15) – A long green flag run at Abilene Speedway's Ryan Bard Memorial Southern Challenge ended with Kevin Green in victory lane.
Green caught Monte Bolton late in the 25-lap main event for Xtreme Motor Sports IMCA Modi­fieds and gained a bit of redemption along with his career-best payday in the division.
"We'd been running second before hitting an infield tire at 85 Speedway's Bryan Mize Memorial. We were fast at Ennis but ended up not finishing," Green said, "so this was kind of redemption for me."
The $2,000 win put Green on the ballot for next year's Fast Shafts All-Star Invitational. He'd raced a Scoggin-Dickey Parts Center Southern SportMod at Abilene previously and drew the outside pole start for the weekend's Modified main event.
The one caution of the race came out before the first lap was scored as a five-car pileup brought out a quick red flag; Bolton took the lead on lap two but Green stayed close throughout.
With five to go Green turned up the heat. The lead duo caught some traffic and Green was able to sneak past for the lead on lap 21. Once clear, Green was able to inch away.
"Once we took the green I knew it was going to be a good race. I couldn't quite clear Monte on the start but stayed right on his bumper the whole race, just trying to not make any mistakes," Green said. "He was running the bottom of (turns) three and four and I was pretty good around the top and knew that was going to be my shot at getting around him."
Bolton, Nick Roberts, Kevin Sustaire and defending race winner Dean Abbey completed the top five.
Nearly 220 drivers from four states vied at the 22nd annual special.
Taking $1,700 wins were Jeffrey Abbey in the Scoggin-Dickey Parts Center Southern SportMods and Kirk Martin in the IMCA Sunoco Stock Cars. Gerald Spalding Jr. was the $600 IMCA Sunoco Hobby Stock winner.
The recently crowned national champion, Abbey battled his way past Gabe Tucker at midway for the lead. Tucker and Justin Shaw gave chase in the latter stages but it was Abbey holding them both off to secure the win.
"We ran third for the first few laps. It wasn't until a restart when we were able to get down in front of Justin and then race side-by-side with Gabe for a lap or so," Abbey said. "We took the lead and did­n't look back picking up our 25th win of the season as well as our third big show win this year."
The Southern SportMods rolled out three abreast and formed a missing man formation in honor of Ryan Bard. The crowd returned the salute back by showing the no. 1, which was Bard's number.
Martin didn't know it at the time but his three-wide finish with Westin Abbey and Andy Roller was for the win in the Stock Car main. Chad Hertel, who led almost every lap, was first across the fin­ish line, but failed post-race tech inspection giving the win to Martin.
In one of the more hotly contested main events, Spaulding, Jeremy Oliver and Wesley Warren all took turns with their nose in the wind during the Hobby Stock 20-lapper.
Spalding made a late race charge to get the top spot on lap 14. The top three were nose to tail coming into the final laps, but it was Spaulding holding them off to snag the victory.
Feature Results
Modifieds – 1. Kevin Green; 2. Monte Bolton; 3. Nick Roberts; 4. Kevin Sustaire; 5. Dean Abbey; 6. Chris Elliott; 7. Greg Dinsmore; 8. Josh McGaha; 9. Robert Scrivner; 10. Toby Herring; 11. Fred Wojtek; 12. Chase Allen; 13. Neal Flowers; 14. Caleb Stone; 15. Jamie Campbell; 16. Kelly Allen; 17. Joe Gomez; 18. Mike McCarthy; 19. Charles Brewer; 20. Doug Easterling; 21. Neal DeBord.
Southern SportMods – 1. Jeffrey Abbey; 2. Gabe Tucker; 3. Justin Shaw; 4. Rodney White; 5. Bradley Poor; 6. Kale Westover; 7. T.J. Green; 8. Cory Williams; 9. Brandon Smith; 10. Bret Young; 11. James Skinner; 12. Jake Upchurch; 13. Allen Montgomery; 14. Dustin Robinson; 15. Tanner Stansell; 16. Tyler Webb; 17. Danny Cavanaugh; 18. Jim Pierce; 19. Logan Robertson; 20. Kenneth Graves; 21. Kyle Wisdom.
Stock Cars – 1. Kirk Martin; 2. Andy Roller; 3. Westin Abbey; 4. Brandon Taylor; 5. Jason Ad­cock; 6. Billy Wade; 7. Shelby Williams; 8. Colin Deming; 9. Mike Easterwood; 10. Dennis Bisson­ette; 11. Damon Hammond; 12. Eric Jones; 13. Cary White; 14. Brian Flowers; 15. Jody York; 16. Brandon Williams; 17. Chad Chance; 18. Joe O' Bryan; 19. Jordan Lathrum.
Hobby Stocks – 1. Gerald Spalding Jr.; 2. Jeremy Oliver; 3. Wesley Warren; 4. Ryan Wilkerson; 5. Chris Graenser; 6. Sam Hodges; 7. Kenneth Seay; 8. Mike Watkins; 9. Joe Williams; 10. Shawn Miles; 11. Michaela Scott; 12. Ashton Hayes; 13. Latrail Dello; 14. George Ross; 15. Alex Bannowsky.