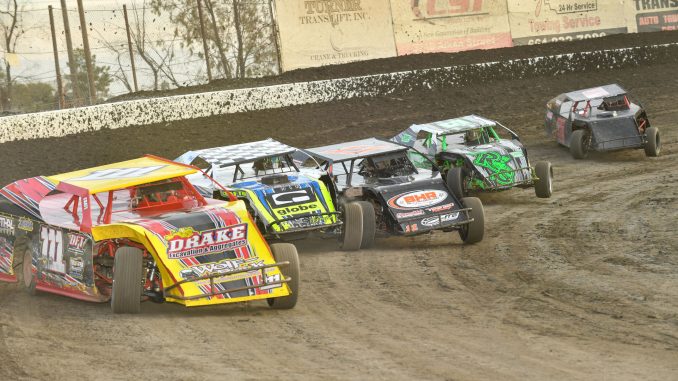 BAKERSFIELD, Calif. (Oct. 7-8) – Ethan Dotson and Ricky Childress Jr. took different routes to $1,500 Xtreme Motor Sports IMCA Modified wins at Bakersfield Speedway's Budweiser Nationals.
Dotson started on the pole in Friday's 40-lapper and led every lap, pulling away from Bobby Hogge IV and Robby Sawyer in the late going for the victory.
Childress had to work his way up from 10th starting on Saturday. He was running third, just a couple car lengths off the pace when frontrunners Mike Johnson and Brad Pounds tangled late in the race.
Their respective wins put both drivers on the ballot for next year's Fast Shafts All-Star Invitational.
Dotson and Hogge both moved from the lower line to the top side after seeing Sawyer use that line to advance in the opening night show.
"There were a couple cautions that took out the lapped traffic so that worked in my favor," Dotson said. "I couldn't have asked for a better night to get my first win of the year here."
Pounds and Logan Drake completed the top five.
Childress had been sidelined by an early race incident and was scored last in the opening night show, then saw his luck do a 180-degree turn on Saturday.
After closing in on Johnson and Pounds, he avoided both after they got together with three laps left and led to the checkers. The Bakersfield win was the second of 2016 for the unofficial track champion.
"Friday night was one of the worst nights I'd had racing," he admitted. "We got the car fixed Saturday morning and had a good finish in out heat after starting eight. I knew I had a something pretty decent (in the feature) after we got to fifth in the first 10 laps."
Sawyer, Dotson, Drake and Cody Laney were next across the stripe.
Jason Nation debuted a new Victory Circle ride, pocketing $200 for winning the Friday qualifier and another $1,500 after leading flag to flag in Saturday's Karl Chevrolet Northern SportMod headliner.
That race ended with 29 green flag laps after an early caution. Clint Reichenbach raced from the fifth row to finish second. Jordan Hagar, Michael Johnson and Wayne Dotson were next across the stripe.
Steven Johnson motored from the fourth row to win the 30-lap IMCA Sunoco Stock Car feature and $600. Chad Johnson started last and finished second, with Patee, Oklahoma traveler Keith Heaslet and Devan Jones.
Oct. 7 Feature Results
Modifieds – 1. Ethan Dotson; 2. Bobby Hogge IV; 3. Robby Sawyer; 4. Brad Pounds; 5. Logan Drake; 6. Cody Laney; 7. Mark Carrell; 8. Rob Sanders; 9. Mike Johnson; 10. Collen Winebarger; 11. Josh Vogt; 12. Bryan Clark; 13. Chett Reeves; 14. Chaz Baca; 15. Tony Toste; 16. Chris Crompe; 17. Justin Crockett; 18. Daylan Coffey; 19. Tom Malcolm; 20. Bret Bennett; 21. John Piker; 22. Ricky Childress Jr.
Oct. 8 Feature Results
Modifieds – 1. Childress; 2. Sawyer; 3. Dotson; 4. Drake; 5. Laney; 6. Malcolm; 7. Hogge; 8. Scott Pounds; 9. Vogt; 10. Toste; 11. Grey Ferrando; 12. Clark; 13. Crockett; 14. Bennett; 15. Sanders; 16. Troy Morris Jr.; 17. Bill Bartels; 18. Crompe; 19. Brad Pounds; 20. Johnson; 21. Steve Noland.
Northern SportMods – 1. Jason Nation; 2. Clint Reichenbach; 3. Jordan Hagar; 4. Michael Johnson; 5. Wayne Dotson; 6. Rick Diaz; 7. Chris McKellar; 8. Brylon Holder; 9. Matthew Hagio; 10. Billy Simkins; 11. Nick Spainhoward; 12. Lee Jensen; 13. Cale Kanke; 14. Brian Cooper; 15. Jared Schweitzer; 16. James Cecil; 17. Shane DeVolder; 18. Paul Harris; 19. Matt Lewis; 20. Matthew Mayo; 21. Levi Kiefer; 22. Matt Mayo.
Stock Cars – 1. Steven Johnson; 2. Chad Johnson; 3. Troy Patee; 4. Keith Heaslet; 5. Devan Jones; 6. Mike Hill Jr.; 7. Alan Mendes; 8. Matt Brumley; 9. Renn Bane; 10. Pat Biggs; 11. Dave Bauer.