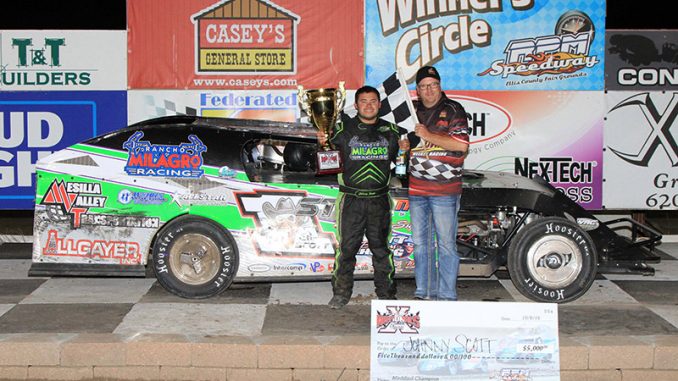 By Mike Hughes
HAYS, Kan. (Oct. 8) – Johnny Scott was the $5,000 Xtreme Motor Sports IMCA Modified winner at RPM Speedway's Fall Nationals.
Scott led all 40 laps of the Fast Shafts All-Star Invitational ballot qualifier at the 10th annual spe­cial.  A few cautions kept the field close but Scott was able to outrun his brother Stormy to the checkers for the win.
Jeff Taylor, who won the event in 2012, was third, followed by 2009 winner David Murray Jr. Cole Traugott rounded out the top five.
Two hundred and sixty race teams from across the country were on hand at Hays.
It was a three-way battle for all 30 laps in the $3,000 to win IMCA Sunoco Stock Car main event between Jason Rogers, three-time race winner Mike Nichols and Casey Woken.
Rogers took the lead at the drop of the green and led Dominic Ursetta, Woken and Nichols.  Nich­ols squeezed by for the lead on lap 13, but Rogers regained the top spot on lap 17 and never looked back. Nichols held on to the runner-up spot over Woken, followed by J.C. Howell of Texas and Jason Davis.
Daniel Gottschalk captured the $2,000 top prize in the Karl Chevrolet Northern SportMods.  Gottschalk battled Dustin Daniels early on, with Daniels taking the lead on lap four.
Gottschalk later regained the lead and was first at the finish line when the checkers flew.  Dakota Sproul passed Daniels for second, with Robbie Conway and Tracy Holloway completing the top five.
Conway had the drive of the night.  He had problems in Friday qualifying and started 16th in his last-chance race on Saturday. Conway charged to the front to win that race, then started 14th in the main event, where he worked his way to a fourth place finish.
Brady Bencken prevailed in a multi-car battle to claim the $1,500 top check for the IMCA Sunoco Hobby Stocks. Eric Cross took the lead when the green flag dropped, followed by Luke Wassom, Bencken and Zach Olmstead. Bencken passed Cross on lap eight to take a lead he would not relinquish.
A late caution set up a one-lap shootout but Bencken held on for the victory. Garrett Hager fin­ished second, trailed closely by Cross, Brendon Stigge and Wassom.
Mitch Bolton won his career second Fall Nationals title in Thursday's Mach-1 Sport Compact main.
Bolton, who won previously in 2013, took the lead on lap three from Richard Crow in the 15-lap race and drove away for an easy win.  Crow held on to second, followed by Brandon Wise, Toby Schwein and Lanny Bolton.
Along with Xtreme Motorsports and Casey's General Stores, other sponsors for the weekend were Rock Ridge Ranch, Pfeifer Dozer Service, Freedom Claims Management, Legacy Feeds, Global Oilfield Service, Dynamic Drivelines, Golden B Hydra Drilling, Budweiser, Lone Wolf Ser­vices, Golden Q Sports Bar & Grill and Carrico Implement.
Feature Results 
Modifieds – 1. Johnny Scott; 2. Stormy Scott; 3. Jeff Taylor; 4. David Murray Jr.; 5. Cole Traugott; 6. John Hansen; 7. Clay Money; 8. Steven Bowers Jr.; 9. Corey Lagroon; 10. Nate Moore; 11. Justen Yeager; 12. Corey Burch; 13. Jeremy Frenier; 14. Eddie Belec; 15. Clay Sellard; 16. Dylan Sherfick; 17. Tripp Gaylord; 18. Brady Coen; 19. Mike Lunow; 20. Bert Beech; 21. Tyler Frye; 22. Jeremy Zorn; 23. Dominic Ursetta; 24. Tim Watts. 
Stock Cars – 1. Jason Rogers; 2. Mike Nichols; 3. Casey Woken; 4. J.C. Howell; 5. Jason Davis; 6. Justin Bussell; 7. Dominic Ursetta; 8. Angel Munoz; 9. Chad Sterling; 10. B.J. Wagoner; 11. Shaylon Holloway; 12. Jim Powell Jr.; 13. Tyler Tipton; 14. Mike Petersilie; 15. Jason Kreft; 16. Colin Heim; 17. Kevin Wagoner; 18. Jason Schoenberger; 19. Jeff Tubbs; 20. Aaron Gray; 21. Bruce Plumisto; 22. Jody York; 23. Michael Pepper; 24. Josh Schweitzer.
Northern SportMods – 1. Daniel Gottschalk; 2. Dakota Sproul; 3. Dustin Daniels; 4. Robbie Con­way; 5. Tracy Holloway; 6. Kyle Stallbaumer; 7. Trenton Kleweno; 8. Eric Pfeifer; 9. Tyler Watts; 10. Rodger Peck; 11. Trent Roth; 12. Cody Pancake; 13. Shane Meeks; 14. Matthew Crowell; 15. Robby Rosselli; 16. Brock Beeter; 17. Tanner Portenier; 18. Brian Cross; 19. Kelly Henderson; 20. Zach Schultz; 21. Jacob Olmstead; 22. Brett Berry; 23. Pat Bedore; 24. Blaine Walt.
Hobby Stocks – 1. Brady Bencken; 2. Garrett Hager; 3. Eric Cross; 4. Brendon Stigge; 5. Luke Wassom; 6. Brandon Beeter; 7. Shay Simoneau; 8. Jason Fusselman; 9. Zach Olmstead; 10. An­drew Bertsch; 11. Duane Wahrman; 12. Sterling Sorenson; 13. Andrew Burg; 14. Cody Ghumm; 15. Tyrel Smith; 16. Cody Williams; 17. Trever Haas; 18. Brady Weinman; 19. Reagan Sellard; 20. Brian Stich; 21. Austin Davis; 22. Wade Wagenblast; 23. Jacob Wolsleben; 24. Jason Cleve­land.
Sport Compacts – 1. Mitch Bolton; 2. Richard Crow; 3. Brandon Wise; 4. Toby Schwein; 5. Lanny Bolton; 6. Billy Turner; 7. Art Herzog; 8. Austin Plumisto; 9. Dean Herzog; 10. Kiowa Higdon; 11. Randy Murphy; 12. Chandler Schoenberger; 13. Derek McDonough; 14. Kyle Benoit; 15. Travis Thelander; 16. Amber Bird; 17. Jakob Schwein; 18. Jim Buss; 19. Paul Whittenburg; 20. Lezley Tubbs.