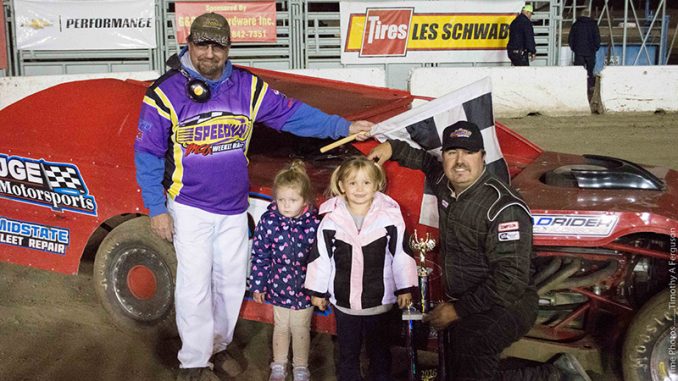 YREKA, Calif. (Sept. 24) – Win number 13 on the season was worth $3,000 for Bobby Hogge IV.
Hogge ventured to Siskiyou Motor Speedway for Saturday's Rod Restad Memorial and led all 30 laps in the Xtreme Motor Sports IMCA Modified feature.
A rash of early cautions slowed the main event but the race ended with 20-plus green flag cir­cuits. Alex Stanford was second and Ryan McDaniel ended in third.
"This was the first time I'd even seen the track," said Hogge, who drew the pole start. "I ran the lower line and Alex and Ryan were pretty close behind."
"When I got to lapped traffic, I just made sure I knew where they were going," he added. "I figured with those two behind me, I didn't have a lot of room to make any mistakes."
Second place paid $2,000 and third paid $1,000. Jeremy Richey and Mark Wauge completed the top five.
Hogge was already on the ballot for the Fast Shafts All-Star Invitational. The Restad Memorial was already his fourth qualifying event victory since the first week of August.
Feature results – 1. Bobby Hogge IV; 2. Alex Stanford; 3. Ryan McDaniel; 4. Jeremy Richey; 5. Mark Wauge; 6. Zach Fettinger; 7. Monte Bischoff; 8. Albert Gill; 9. Nick Trenchard; 10. Lenny Toolanen; 11. Manny Freeman; 12. Duane Cleveland; 13. James Anderson; 14. Dan Thomas; 15. Adam Walters; 16. Tom Berry Jr.; 17. Larry McCracken; 18. Duane Orsburn.