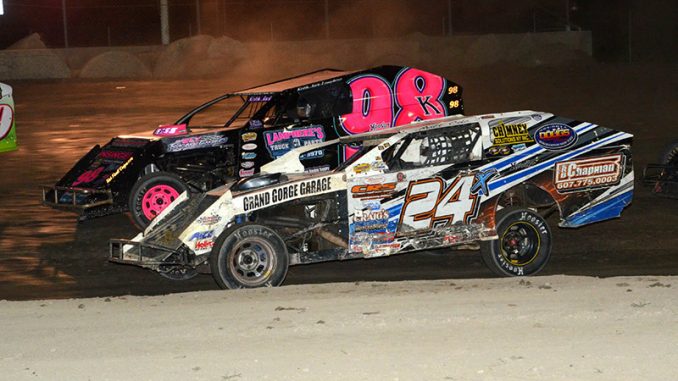 DUNDEE, N.Y. (Sept. 23-24) – The top two drivers in the Dirt Works Eastern Region were both winners at Outlaw Speedway's season-ending Fall Nationals.
A.J. Ward made another long tow from Michigan to win the Friday opener and $1,000 at Dundee. Matt Cole topped the Saturday show, which doubled as an Atomicwraps.com Empire State Series event, and $1,500.
Their victories put both drivers on the ballot for next September's Fast Shafts All-Star Invitational.
Ward won for the third time in as many New York starts on Friday. He took the green flag outside Jake Maynard on the front row and led all 25 laps on a track he found challenging due to its configura­tion.
He was leading by close to a straightaway before a lap nine yellow; further cautions kept lapped traffic from becoming a factor and Ward stuck to the middle to higher line, getting the win ahead of Cole, Beau Ballard, Keith Lamphere and Tim Sebring.
"I just tried to stay smooth and hit my marks, and was able to pull away," Ward said following his 24th feature win of the season.
The 35-lapper on Saturday was the longest Cole had been in. The win was his Empire State se­cond this season and tour career third.
He'd started seventh, saw his first pass of Ward for the lead negated by a caution and then drove by for the front spot following a lap 16 restart.
"I just took my car to the bottom," said Cole, who'd met Ward at the Weedsport show in May of 2015 and made it a point to chat with him and his crew at Dundee. "I've been to Outlaw five times and have two wins and three second place finishes, so the car has been phenomenal there."
Ward, Lamphere, Brandon Smith and Rodney Morgan were scored behind Cole.
"I've had a good season, my best season yet. We've got eight IMCA wins and 13 or 14 seconds," Cole said, "so it's been an awesome year. I couldn't have asked for better."
He's pumped about getting on the All-Star ballot, too.
"I'm pretty excited about it," stated Cole. "I've been on the ballot before. Hopefully I can get elected this time."
Feature Results
Sept. 23 – 1. A.J. Ward; 2. Matt Cole; 3. Beau Ballard; 4. Keith Lamphere; 5. Tim Sebring; 6. Jake Maynard; 7. Tony Harris; 8. Gary Lamphere; 9. Brad Smith; 10. Rich Karlnoski; 11. Rodney Morgan; 12. Tyler Stoddard; 13. Ray McClure; 14. Brandon Smith; 15. Mike Stoddard; 16. Brad Sites; 17. Victor McNeal; 18. Rich McNeal; 19. James Cornell; 20. Nick Griest; 21. Shawn Bruce; 22. Gary Smith; 23. Bob Maynard; 24. Jeff Austin; 25. Todd Stone; 26. David Chambers.
Sept. 24 – 1. Cole; 2. Ward; 3. Keith Lamphere; 4. Brandon Smith; 5. Morgan; 6. Jake Maynard; 7. Bruce; 8. McClure; 9. Sites; 10. Victor McNeal; 11. Gary Roberts; 12. Mike Stoddard; 13. Aaron Ja­cobs; 14. Austin; 15. Harris; 16. Brad Smith; 17. Rich McNeal; 18. Sebring; 19. Tyler Stoddard; 20. Gary Lamphere; 21. Karlnoski; 22. Bumps Scutt; 23. Ballard.