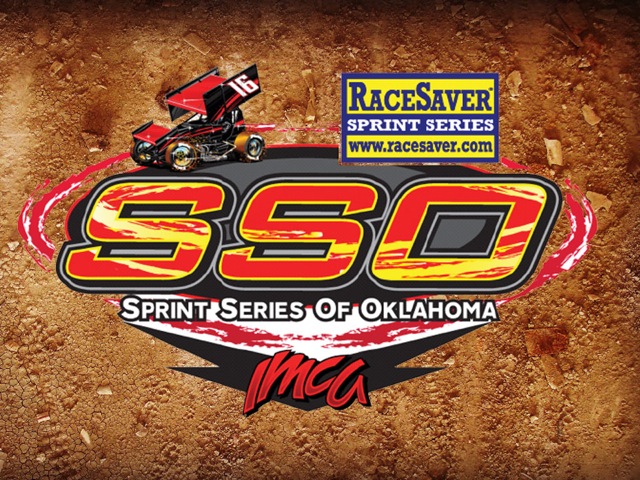 By David Smith Jr.
ARDMORE, Okla. (Sept. 23) – Marcus Thomas finally made a slider stick in lapped traffic and captured his first career Sprint Series of Oklahoma IMCA Racesaver Sprint Car Series feature Friday at Southern Oklahoma Speedway.
Thomas began utilizing sliders through each turn on lap five and each time fellow front row starter Dacus edged out front at the completion of each lap.
The torrid pace up front stayed that way as the leaders began approaching slower cars on lap seven and that's when Thomas appeared to have taken the lead exiting turn two but the feature's first caution fell, nullifying the pass.
On the restart, Dacus again motored ahead with Thomas right there on his rear bumper, once again pulling sliders in each turn, only to come up short.
Lap sixteen is when the outcome of the race came into play as the leaders began entering slower cars once again. Using the top of the three-eighths mile oval as he had all race long, Dacus got hung up in lapped traffic just enough entering turns one and two and saw one of Thomas' sliders finally pay off as he edged in front to take the lead entering down the backstretch.
From there it was all Thomas as he led the final three laps to claim the victory. Dacus settled with a season-best runner-up finish while Cody Whitworth was third.
Feature results – 1. Marcus Thomas; 2. Blake Dacus; 3. Cody Whitworth; 4. Andy Shouse; 5. Dalton Stevens; 6. Sheldon Barksdale; 7. Chad Wilson; 8. Joe Wood Jr.; 9. Gary Owens; 10. Reagan Reed; 11. Michelle Melton; 12. Justin Fisk; 13. Gary Kelley; 14. Michael Scott; 15. Shayla Waddell; 16. Alison Slaton; 17. Jerry Jumper; 18. Derek Cottrell; 19. Robert Vetter; 20. Lloyd Clevenger; 21. Blake Scott; 22. Chris Kelly; 23. Brandon Jennings; 24. Matt Etzlemiller.