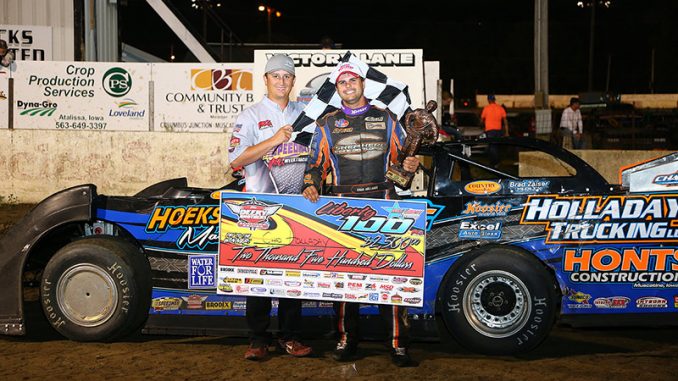 WEST LIBERTY, Iowa (Sept. 24) – Chad Holladay won his first Deery Brothers Summer Series feature while Tyler Bruening became a first-time IMCA Late Model tour champion Saturday night at West Liberty Raceway.
Holladay raced from the 15th starting spot to win the 50-lap finale for the 30th annual series, leading the last 28 circuits en route to the $2,500 Ideal Ready Mix Liberty 100 payday.
"We had a good car, obviously. I was able to run the cushion where no one else was and found some bite on (turn) four. The cautions helped and we had a little bit of luck. It was a little bit of everything tonight," he said. "A Deery Series win is something we've always wanted and we've come close a couple times. We're hoping to pick up at the same place we left off next year."
Bruening made his charge toward the front from 21st starting and finished sixth. He'd gone into the day just a single point ahead of Jeff Aikey in the race for the series crown but the anticipated last-race drama disappeared when Aikey couldn't make the call for the main event due to engine issues.
Andy Eckrich, Matt Ryan, Joel Callahan and Chris Horn finished second through fifth, respectively.
Jeremiah Hurst led early from the pole before Ryan settled in for a 14-lap turn up front. Callahan took over for six circuits. Holladay made the most of the higher line once he got in front and pulled away from the pack.
The regular season track champion at West Liberty, Holladay's previous best Deery Series finish came with a third place run on Sept. 3 at Farley Speedway.
Callahan also topped the $2,500 to-win 50-lapper for pay only and $1,000 to-win Iron Man Challenge. He won the $250 Sunoco Race Fuels feature qualifier drawing as well.
Top 10 drivers in point standings for the second half of the series will receive checks totaling $9,325 during the IMCA national awards banquet in November. Bruening's share will be $2,500.
The complete Liberty 100 program was held on Saturday after Friday's scheduled program was postponed due to wet track conditions.
Feature results – 1. Chad Holladay, Muscatine; 2. Andy Eckrich, Oxford; 3. Matt Ryan, Davenport; 4. Joel Callahan, Dubuque; 5. Chris Horn, Cedar Rapids; 6. Tyler Bruening, Decorah; 7. Joe Zrostlik, Long Grove; 8. Cayden Carter, Oskaloosa; 9. Scott Fitzpatrick, Cedar Falls; 10. Kevin Kile, West Liberty; 11. Kyle Hinrichs, Swisher; 12. Denny Eckrich, Tiffin; 13. Jeff Tharp, Sherrill; 14. Corey Zeitner, Omaha, Neb.; 15. Ray Guss Jr., Milan, Ill.; 16. Ryan Dolan, Lisbon; 17. Darrel DeFrance, Marshalltown; 18. Richie Gustin, Gilman; 19. Jeremiah Hurst, Dubuque; 20. Jake Neal, Omaha, Neb.; 21. Jay Chenoweth, Wapello; 22. Justin Kay, Wheatland; 23. Rob Toland, Davenport; 24. Jeff Aikey, Cedar Falls.
Ironman Challenge – 1. Callahan; 2. Holladay; 3. Bruening; 4. Guss; 5. Carter; 6. Dolan; 7. Fitzpatrick; 8. Ryan; 9. DeFrance; 10. Aikey; 11. Kay; 12. Jay Johnson, West Burlington; 13. Toland; 14. Neal; 15. Zrostlik.
Pay only feature – 1. Callahan; 2. Carter; 3. Neal; 4. Horn; 5. Zrostlik; 6. Denny Eckrich; 7. Hurst; 8. Jonathan Brauns, Muscatine; 9. Tharp; 10. Fitzpatrick; 11. Dolan; 12. Marty Scheckel, Long Grove; 13. Zeitner; 14. Holladay; 15. Kile; 16. Hinrichs; 17. DeFrance; 18. Ryan; 19. Boyse; 20. Andy Eckrich; 21. Mike Zemo Jr., Davenport; 22. Kay.