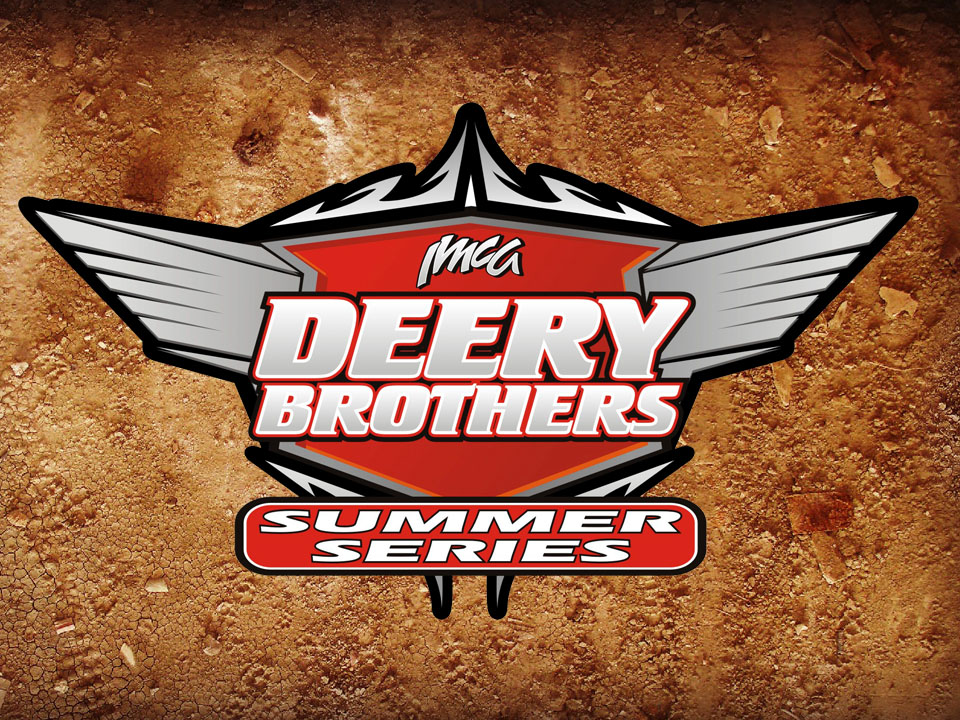 WEST LIBERTY, Iowa (Sept. 20) – Tyler Bruening and Jeff Aikey will decide one of the closest point races in the Deery Brothers Summer Series' 30-year history during the Ideal Ready Mix Lib­erty 100 weekend at West Liberty Raceway.
Bruening seeks his career first IMCA Late Model tour title and leads Aikey by a single point head­ing into the Saturday, Sept. 24 50-lap, $2,500 to win finale.
Aikey already owns seven Deery championships and knows all about tour nailbiters: He was one point better than Rob Toland in 2006, in another series title chase that wasn't decided until the final event.
"I'm looking forward to it. We're good friends with Tyler. I'm going to West Liberty to win it and I know he is, too," said Aikey, also the Deery king in 1987, 1988, 1996, 1999, 2009 and 2012. "He'll be on his game and we'll be on ours. I'm sure it will come down to a car or two."
"I'm excited about the chance to win an eighth title and my whole team is pumped up. We were excited about winning a fourth straight Super Nationals at Boone. We've been to­gether since 1995 and I think I have one of the best teams in Iowa," he continued. "When I'm in the car, I give it 150 percent. When they're in the shop, they give 200 percent. Our maintenance is bar none the best."
Bruening has been a series regular since 2009. He's got a win and three second-place showings through the first 15 Deery events this year.
"It's fun that it's come down to this. I'm looking forward to getting back on the track," Bruening said. "It's bittersweet to see it come to an end. I wish we could keep racing."
Maintenance was also one of the factors he credited in his success.
"It's a lot of things. You've got to have a dedicated program in the shop. You've got to have some luck, too. We've been in good positions this year and we've been consistent," said Bruening. "It helps having run the series and knowing what to expect from track to track."
Both drivers have a provisional to spare and are guaranteed starting spots in Saturday's main event. Aikey has a 2-to-1 edge in features won already this season and thus brings the tie-break­ing advantage to town.
A 20-lap, $1,000 to win Iron Man feature for drivers with perfect series attendance this season and former Deery champions is on the schedule along with qualifying races on Friday, Sept. 23, when racing follows 7 p.m. hot laps. Grandstand admission is $15 for adults and $10 for students ages 13 to 18. Pit passes are $30.
Another $2,500 to win non-points feature is on the docket for Deery drivers following Saturday's main event. Hot laps are at 6 p.m. and racing gets underway at 6:30 p.m. Grandstand admission is $25 for adults and $20 for students. Pit passes are $35.
Kids 12 and under get in free and Xtreme Motor Sports IMCA Modifieds, IMCA Sunoco Stock Cars, Karl Chevrolet Northern SportMods and Mach-1 Sport Compacts run both nights.
Saturday's Modified feature pays $1,000 to win and is a Fast Shafts All-Star Invitational ballot qualifying event.
Deery Brothers Summer Series top 20 point standings – 1. Tyler Bruening, Decorah, 676; 2. Jeff Aikey, Cedar Falls, 675; 3. Matt Ryan, Davenport, 629; 4. Ryan Dolan, Lisbon, 627; 5. Scott Fitzpatrick, Cedar Falls, 613; 6. Joel Callahan, Dubuque, 611; 7. Joe Zrostlik, Long Grove, 583; 8. Chad Holladay, Muscatine, 570; 9. Cayden Carter, Oskaloosa, 546; 10. Darrel DeFrance, Mar­shalltown, 537; 11. Andy Nezworski, Buffalo, 441; 12. Tyler Droste, Waterloo, 401; 13. Richie Gustin, Gilman, 398; 14. Ray Guss Jr., Milan, Ill., 394; 15. Justin Kay, Wheatland, and Denny Eckrich, Tiffin, both 344; 17. Curt Schroeder, Newton, 342; 18. Andy Eckrich, Oxford, 302; 19. Eric Pollard, Peosta, 296; 20. Dan Shelliam, Hazel Green, Wis., 242.