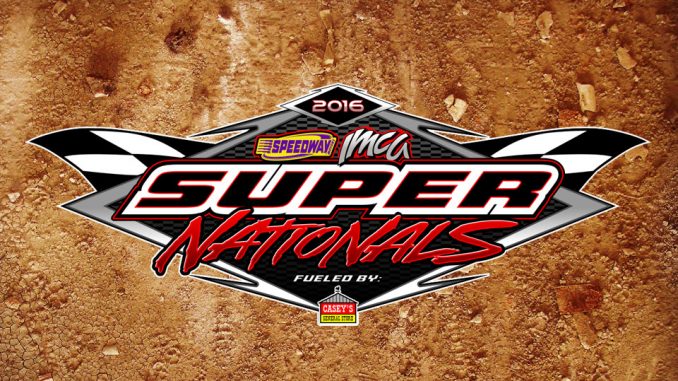 Stanton, Mich.'s Myron DeYoung is racing at Super Nationals for the fifth time. He made the main event in his most recent visit to Boone Speedway, finishing 26th in 2005.
"We've just been running really good this year," DeYoung explained. "I've got a lot of good help and that made it easier to come out."
The winner of Fast Shafts All-Star Invitational qualifying events at both Crystal Motor Speedway and Tri-City Motor Speedway, he's piloting a 2014 Harris ride this season.
"We'll see a lot of tech support from those people at Boone," said DeYoung.
When he returns to Michigan, he'll try to wrap up another track championship at Crystal and then set his sights on the $3,000 top prize at the Great Lakes Nationals.
*
Another veteran returning to Boone Speedway is Regan Tafoya, who makes his 10th consecutive tow from Farmington, N.M.
Tafoya became the first New Mexico driver to make the Modified main event in 2006, finishing 19th.
"I made the show the first year and I've been trying to get back in it ever since," he said. "It takes us 17-19 hours to get here but we love it. We have a lot of friends and family who help us get out here."
He traveled 6-1/2 hours to race regularly at Millard County Raceway and 10 hours to get to Sweetwater Speedway in Rock Springs, Wyo., the neck of the woods Tafoya referred to as "Justen Yeager Country."
"When we get to Rock Springs we say it's only another none hours, let's go to Boone," Tafoya said. "We got to race at Stuart (the Sept. 4 Night Before The Nationals) again and while we didn't win this year we had fun. We love Stuart. They treat us so well there."
*
Californian Chris Nieman is racing today at his first Super Nationals.
Nieman made the trip with cousin Chase, also a Modified driver from Quincy.
"I've never seen this many cars. This is definitely different than back home," Nieman said from the registration tent Wednesday. "My goal is to make one qualifying feature during the week. I definitely want to make the big show."
In his fifth Modified season, Nieman owns four wins and tops the points race at California's Diamond Mountain Speedway.
"We've had a pretty good season," he said. "We've heard about Super Nationals and decided to check it out this year."