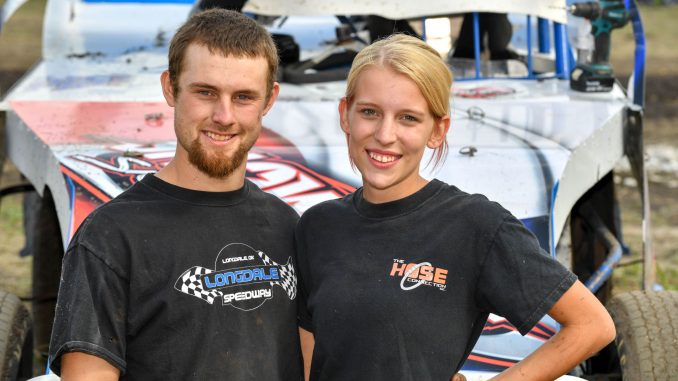 BOONE, Iowa (Sep. 5) – Scoggin-Dickey Parts Center Southern SportMods make their much antici­pated debut Monday, opening night of the 34th annual IMCA Speedway Motors Super Nation­als fueled by Casey's at Boone Speedway.
They'll race for $750 to win and as much as $1,250 in bonus money. The first-ever Southern SportMod champion also goes home with a standard weekly race engine courtesy of Centex Motor­sports.
Qualifying races for IMCA Sunoco Hobby Stocks and Karl Chevrolet Northern SportMods com­plete the card.
*
The 337 cars that see action Monday at Boone include 181 Northern SportMods, 123 Hobby Stocks and 33 Southern SportMods.
*
After IMCA made the announcement that Southern SportMods would join the Super Nationals race program, the only thing that could slow Kenneth and Vickie Graves from making the trip to Boone was a broken axle.
The Tahoka, Texas couple saw their trip north slowed by six hours when the trailer axle broke late Sat­urday afternoon. They resumed their 950-mile trip north at about 10:30 p.m. that evening.
Diagnosed earlier this year with Friedreich's Ataxia, a disease that causes damage to the nervous sys­tem and affects coordination, Graves has dabbled in the Stock Car and Modified divisions dur­ing his IMCA career but is primarily known as a Southern SportMod hot shoe.
"I had never been to Boone before. It's a lot different than what I'm used to back home," he said. "I told Vickie we were coming here one way or another. When IMCA said Southern SportMods would be here, I told her we were coming."
A two-time feature winner so far this season, Graves plans to race as long as he's physically able to do so and Vickie promised she'd do everything she could to help.
"My goal at Super Nationals is just to get in the show," he said. "If I can do that, then I'll try to make the top 10."
*
One of the longest tenured Southern SportMod veterans is Sid Kiphen, who's been racing in the class since it was first sanctioned. He first came to Super Nationals as a fan and brought his race car along this year.
"I thought it was great the first time I was here. I thought it was a track I'd like to drive on," said the Gatesville, Texas, driver, who will get his chance to do that later in today's program. "It's nice to come back here to race. I didn't know if I would ever get to in this class. It's a special deal."
More than 30 Southern SportMods were checked in for the Labor Day program.
"There are no slouches here. There are a lot of good drivers," Kiphen said. "You want to make the show for sure. A top 10 finish would be better. A top five would be like a win."
*
Jason Vejtruba brings nearly 20 years of racing experience into his first season of IMCA Northern SportMod competition.
The Atwater, Minn., driver is a seven-time feature winner this season, with six wins at Princeton and another at Redwood to his credit. He makes his Super Nationals debut today in a former Je­nae Gustin ride.
"There are a lot of people here. This is a lot bigger that anything I've been to before," he said. "Manu­facturers' row is pretty impressive. There's a good availability of parts if you need any­thing."
While a relative newcomer to IMCA, he's enjoyed an association with the sanctioning body through nephew (and engine builder) Shaun Bruns.
"There's good competition is IMCA and no lack of cars. We probably average 16-18 cars at Prince­ton," he said. "And the cost is reasonable."
*
A road atlas and marked-up calendar have chronicles the Midwest travels of Dennis Gates. The Northern SportMod driver will end his extended racing vacation to the Midwest the Sunday after Super Nationals and head home to Claypool, Ariz.
Gates comes into the week of Super Nationals with 54 starts, the last 32 of them in Iowa and Minne­sota. His first Midwest outing came at Hancock County Speedway's Salute to Veterans show.
"Just being able to race five or six nights a week was the highlight for me," he said. "In Arizona, we can usually race once a week, twice a week or once a month."
Sixty-six years old and retired from long-time sponsor Mid-State Pipe and Supply of Globe, Gates is nearing a half-century in the sport. He's wanted to race in the Midwest for more than 40 of those years.
*
Never in all the years Dakota Sproul has been coming to Super Nationals has he pictured himself in victory lane at Boone Speedway.
That changed Saturday night with his charge to the checkers in the Prelude feature for Northern SportMods.
"It was awesome," said the Ellis, Kan., clipper, who started on the pole in his heat and the main event and led every lap of both races. "We've been coming here since I was eight (he's now 19) and this is my second year racing here. We didn't have any luck last year but winning Saturday night was one of the coolest experiences I've ever had. It was a dream come true."
The win was his fourth of the season. Sproul is a regular at RPM Speedway and Salina Speed­way and a frequent foe of national championship contender Daniel Gottschalk.
"If you can beat the best, you can be the best," he reasoned. "Words couldn't express how happy I'd be winning this Saturday night."