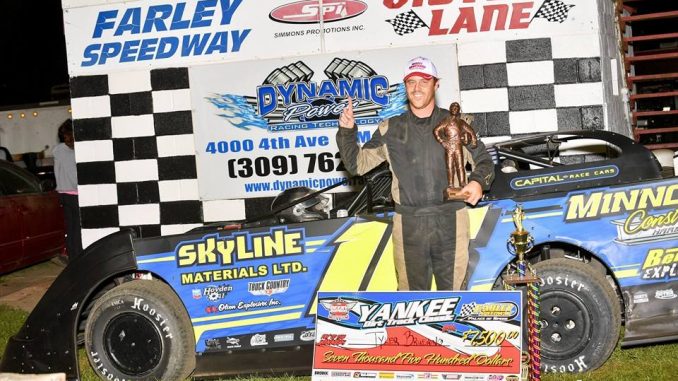 FARLEY, Iowa (Sept. 3) – The biggest paying event on the Deery Brothers Summer Series schedule brings out the best in Tyler Bruening.
Bruening topped Saturday's $7,500 to win Yankee Dirt Track Classic main event for IMCA Late Models at Farley Speedway.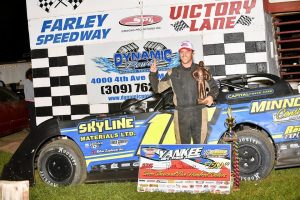 All three of his career tour wins have come at the Yankee and over different distances … 50 laps in 2011, 75 laps in 2012 and 100 laps this year.
"It's a huge honor to win this race. We think really highly of the Yankee," said Bruening, who battled back and forth over second place with Chad Holladay much of the night and finally passed Matt Ryan for the lead following a late restart. "Anybody can win on any given night in the Deery Series. We've had kind of a dry spell so this win is pretty sweet."
Ryan, Holladay, Jeff Aikey and Ray Guss Jr. rounded out the top five. Hard charger Chris Simpson started 21st and ended in sixth.
Ryan had started outside row one; Bruening took the initial green inside Holladay on row three.
"Obviously, everybody was worried about their tires and making 100 laps. This was a Yankee that was pretty unique," said Bruening, who'd previously raced a handful of events at that distance. "I had my car dialed in and just concentrated on hitting my marks."
"We used to race here weekly but have done more traveling this season," he added. "We definitely still consider Farley our home track."
As a bonus, the Saturday checkers extended Bruening's advantage over Aikey to four points in the race for the series championship.
"I have a lot of fun racing with Jeff. He and his crew do a good job with their car and we do the same with ours," Bruening said of his points duel with the seven-time Deery Series champion. "We race each other hard and clean. We've become pretty good friends. It's been fun racing with him this season."
Next up on the Deery Series schedule is the Thursday, Sept. 8 show at Boone Speedway during the IMCA Speedway Motors Super Nationals fueled by Casey's.
The feature pays $2,000 to win plus a Speedway Motors Weekly Racing bonus of as much as $1,500. Pit gates open at 9 a.m. and racing starts at 2 p.m.
The 30th annual tour concludes with another $2,000 to win feature during the Sept. 23 and 24 Ideal Ready Mix Liberty 100 at West Liberty Raceway.
Feature results – 1. Tyler Bruening, Decorah; 2. Matt Ryan, Davenport; 3. Chad Holladay, Muscatine; 4. Jeff Aikey, Cedar Falls; 5. Ray Guss Jr., Milan, Ill.; 6. Chris Simpson, Oxford; 7. Jon Merfeld, Peosta; 8. Joel Callahan, Dubuque; 9. Cayden Carter, Oskaloosa; 10. Denny Eckrich, Tiffin; 11. Ryan Dolan, Lisbon; 12. Joe Zrostlik, Long Grove; 13. Jerry King, Waterloo; 14. Corey Zeitner, Omaha, Neb.; 15. Scott Fitzpatrick, Cedar Falls; 16. Darrel DeFrance, Marshalltown; 17. Kyle Hinrichs, Swisher; 18. Richie Gustin, Gilman; 19. Chris Horn, Cedar Rapids; 20. Andy Eckrich, Oxford; 21. Chuck Hanna, Port Byron, Ill.; 22. Curt Martin, Independence; 23. Tyler Droste, Waterloo; 24. Dan Shelliam, Hazel Green, Wis.; 25. Justin Kay, Wheatland.
1st heat – 1. Holladay; 2. Merfeld; 3. Fitzpatrick; 4. Horn; 5. Hinrichs; 6. Spencer Diercks, Davenport; 7. Rory Metcalf, Iowa City; 8. Ben Seemann, Waterloo; 9. King.
2nd heat – 1. Zrostlik; 2. Aikey; 3. Kay; 4. Denny Eckrich; 5. Carter; 6. Simpson; 7. John Emerson, Waterloo; 8. Marty Scheckel, Long Grove; 9. Charle McKenna, Clear Lake.
3rd heat – 1. Guss; 2. Andy Eckrich; 3. DeFrance; 4. Droste; 5. Dolan; 6. Jeremiah Hurst, Dubuque; 7. Gustin; 8. Kevin Miller, Freeport, Ill.; 9. Curt Marks, Dubuque.
4th heat – 1. Callahan; 2. Bruening; 3. Zeitner; 4. Gary Webb, Blue Grass; 5. Shelliam; 6. Eric Pollard, Peosta; 7. Jay Chenoweth, Wapello; 8. Greg Kastli, Waterloo; 9. David Webster, Monroe, Wis.
5th heat – 1. Ryan; 2. Hanna; 3. Martin; 4. Ross Pierce, Sherrill; 5. Becky Roth, Keeler, WIs.; 6. LeRoy Brenner, Aledo, Ill.; 7. Wayne Hora, Anamosa; 8. Nick Marolf, Wilton. 
1st "B" feature – 1. Horn; 2. Carter; 3. Shelliam; 4. Droste; 5. Diercks; 6. Hurst; 7. Emerson; 8. McKenna; 9. Seemann; 10. Marolf; 11. Roth; 12. Chenoweth; 13. Hora; 14. Webster; 15. Miller.
2nd "B" feature – 1. Denny Eckrich; 2. Dolan; 3. Simpson; 4. Hinrichs; 5. Metcalf; 6. Webb; 7. King; 8. Kastli; 9. Pierce; 10. Pollard; 11. Marks; 12. Scheckel; 13. Gustin; 14. Brenner.