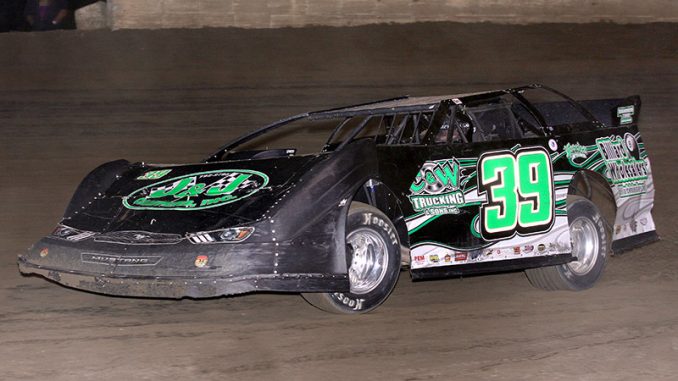 VINTON, Iowa (Sept. 2) – Rob Toland ended a season-long run atop point standings for IMCA Late Models with his career third national championship.
Toland adds the 2016 trophy to titles from 2001 and 2005. He won 10 features and local track crowns at his hometown Davenport Speedway and at Quad City Speedway as well.
His Davenport title paid off with 15 bonus points, as Toland topped Luke Goedert of Guttenberg by an 800-797 margin for the national prize, worth a $5,500 share of the $21,300 point fund for the division.
"When I won my first one in 2001 we were still kind of new to chasing points," said Toland, at 54 the oldest driver to win an IMCA national championship. "It was different this year. I'd been away from racing for most of two years after being injured at work and I really missed it."
"Right before I got injured I was a third to fifth place finisher," he continued. "I bought a car from Lynn Richard and it made me relevant again."
Goedert won a division-leading 12 features and got 13 bonus points for winning the track championship at Maquoketa Speedway.
Rounding out the top five in the national points race were Darrel DeFrance of Marshalltown, Tyler Droste of Waterloo and Joel Callahan of Dubuque.
Also winning track championships were Jeff Aikey of Cedar Falls at the Iowa State Fair Speedway, Callahan at Farley Speedway and Dubuque Speedway, DeFrance at Hamilton County Speedway, Droste at Independence Motor Speedway, Chad Holladay of Muscatine at West Liberty Raceway and Jake Neal of Omaha, Neb., at Shelby County Speedway.
Toland paced Allstar Performance Illinois State standings and Goedert led the way in Iowa. Na­tional rookie of the year was Kirby Schultz of Albia.
DeFrance, Ray Guss Jr. of Milan, Ill., and Justin Kay of Wheatland are also three-time IMCA Late Model national champs.
Toland said the highlight of his season came on championship night at Davenport when he won ahead of his son Bobby and Kay.
Final events of the 2016 IMCA Speedway Motors Weekly Racing point season for Late Models were held Aug. 28 and standings become official on Sept. 26.
Point fund checks will be presented during the national IMCA banquet in Lincoln, Neb., on Nov. 26.
Unofficial IMCA Late Model point standings – 1. Rob Toland, Davenport, Iowa, 800; 2. Luke Goedert, Guttenberg, Iowa, 797; 3. Darrel DeFrance, Marshalltown, Iowa, 793; 4. Tyler Droste, Waterloo, Iowa, 786; 5. Joel Callahan, Dubuque, Iowa, 779; 6. Matt Ryan, Davenport, Iowa, 760; 7. Andy Nezworski, Buffalo, Iowa, 754; 8. Chad Holladay, Muscatine, Iowa, 752; 9. Jeremiah Hurst, Dubuque, Iowa, 743; 10. Allan Hopp, Harlan, Iowa, 742; 11. Jason Hahne, Webster City, Iowa, 726; 12. Joe Zrostlik, Long Grove, Iowa, 718; 13. Nick Marolf, Wilton, Iowa, 711; 14. Ryan Griffith, Webster City, Iowa, 702; 15. Curt Schroeder, Newton, Iowa, 692; 16. Ben Seemann, Waterloo, Iowa, 690; 17. Jonathan Brauns, Muscatine, Iowa, 685; 18. Travis Denning, Sterling, Ill., 681; 19. Randy Havlik, Ankeny, Iowa, 680; 20. Tyler Bruening, Decorah, Iowa, 677.