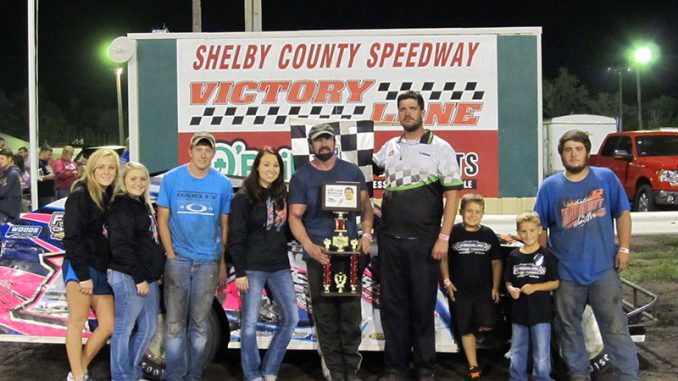 HARLAN, Iowa (Aug. 27) – Chris Abelson added to his collection of Tiny Lund Memorial trophies while Jake Neal started his Saturday at Shelby County Speedway.
Both were $1,000 feature winners, Abelson in a 2017 Fast Shafts All-Star Invitational ballot qualify­ing feature for Xtreme Motor Sports IMCA Modifieds and the rookie Neal in the IMCA Late Model headliner.
Abelson passed Shane DeMey for the lead following a restart just after midway in the Modified 20-lapper. He'd started seventh and was about a car length off the pace when the caution flew.
Justin Zeitner challenged but couldn't catch Abelson following restarts later in the contest. DeMey, Brad Bergren and Craig Reetz completed the top five.
Abelson is a three-time Tiny Lund winner in the Modifieds and also topped the 2006 feature for Karl Chevrolet Northern SportMods.
Neal hasn't had any luck winning the Modified feature at Shelby County's season-ending special but needed just one try to take top honors in the Late Model division.
He'd restarted last in the field following a lap four incident, then needed just seven laps to make his way to the front.
After running with lapped traffic the last five times around the track, Neal won by close to a straighta­way over Jay Stewart. Darrel DeFrance, Allan Hopp and Barry Sorensen were next across the stripe.
Mike Nichols and Corey Madden also returned to Tiny Lund victory lane, Nichols for the fifth time and Madden on the third occasion.
Nichols started seventh in the IMCA Sunoco Stock Car feature and outran Dusty Van Horn, Brian Blessington, Keith Knop and Joe Zadina to the $600 checkers.
Madden earned $400 for his IMCA Sunoco Hobby Stock victory. He took the checkers in front of Luke Ramsey, Jason Kohl, Jason Fusselman and Kevin Bruck.
Clint Luellen banked $500 for his Northern SportMod victory. He was chased to the finish by Cody Ol­sen, Jake Sachau, Kody Havens and Joshua Sink.
Denny Berghahn Jr.'s Mach-1 Sport Compact feature win was worth $300. Alec Stapleton, Joe Bakes, David Coenen and Curtis Miller completed the top five.
Feature Results
Modifieds – 1. Chris Abelson; 2. Justin Zeitner; 3. Shane DeMey; 4. Brad Bergren; 5. Craig Reetz; 6. Jonathan Plowman; 7. Jacob Anson; 8. Ryan Topf; 9. Dale Ransom; 10. Robert Tip­pery; 11. Tyler Gross; 12. Ricky Stephan; 13. Roger Hadan; 14. John Davis; 15. Jeff Stephens; 16. Alex Reetz; 17. Matt Webb; 18. Joe Mefferd; 19. Trey Kline; 20. Robert Stephens; 21. Steve Reetz; 22. Red Monson; 23. Cody Hillgartner; 24. Jake Neal; 25. Jeff James; 26. Jaden Living­ston.
Late Models – 1. Jake Neal; 2. Jay Stewart; 3. Darrel DeFrance; 4. Allan Hopp; 5. Barry Sorensen; 6. Jeff Segebart; 7. David Livingston; 8. Kirby Schultz; 9. Shane DeMey; 10. Jason Hahne; 11. Doug McCollough; 12. Kyle Segebart; 13. Mark Plowman.
Stock Cars – 1. Mike Nichols; 2. Dusty Van Horn; 3. Brian Blessington; 4. Keith Knop; 5. Joe Za­dina; 6. Clay Christian; 7. Chris Ullrich; 8. Terry Klocke; 9. Mike Stapleton; 10. Mike Albertsen; 11. Tony Ritterbush; 12. Jay Brannan; 13. Willie Ransom; 14. Bob Walker; 15. Dustin Rold; 16. Rob­ert Staiert; 17. Terry Erwin; 18. Trent Partridge; 19. Justin Bromert.
Northern SportMods – 1. Clint Luellen; 2. Cody Olsen; 3. Jake Sachau; 4. Kody Havens; 5. Joshua Sink; 6. David Schwartz; 7. Ed Hamilton; 8. Thomas Van Dyke; 9. Troy Fudge; 10. D.J. Robinson; 11. Colton Leal; 12. Taylor Musselman; 13. Matt Pinegar; 14. Kody Kline; 15. Brett Vanderheiden; 16. Galen Grabill; 17. Tyler Fudge; 18. Jerry Hinton; 19. Dylan Petersen; 20. Keith DeMey; 21. Dan Kline; 22. Jason Blunk; 23. Nick Hermsen; 24. Dave Carlisle; 25. Brett Hopp.
Hobby Stocks – 1. Corey Madden; 2. Luke Ramsey; 3. Jason Kohl; 4. Jason Fusselman; 5. Kevin Bruck; 6. Brandon Cox; 7. Jesse Lund; 8. Sterling Sorensen; 9. Phil Reid; 10. Eric Knutson; 11. Zach Hemmingsen; 12. Josh Cook; 13. J.R. Croy, Norwalk; 14. Brad Hess; 15. Jeff Atkins.
Sport Compacts – 1. Denny Berghahn Jr.; 2. Alec Stapleton; 3. Joe Bakes; 4. David Coenen; 5. Curtis Miller; 6. Bryan Vannausdle; 7. Tammy Clark; 8. John Kinser; 9. Scott Brown; 10. Marcus Burmeister; 11. Christian Lafoy; 12. David Sciranko.