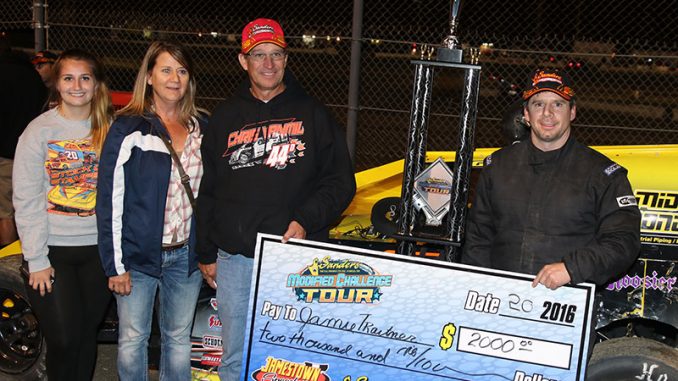 By Mike Spieker
JAMESTOWN, N.D. (Aug. 20) – The penultimate night of the inaugural Sanders Modified Chal­lenge Tour brought a new record 54 Xtreme Motor Sports IMCA Modifieds to Jamestown Speed­way for the Saturday night special.
Compared to the standard of the first two nights, Saturday's event was a bit offbeat. After failing to transfer out of the heat race, point leader Austin Arneson made a big charge in the "B" feature but came up a half-car length short of finishing in the top four and moving on to the main event.
Jamie Trautner led the 25-lap feature wire to wire to score the victory in the $2,000 to win Fast Shafts All-Star Invitational ballot qualifying headliner.
"This is outstanding. When I started racing I ran Jamestown and Norman County Raceway and I've never won here. I've been close a few times here, but I finally got one and this is the biggest one of my career," Trautner said from victory lane. "I knew there was so many good guys behind me that if I didn't hit my mark, they were going to be rolling by."
Trautner started outside the front row and ran the cushion to beat pole sitter Jerry Lamb off turn two. Riding right in Trautner's tire tracks was Ryan Mikkelson, who started in fourth.
The first caution flew on lap three when Hunter Marriott and Hank Berry made contact in turn three, which sent Marriot to the back. On the restart, Darin Duffy challenged Mikkelson for the runner-up position but Mikkelson withstood the threat. On the following circuit Marriot was in trou­ble again as he was spun in turn two, bringing out the caution. He would rebound to finish eighth.
Restarts were the key for Trautner as he was able to not only fend off Mikkelson and Duffy, but pull away from the pack on most occasions.
"I'm not a very good restarter," admitted Trautner. "Every time we had a restart I kept thinking, 'When do I hit the gas, when do I hit the gas? I have to protect the bottom, then get to the top. If I get passed I guess it's just not my night, it's theirs,' but it worked out."
The final caution of the race flew on the lap six restart when Tyler Peterson and Mikkelson made heavy contact in turn two. As a result, Peterson spun exiting the corner as several other cars also spun out trying to avoid getting caught up.
One driver that wasn't as fortunate was Friday night's Out-Pace Racing Products hard charger, Dave Shipley. Shipley had no where to go and made significant contact with the left front of Peter­son's machine, which sent the rear end of Shipley's car airborne. Shipley landed on all fours, and was unharmed in the incident, but both he and Peterson were done for the night.
Trautner was able to hold on for one more restart and went on to lead the final five laps as Duffy sneaked by Mikkelson on the final lap to take second. Tyler Hall wheeled his way from 14th to fourth, while Rich Pavlicek rounded out the top five after starting ninth.
John Nord was the Out-Pace Racing Products hard charger, advancing from 22nd to 10th to score the $100 bonus.
Feature results – 1. Jamie Trautner; 2. Darin Duffy; 3. Ryan Mikkelson; 4. Tyler Hall; 5. Rich Pavlicek; 6. Hank Berry; 7. Rob VanMil; 8. Hunter Marriott; 9. Greg Friestad; 10. John Nord, 11. Tim Thomas; 12. Tory Heupel; 13. Tom Silver; 14. Bob Banish Jr.; 15. Jerry Lamb; 16. Andrew Michel; 17. Jeff Odden; 18. Jarrett Carter; 19. Cody Peterson; 20. Dave Shipley; 21. Mike John­son; 22. Josh Eberhardt; 23. Tyler Peterson; 24. Marlyn Seidler; 25. Michael Griffin.