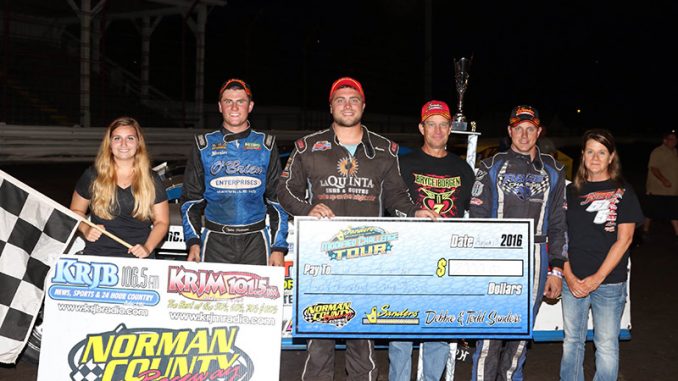 By Mike Spieker
ADA, Minn. (Aug. 18) – The inaugural Sanders Modified Tour commenced Thursday night at Nor­man County Raceway with a record 46 Xtreme Motor Sports IMCA Modifieds on hand. While the Sanders Modified Tour is still in its onset, the one-night Sanders Modified Challenge, which now apart of the four-night tour, has been the premier Modified event on the NCR schedule for the previous four years.
Before Thursday night, there had been no repeat winner of the Sanders Modified Challenge but all that changed when Austin Arneson drove from third to the lead and picked up the win to back up his 2014 Sanders Mod Challenge title.
"This is huge. To have a race this big close to home in front of a lot of guys that watched me grow up racing here and in front of family and friends, it's a really big deal," said Arneson, who earned $2,000 for the Fast Shafts All-Star Invitational ballot qualifying victory. "I'm really excited to have won it a second time."
After getting by his older brother Cale for second, Arneson used the high side to take the lead away from pole sitter Ryan Mikkelson on lap five.
"It just took patience right away. I knew the track was going to be racy all over," said Arneson. "The bottom was fast. The top was fast, but I prefer the top. I just had to hit my marks and we started picking up momentum and I got out front and stayed out front."
Arneson went on to the lead the final 20 laps of the feature but that run up front didn't come with­out its challenges.
A few mid- to late-race cautions put IMCA newcomer Tyler Peterson right on Arneson's rear bumper. Peterson threatened to take the point following each restart but over the course of a hand­ful of laps, Arneson would prevail and regain his sizable lead.
Arneson took the checkers by more than three seconds. Peterson came home as the runner-up, while first "B" winner Hunter Marriot wheeled his way through the field to round out the podium. Josh Eberhardt came home fourth with Justin Jones in fifth.
By winning both his heat and the feature, Arneson picked up the $250 clean sweep bonus. Johnny Corell took home the $100 Out-Pace Hard Charger award, while Tommy Lee was the $100 Performance Auto Tough Luck award recipient.
On Friday night the tour heads 45 miles south to Red River Valley Speedway in West Fargo for another $2,000-to-win event.
Feature results – 1. Austin Arneson; 2. Tyler Peterson; 3. Hunter Marriot; 4. Josh Eberhardt; 5. Justin Jones; 6. John Corell; 7. Michael Greseth; 8. Michael Johnson; 9. Ryan Mikkelson; 10. Dev Malmlov 11. Rich Pavlicek; 12. Tommy Lee; 13. Bryce Borgen; 14. Josh Rogotzke; 15. Cody Erick­son; 16. Jerry Lamb; 17. Myles Tomlinson; 18. Jamie Trautner; 19. Rusty Kollman; 20. Cale Arneson; 21. Josh Beaulieu; 22. Cody Peterson; 23. Tom Berry Jr.; 24. Tom Silver; 25. Billy Vo­gel.
Heat winners were Cale Arneson, Tyler Peterson, Austin Arneson, Erickson and Greseth. "B" fea­ture winners were Marriott and Borgen.