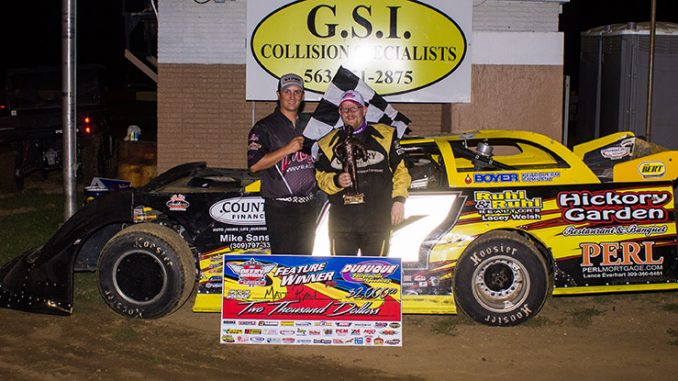 DUBUQUE, Iowa (Aug. 16) – If he'd had a rear view mirror, Matt Ryan would have been able to watch the race that played out behind him in Tuesday's Deery Brothers Summer Series main event at Dubuque Speedway.
Ryan led all but the first of 50 laps in winning the IMCA Late Model tour feature and $2,400. The Deery checkers were his career second.
"Normally when I go to Dubuque I'm a guardrail guy but the car was good on the top side in my heat race," said Ryan, who'd won the Slocum Memorial Deery in April of 2011. "I thought if I'm starting second that I'd stay there. My goal was to stay on the cushion but keep it out of the fence."
He left the top side just long enough to pass pole starter Dan Shelliam, then stayed in front to the checkers.
Point leader Tyler Bruening ended a couple car lengths off the pace in second to add a little more breathing room in his battle for the series championship with fifth-finishing Jeff Aikey. Luke Goedert was third and Scott Fitzpatrick ran fourth.
Once he got to the front, Ryan found himself pursued by a host of challengers that at one point was running five wide close behind.
"Every restart we'd go into (turn) one and there'd be somebody on the bottom," he said. "I was pretty happy to be able to stay out in front of them."
While Bruening ran second much of the night, he gave way near midway to last-starting Joel Callahan.
Callahan stayed close before breaking and bringing out one of the six yellows that punctuated the main event. Joe Zrostlik worked his way up from outside row 10 to finish sixth.
Ryan's father Terry won his first Late Model feature at Dubuque in 1991 and he got the best of Terry Neal in an epic feature a couple years ago.
"I've been in position to win races this season but things didn't work out. It's been kind of a long year for us," he said. "I was excited to start up front with this Gheer'd Up car."
Winner of the $250 Sunoco Race Fuels feature qualifier drawing was Chad Holladay.
Ryan's share of the purse included a $400 bonus for his perfect series attendance.
"They made the announcement about the bonus during the drivers' meeting," he noted. "I thought 'sweet!'. I was pretty excited about it. Thank you, Sunoco."
Mark Schulte was the Xtreme Motor Sports IMCA Modified winner at Dubuque.
Up next on the Deery Series schedule are Friday, Sept. 2 and Saturday, Sept. 3 features during Farley Speedway's Yankee Dirt Track Classic.
Top prize on opening night is $2,000 with $7,500 paid to win on night two. Saturday's winner will go home with the biggest check of the 30th annual tour.
The Deery Series then returns to the Thursday night program during the IMCA Speedway Motors Super Nationals fueled by Casey's at Boone Speedway on Sept. 8. That feature pays $2,000 plus as much as $1,500 in bonus money to win.
Feature results – 1. Matt Ryan, Davenport; 2. Tyler Bruening, Decorah; 3. Luke Goedert, Guttenberg; 4. Scott Fitzpatrick, Wheatland; 5. Jeff Aikey, Cedar Falls; 6. Joe Zrostlik, Long Grove; 7. Dan Shelliam, Hazel Green, Wis.; 8. Ray Guss Jr., Milan, Ill.; 9. Darrel DeFrance, Marshalltown; 10. Chad Holladay, Muscatine; 11. Chuck Hanna, Port Byron, Ill.; 12. Ryan Dolan, Lisbon; 13. Lee Kinsella, Peosta; 14. Bobby Hansen, Center Point; 15. Curt Schroeder, Newton; 16. Luke Merfeld, Dubuque; 17. Joel Callahan, Dubuque; 18. Eric Pollard, Peosta; 19. Andy Nezworski, Buffalo; 20. Cayden Carter, Oskaloosa; 21. Tyler Droste, Waterloo; 22. Justin Kay, Wheatland.
1st heat – 1. Kay; 2. Carter; 3. Hanna; 4. Aikey; 5. Dolan; 6. DeFrance; 7. Hansen; 8. Callahan.
2nd heat – 1. Nezworski; 2. Ryan; 3. Shelliam; 4. Pollard; 5. Kinsella; 6. Schroeder; 7. Zrostlik.
3rd heat – 1. Bruening; 2. Goedert; 3. Droste; 4. Fitzpatrick; 5. Merfeld; 6. Guss; 7. Holladay.