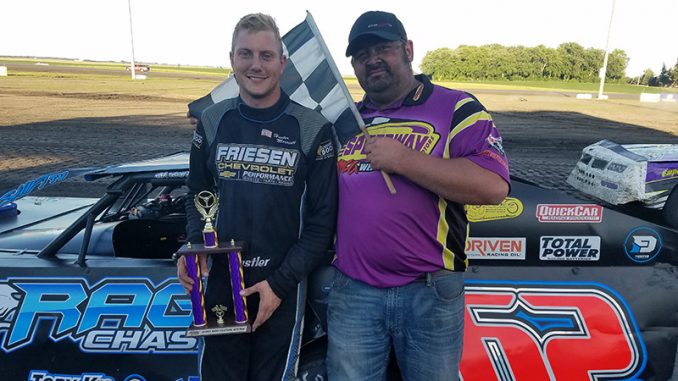 By Ryan Clark
BRITT, Iowa (Aug. 14) – One night after an unexpected early exit during the Night of 1,000 Stars, Hunter Marriott stood in victory lane following the Night of 10,000 Stars at Hancock County Speedway.
Marriott, who was sidelined late in Saturday's 50-lapper after contact while battling for the lead, outran Ryan Ruter to earn the win Sunday night, his third of the week as part of Iowa Modified Speedweek.
Already on the 2017 Fast Shafts All Star Invitational ballot, Marriott earned $7,000 for his Xtreme Motor Sports IMCA Modified efforts Sunday.
The main event was split into two 25-lap segments, which were separated by a 10-minute pit stop on the front stretch.
Cody Laney drove into the lead at the onset and led the entirety of the first segment. From the middle of row one of the three-wide starting formation, Laney was pressured constantly by Marriott, who held the runner-up spot throughout the first 25 laps.
Marriott restarted alongside the leader in the middle of row one.
A caution flag on the initial start of the second segment saved the day for Marriott, who opted for the high side and lost a couple positions before yellow quickly slowed action.
On the second restart, Marriott dropped to the low side of the speedway and found room beneath the leader exiting turn four. He worked past Laney and into the lead at the completion of lap 26.
Ruter, who restarted fifth, made his way into second with 16 laps to go. Although he was able to close late, Marriott escaped with the win.
"I didn't even know he was there," Marriott said of Ruter. "I was focused on what I was doing. I knew if anyone was going to get by me, they'd probably have to move me to do it."
Marriott also won the final two Hawkeye Dirt Tour events of the season last week at Clay County Fair Speedway and Buena Vista Raceway, both part of the inaugural Iowa Modified Speedweek.
Forty-two Modifieds signed in Sunday night.
In other action, David Smith beat Dan Mackenthun to the checkers in the IMCA Sunoco Stock Car feature.
Shane Swanson was first across the stripe in the Karl Chevrolet Northern SportMod main while August Bach held off Cody Nielsen to take the win in the IMCA Sunoco Hobby Stocks.
Joel Rust and Doug Smith had the top Modified and SportMod point totals during Speedweek and received $1,000 and $500, respectively, from IMCA.TV. Each driver also received a custom IMCA.TV race suit from Velocita.
The Night of All Stars was bumped from the three day Stars weekend at Hancock County due to weather. It has been rescheduled for Sat., Aug. 20 as part of the track's season championship format.
The revised purse structure for that event will still pay the Modified winner $1,000 and be a qualifier for the 2017 Fast Shafts All Star Invitational ballot.
More information on the Aug. 20 season finale is available by calling the track office at 641 843-9080 or 515 320-0066.
Modified Results 
Feature – 1. Hunter Marriott, Brookfield, Mo.; 2. Ryan Ruter, Kanawha; 3. Ethan Dotson, Bakersfield, Calif.; 4. Kelly Shryock, Fertile; 5. Kyle Brown, State Center; 6. Cody Laney, Torrance, Calif.; 7. Austin Wolf, Algona; 8. Joel Rust, Grundy Center; 9. Josh Ruby, Lakota; 10. Benji LaCrosse, Green Bay, Wis.; 11. Jason Fisher, Lakefield, Minn.; 12. Clint Wendel, Mason City; 13. Tom Berry Jr., Boone; 14. Ben Kraus, Britt; 15. Jesse Hoeft, Forest City; 16. Tad Reutzel, Burt; 17. Scott Olson, Blairsburg; 18. Jon Snyder, Ames; 19. Ricky Thornton Jr., Harcourt; 20. Richie Gustin, Gilman; 21. Corey Dripps, Reinbeck; 22. Mike Hansen, Dickinson, N.D.; 23. Troy Swearingen, Forest City; 24. Josh Rogotzke, Sanborn, Minn.; 25. Jimmy Gustin, Marshalltown; 26. Jeremy Mills, Garner; 27. Mark Noble, Bloomington Prairie, Minn.; 28. Racer Hulin, Laurel; 29. David Brown, Kellogg.
First heat (top three) – 1. Laney; 2. Ruby; 3. Ruter; 4. Kraus; 5. Kyle Brown; 6. Rust; 7. Aaron Krohn, Slayton, Minn.; 8. Ryan Maitland, Waterloo; 9. Steve Reynolds, Springfield, S.D.
Second heat – 1. Noble; 2. Fisher; 3. Swearingen; 4. Reutzel; 5. Hulin; 6. Snyder; 7. Rogotzke; 8. Jason Briese, Cleghorn; 9. Jim Mathieson, Sioux City.
Third heat – 1. Dotson; 2. Jimmy Gustin; 3. Hansen; 4. Wendel; 5. Hoeft; 6. Wolf; 7. David Brown; 8. Mark Elliott, Webster City.
Fourth heat – 1. Thornton; 2. Olson; 3. LaCrosse; 4. Mills; 5. Lance Mari, Imperial, Calif.; 6. Berry; 7. Shawn Bearce, Hinton; 8. Devon Havlik, Iowa Falls.
Fifth heat – 1. Shryock; 2. Marriott; 3. Dripps; 4. Richie Gustin; 5. Cody Knecht, Whittemore; 6. Kyle Strickler, Mooresville, N.C.; 7. Eric Dailey, Armstrong; 8. Shawn Ritter, Keystone.
First "B" feature (top seven) – 1. Richie Gustin; 2. Kraus; 3. Wendel; 4. Wolf; 5. Rogotzke; 6. Hulin; 7. Rust; 8. Strickler; 9. Elliott; 10. Maitland; 11. Ritter; 12. Mathieson; 13. Bearce; 14. Mari.
Second "B" feature – 1. Kyle Brown; 2. Reutzel; 3. Hoeft; 4. Berry; 5. Mills; 6. Snyder; 7. David Brown; 8. Dailey; 9. Knecht; 10. Reynolds; 11. Havlik; 12. Krohn; 13. Briese.