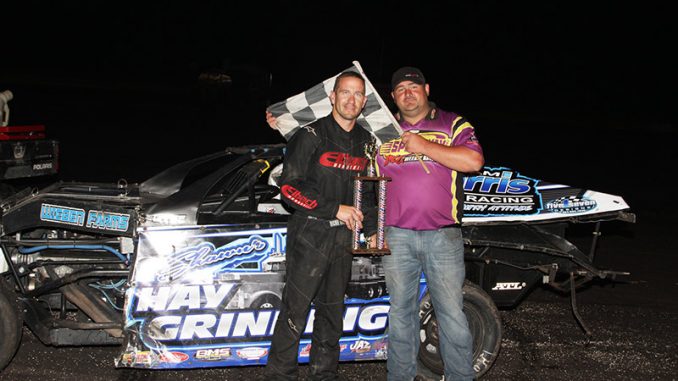 By Ryan Clark
BRITT, Iowa (Aug. 13) – An 83 minute rain delay was the first of many unexpected twists during the Night of 1,000 Stars at Hancock County Speedway.
What seemed like a guaranteed payday for Ryan Ruter ended with a pair of broken rear axles in the 50-lap feature event for Xtreme Motor Sports IMCA Modifieds. That allowed Richie Gustin to steal the spotlight late as he drove to his first win in the annual event.
Ruter took the lead from Corey Dripps on the sixth circuit and then built a straightaway lead when the mandatory caution slowed action on lap 25.
After the 10 minute stop for drivers and crews to make adjustments to their cars on the front stretch, Ruter picked up where he left off when racing resumed.
Ruter's advantage was nearly half a lap when misfortune struck and he slowed to a stop on the front stretch with 43 laps complete.
Benji LaCrosse, who had battled Hunter Marriott through much of the second half of the event, assumed the point on the restart.
Following another stoppage one lap later, Gustin, who qualified through a B feature and started 17th, restarted in second and quickly pressured LaCrosse for the lead.
Contact between the frontrunners with two laps to go left LaCrosse stopped in the middle of turns one and two while Gustin was able to continue. He inherited the lead for the green, white, checkered finish.
Jeremy Mills, who started 24th, chased Gustin over the final two circuits, however he came up less than a car-length short at the line as Gustin sealed the win.
Troy Swearingen started last in the 25-car field and came home third ahead of Iowa Modified Speedweek point leader Joel Rust. Dripps ran fifth.
"This is big," said Gustin. "We've won Super Nationals and the Harris Clash. Now to win this event means a lot."
For his efforts, Gustin took home a $3,600 winner's share. In addition to $3,500 for the victory, he earned $100 in lap money. It also earned him a spot on the 2017 Fast Shafts All-Star Invitational ballot.
Ruter earned a $1,000 bonus for leading at halfway.
Jason Minnehan held off late pressure from David Smith to score the win in the IMCA Sunoco Stock Car headliner.
Kris Zuhlsdorf made a late pass on Shane Swanson to race to victory in the Karl Chevrolet Northern SportMods and Cody Nielsen led wire-to-wire to win the IMCA Sunoco Hobby Stock feature.
A total of 152 IMCA drivers signed in to compete Saturday night, including 66 Modifieds.
Iowa Modified Speedweek comes to a close on Sunday with the Night of 10,000 Stars on the Hancock County oval. Hot laps are at 3 p.m. with racing to follow.
The event will be broadcast on IMCA.TV.
Modified results
Feature – 1. Richie Gustin, Gilman; 2. Jeremy Mills, Garner; 3. Troy Swearingen, Forest City; 4. Joel Rust, Grundy Center; 5. Corey Dripps, Reinbeck; 6. Jason Fisher, Lakefield, Minn.; 7. Tyler Prochaska, Iowa Falls; 8. Benji LaCrosse, Green Bay, Wis.; 9. Hunter Marriott, Brookfield, Mo.; 10. Mike Mullen, Suamico, Wis.; 11. Ryan Ruter, Kanawha; 12. Ethan Dotson, Bakersfield, Calif.; 13. Josh Rogotzke, Sanborn, Minn.; 14. Cody Laney, Torrance, Calif.; 15. Aaron Krohn, Slayton, Minn.; 16. Greg Gretz, Kewaunee, Wis.; 17. Racer Hulin, Laurel; 18. Scott Olson, Blairsburg; 19. Jimmy Gustin, Marshalltown; 20. Mark Noble, Blooming Prairie, Minn.; 21. Josh Ruby, Lakota; 22. Tim Ward, Harcourt; 23. Brian Mullen, Seymour, Wis.; DQ Kelly Shryock, Fertile; DQ Chris Abelson, Sioux City.
First heat (top two) – 1. LaCrosse; 2. Fisher; 3. Ward; 4. Swearingen; 5. Mark Elliott, Webster City; 6. Rogotzke; 7. Mike Hansen, Dickinson, N.D.; 8. Mike Mashl, De Pere, Wis.; 9. Tom Berry Jr., Boone; 10. Steve Reynolds, Springfield, S.D.; 11. Paul Stone, Winton, Calif.
Second heat – 1. Ruter; 2. Rust; 3. Dotson; 4. Ruby; 5. Mike Mullen; 6. Jim Mathieson, Sioux City; 7. Adam Larson, Ankeny; 8. Clint Hatlestad, Glencoe, Minn.; 9. Ben Kraus, Britt; 10. Cody Knecht, Whittemore; 11. Luke Lemmens, Kewaunee, Wis.
Third heat – 1. Marriott; 2. Krohn; 3. Ricky Thornton Jr., Harcourt; 4. David Brown, Kellogg; 5. Gretz; 6. Kyle Brown, State Center; 7. Austin Wolf, Algona; 8. Brad Theys, Kewaunee, Wis.; 9. Clint Wendel, Mason City; 10. Shawn Bearce, Hinton.
Fourth heat – 1. Dripps; 2. Prochaska; 3. Eric Dailey, Armstrong; 4. Rob Rose, Dallas Center; 5. Jeremy Mills; 6. Kyle Strickler, Mooresville, N.C.; 7. Lance Mari, Imperial, Calif.; 8. Andrew Schroeder, Keswick; 9. Stacey Mills, Webb; 10. Travis Peterson, Mapleton, Minn.; 11. Jeff Larson, Lakefield, Minn.
Fifth heat – 1. Olson; 2. Brian Mullen; 3. Richie Gustin; 4. Hulin; 5. Jon Snyder, Ames; 6. Josh Long, Little Suamico, Wis.; 7. Troy Jerovetz, Green Bay, Wis.; 8. Jason Briese, Cleghorn; 9. Shawn Ritter, Keystone; 10. Jeff Coon, Elysian, Minn.; 11. Garry Hall, Rochester, Minn.
Sixth heat – 1. Noble; 2. Laney; 3. Jimmy Gustin; 4. Mark Joski, Denmark, Wis.; 5. Chad Melton, Mineral Wells, Texas; 6. Ben Chukuske, Sherburn; 7. Todd Stinehart, Waseca, Minn.; 8. Tim Pessek, Hutchinson, Minn.; 9. Nate Hughes, Indianola; 10. Larry Hall, Rochester, Minn.
First B feature (top three) – 1. Ward; 2. Richie Gustin; 3. Gretz; 4. Jerovetz; 5. Thornton; 6. Hansen; 7. Wolf; 8. Stone; 9. Ritter; 10. Snyder; 11. Wendel; 12. Berry; 13. Garry Hall; 14. Elliott.
Second B feature – 1. Mike Mullen; 2. Laney; 3. Dotson; 4. Joski; 5. Rose; 6. Kraus; 7. Peterson; 8. Pessek; 9. Lemmens; 10. Strickler; 11. Schroeder; 12. Larson; 13. Larry Hall; 14. Chukuske.
Third B feature – 1. Hulin; 2. Krohn; 3. Rogotzke; 4. Theys; 5. Mashl; 6. Swearingen; 7. Long; 8. Coon; 9. Reynolds; 10. Bearce; 11. Kyle Brown; 12. Briese; 13. David Brown.
Fourth B feature – 1. Ruby; 2. Jimmy Gustin; 3. Jeremy Mills; 4. Dailey; 5. Hatlestad; 6. Stinehart; 7. Stacey Mills; 8. Knecht; 9. Hughes; 10. Mathieson; 11. Mari; 12. Melton; 13. Larson.