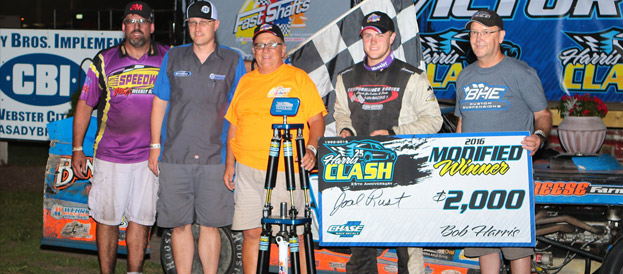 By Ryan Clark
WEBSTER CITY, Iowa (Aug. 9) – Joel Rust had the greatest seat for the best race in the house for most of 25 laps Tuesday night at Hamilton County Speedway.
Little did he know, a short time later it would lead the Xtreme Motor Sports IMCA Modified driver to a victory lane celebration as the winner of the Harris Clash.
Rust, who started inside of row two, chased front row starters Chris Abelson and Kelly Shryock for all but three-quarters of a lap in the 25th annual event. Contact between the front-runners allowed Rust to escape to the first Harris Clash win of his career.
Abelson built an early lead while Shryock pursued multiple car-lengths behind him. Shryock closed to within a car-length by lap 10 and searched high and low to work past the leader.
While the former Clash winners engaged in a battle for the lead, Rust cut a half-straightaway deficit into just a couple car-lengths in the waning laps.
Contact between Abelson and Shryock forced Abelson into a spin in the middle of turns one and two just after the field had taken the white flag.
Shryock slowed after the contact while Rust slipped between them and emerged down the back stretch as the leader. He led the final half lap on his way to victory and a $2,000 payday.
Josh Ruby raced his way to second ahead of sixth row starters Richie Gustin and Ryan Ruter. Tim Ward, who qualified through a B feature and started 14th, completed the top five.
"I kept my patience and it worked out," Rust said in victory lane. "The track started taking rubber and hooking up in turns one and two. In four I couldn't really gain, so I was just trying to maintain."
"I was really close to them and kind of stayed back enough in case something happened," continued the latest qualifier on the 2017 Fast Shafts All-Star Invitational ballot.
"My initial reaction was to brake," he said of the incident that provided him the opportunity to steal the lead. "I was on the brakes really, really hard. Luckily Abelson rolled down the track and I was just able to shoot the gap."
Earlier in the night, Abelson was victorious in the Dash at the Clash, a 10-car event that showcased feature winners at select events leading up to the Harris Clash.
Abelson drew the pole position and was challenged throughout by Ricky Thornton Jr., who led a pair of laps in the middle of the 10-lapper. Abelson ran the top side past Thornton to regain the lead on the sixth circuit on his way to the $500 victory.
Adam Armstrong made it look easy in the 20-lap feature for the Karl Chevrolet Northern SportMods. From his outside front row start, Armstrong assumed the lead at the drop of the green and quickly pulled away from traffic.
Armstrong's lead was already most of a straightaway when the race's lone caution slowed action on lap seven.
On the restart, Armstrong again set sail while Jake Sachau, who restarted fifth, swept to the outside and settled into second by the time the field exited turn two.
Although Sachau pulled away from the rest of the field, Armstrong continued to build his lead.
Armstrong maintained a comfortable advantage by the time he entered slower traffic with two to go. He raced to the victory, picking up the $1,000 winner's share and leading all 20 laps in the process.
Sachau earned runner-up honors ahead of regular season Hamilton County track champion Ty Griffith. Brett Lowry raced from a B feature and 13th starting spot to finish fourth ahead of Nick Meyer.
"We made a couple laps and the car felt really good," said Armstrong. "I've raced on some tracks that were similar to how tonight was and I could tell how good the car was."
"It's the Harris Clash, you gotta go," he said of encountering lapped traffic late. "I just knew as long as I hit my marks, we'd be alright."
A field of 66 Modifieds and 51 Northern SportMods were on-hand Tuesday night, the second of six consecutive nights of racing during Iowa Modified Speedweek.
Action continues Wednesday night, Aug. 10 at Buena Vista Raceway in Alta for the finale of the 2016 Hawkeye Dirt Tour.
Wednesday's Modified winner at BVR earns $1,000 and national, regional, state and local track points will be given. Pit gates open at 5 p.m. and the grandstand opens at 5:30 p.m. Hot laps are at 6:45 p.m. with racing to follow.
Admission to the grandstand is $12 for adults, $8 for seniors and veterans with ID, and kids 12 and under are $2 or free with the donation of a non-perishable food item for the local food bank. Pit passes are $25.
IMCA Sunoco Stock Cars, Karl Chevrolet Northern SportMods, IMCA Sunoco Hobby Stocks and Mach-1 Sport Compacts complete the program. More information is available by calling 712 267-3278 and at the www.buenavistaraceway.com website.
The final three events of the six-day Hawkeye state swing will be held at Hancock County Speedway Aug. 11-13 for the Night of 1,000 Stars, Night of 10,000 Stars and Night of All Stars.
All Iowa Modified Speedweek events are broadcast by IMCA.TV.
Results
Modified feature – 1. Joel Rust, Grundy Center; 2. Josh Ruby, Lakota; 3. Richie Gustin, Gilman; 4. Ryan Ruter, Kanawha; 5. Tim Ward, Harcourt; 6. Scott Hogan, Vinton; 7. Chris Abelson, Sioux City; 8. Jimmy Gustin, Gilman; 9. Jesse Dennis, Corning; 10. Corey Dripps, Reinbeck; 11. Kyle Strickler, Mooresville, N.C.; 12. Tom Berry Jr., Boone; 13. Jesse Sobbing, Malvern; 14. Cody Laney, Torrance, Calif.,; 15. Chase Ellingson, Iowa Falls; 16. Paul Stone, Winton, Calif.; 17. Lance Mari, Imperial, Calif.; 18. Ethan Dotson, Bakersfield, Calif.; 19. Tyler Prochaska, Iowa Falls; 20. Scott Olson, Blairsburg; 21. Rob VanMil, Barnesville, Minn.; 22. John Logue, Boone; 23. Ricky Thornton Jr., Harcourt; 24. Kelly Shryock, Fertile.
First heat (top two) – 1. Ellingson; 2. Rust; 3. Berry; 4. Stone; 5. J.D. Auringer, Waterloo; 6. Steve Reynolds, Springfield, S.D.; 7. Josh Rogotzke, Sanborn, Minn.; 8. Billy Vogel, West Fargo, N.D.; 9. Adam Larson, Ankeny; 10. Clint Wendel, Mason City; 11. Shawn Ritter, Keystone. 
Second heat – 1. Shryock; 2. Hogan; 3. Sobbing; 4. Clay Money, Penokee, Kan.; 5. Colt Mather, Keswick; 6. Jeremy Mills, Garner; 7. Racer Hulin, Laurel; 8. Chase Conway, Westhope, N.D.; 9. Ashley Schaaf, Lincoln, Neb.; 10. Jardin Fuller, Memphis, Mo.; 11. Ed Thomas, Waterloo.
Third heat – 1. Abelson; 2. Olson; 3. Dripps; 4. Jesse Hoeft, Forest City; 5. Mark Elliott, Webster City; 6. Tad Reutzel, Burt; 7. Laney; 8. Ronn Lauritzen, Jesup; 9. Troy Jerovetz, Green Bay, Wis.; 10. Justin Medler, Minot, N.D.; 11. Randy Havlik, Ankeny. 
Fourth heat – 1. Ruby; 2. Logue; 3. VanMil; 4. Prochaska; 5. Ron VerBeek, Oskaloosa; 6. Luke Lemmens, Kewaunee, Wis.; 7. Brandon Brinton, Ames; 8. Stacey Mills, Webb; 9. Kelly Buckallew, Memphis, Mo.; 10. Shane DeMey, Denison; 11. Cody Knecht, Whittemore.
Fifth heat – 1. Richie Gustin; 2. Dennis; 3. Ward; 4. Mari; 5. Mike Mashl, De Pere, Wis.; 6. Kyle Brown, State Center; 7. Hunter Marriott, Brookfield, Mo.; 8. Strickler; 9. Eric Elliott, Boone; 10. Trey Kline, Schleswig; 11. Tristan Vesterby, Webster City; 
Sixth heat – 1. Ruter; 2. Jimmy Gustin; 3. Thornton; 4. Dotson; 5. Mike Hansen, Dickinson, N.D.; 6. Jon Snyder, Ames; 7. Troy Cordes, Dunkerton; 8. Nate Hughes, Humboldt; 9. Brandon Leeman, Roland; 10. Jeff Coon, Elysian, Minn.; 11. Gordon Head, Des Moines.
First B feature (top four) – 1. Berry; 2. VanMil; 3. Stone; 4. Prochaska; 5. Wendel; 6. VerBeek; 7. Larson; 8. DeMey; 9. Stacey Mills; 10. Ritter; 11. Knecht; 12. Vogel; 13. Rogotzke; 14. Brinton; 15. Lemmens; 16. Auringer; 17. Reynolds; 18. Buckallew.
Second B feature – 1. Ward; 2. Strickler; 3. Sobbing; 4. Mari; 5. Brown; 6. Mather; 7. Jeremy Mills; 8. Hulin; 9. Marriott; 10. Mashl; 11. Money; 12. Conway; 13. Kline; 14. Vesterby; 15. Thomas; 16. Schaaf; 17. Eric Elliott; 18. Fuller.
Third B feature – 1. Dripps; 2. Thornton; 3. Laney; 4. Dotson; 5. Lauritzen; 6. Hoeft; 7. Medler; 8. Hansen; 9. Jerovetz; 10. Cordes; 11. Leeman; 12. Hughes; 13. Mark Elliott; 14. Coon; 15. Snyder; 16. Head; 17. Reutzel; 18. Havlik.
Dash – 1. Abelson; 2. Thornton; 3. Shryock; 4. Dotson; 5. Jeremy Mills; 6. VanMil; 7. Hogan; 8. Ruby; 9. Lemmens; DNS Logue.
Northern SportMod feature – 1. Adam Armstrong, Carlisle; 2. Jake Sachau, Denison; 3. Ty Griffith, Webster City; 4. Brett Lowry, Montezuma; 5. Nick Meyer, Whittemore; 6. Doug Smith, Lake City; 7. Jared VanDeest, Holland; 8. Randy Roberts, Boone; 9. Johnathon Logue, Boone; 10. Brayton Carter, Oskaloosa; 11. Robbie Conway, Westhope, N.D.; 12. Jack Housley, Runnells; 13. Jake McBirnie, Boone; 14. Frank Packer, Madrid; 15. Ryan Jenkins, Omaha, Neb.; 16. Erik Laudenschlager, Minot, N.D.; 17. Rocky Caudle, Ellsworth; 18. Cory Rose, Boone; 19. Shane Swanson, Forest City; 20. Josh Appel, Mason City; 21. Josh Sink, Red Oak; 22. Andy Edwards, Parkersburg; 23. Todd Boulware, Jefferson, S.D.; 24. John Peed, Webster City.
First heat (top two) – 1. Sachau; 2. Griffith; 3. Edwards; 4. Robert Moore, Maxwell; 5. Cory Pestotnik, Boone; 6. Taylor Musselman, Urbandale; 7. Packer; 8. Clint Luellen, Minburn.
Second heat – 1. Roberts; 2. Peed; 3. Housley; 4. Dan Paplow, Dundee, Minn.; 5. Carter; 6. Dan Drury, Eldora; 7. Christopher Elliott, Webster City; 8. Jeff Deal, Fort Dodge; 9. Mike Lemay, Westhope, N.D.
Third heat – 1. Armstrong; 2. Caudle; 3. Laudenschlager; 4. Logue; 5. VanDeest; 6. McBirnie; 7. Sam Wieben, Dysart; 8. Tim Plummer, Norway; 9. Rick Rohr, Beatrice, Neb.
Fourth heat – 1. Swanson; 2. Boulware; 3. Lowry; 4. Appel; 5. Wayne Dotson, Bakersfield, Calif.; 6. Colby Fett, Algona; 7. Brett Vanderheiden, Earlham; 8. George Gilliland, Lehigh; 9. Taylor Elliott, Webster City.
Fifth heat – 1. Smith; 2. Rose; 3. Conway; 4. Trent Roth, Columbus, Neb.; 5. Jenkins; 6. Brad Ratcliff, Webster City; 7. Autumn Anderson, Mason City; 8. Carter VanDenBerg, Oskaloosa.
Sixth heat – 1. Meyer; 2. Sink; 3. Nate Whitehurst, Mason City; 4. Austin Schrage, Cresco; 5. Craig Garner, Clarinda; 6. J.J. Andersen, De Pere, Wis.; 7. Bryan Johnson, Roland; 8. Paul Price, Iowa Falls.
First B feature (top four) – 1. Lowry; 2. Appel; 3. Packer; 4. Edwards; 5. Fett; 6. Moore; 7. Luellen; 8. Taylor Elliott; 9. Gilliland; 10. Pestotnik; 11. Venderheiden; 12. Musselman; 13. Dotson.
Second B feature – 1. Housley; 2. Conway; 3. Carter; 4. Jenkins; 5. VanDenBerg; 6. Paplow; 7. Ratcliff; 8. Roth; 9. Anderson; 10. Christopher Elliott; 11. Deal; 12. Drury; 13. LeMay.
Third B feature – 1. Laudenschlager; 2. Logue; 3. VanDeest; 4. McBirnie; 5. Plummer; 6. Wieben; 7. Andersen; 8. Schrage; 9. Price; 10. Garner; 11. Johnson; 12. Rohr; 13. Whitehurst.