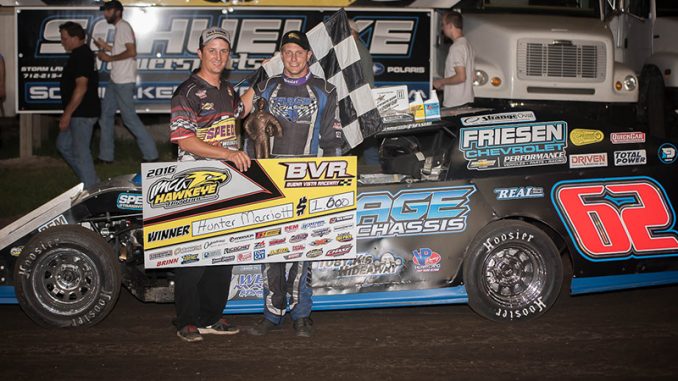 ALTA, Iowa (Aug. 10) – Hunter Marriott brought his Xtreme Motor Sports IMCA Modified 'A' game to Buena Vista Raceway on Wednesday.
The result was his second Hawkeye Dirt Tour feature win in three nights.
Marriott restarted inside row one after frontrunners Chris Abelson and Kyle Strickler got together to bring out a lap six caution, then led the last 25 times around the track to top the $1,500-to-win feature at Alta.
He pulled away from Joel Rust – ironically the Tuesday winner at Hamilton County Speedway when Abelson and Kelly Shryock tangled while battling for the lead on the last lap of the Harris Clash – before taking his second Iowa Modified Speedweek checkers.
"It kind of felt that way," Marriott said, acknowledging the lap six sense of déjà vu, "but there were a lot of laps left. Kyle and Chris both had very fast cars. It's unfortunate that it happened and they both had to go to the tail."
Abelson changed a flat tire, and made a late bid for the top five before getting sideways with two laps left to bring out another caution. He clinched the tour title despite finishing 18th.
Mike Mullen caught Joel Rust for second on the final circuit. 'B' winner Kelly Shryock was fourth and Cody Laney was fifth.
"We were able to stretch the lead out quite a ways. My crew gave me a good car and I was able to keep hitting my marks," said Marriott, the $5,000 tour winner Monday at Clay County Fair Speedway. "These are the races the good drivers win. I was hoping to win one or two this week and I'm excited to see what the next three nights (at Hancock County Speedway) bring for us."
Strickler was first across the line on laps one and two. Once he got in front, Marriott was pursued by Laney and then by Rust.
Mullen made his move around Rust following the last restart; Shryock had started 13th.
Already on the Fast Shafts All-Star Invitational ballot, Marriott became the fourth driver to win two HDT features this season; the Wednesday victory was his tour career third.
Devin Smith broke away late from Donavon Smith and Brian Blessington to take the IMCA Sunoco Stock Car checkers at Alta while Doug Smith dominated the Karl Chevrolet Northern SportMod feature. 
Craig Brotherton topped a field of 18 IMCA Sunoco Hobby Stocks to score the victory. Jay DeVries held off Cory Flanigan at the line to win the Mach-1 Sport Compact feature. 
Modified Results 
Feature – 1. Hunter Marriott, Brookfield, Mo.; 2. Mike Mullen, Suamico, Wis.; 3. Joel Rust, Grundy Center; 4. Kelly Shryock, Fertile; 5. Cody Laney, Torrance, Calif.; 6. Mike Mashl, De Pere, Wis.; 7. Ricky Stephan, South Sioux City, Neb.; 8. Stacey Mills, Webb; 9. Billy Vogel, West Fargo, N.D.; 10. Jesse Hoeft, Forest City; 11. Ethan Dotson, Bakersfield, Calif.; 12. Clayton Christensen, Spencer; 13. Corey Dripps, Reinbeck; 14. Mark Elliott, Webster City; 15. Jason Briese, Cleghorn; 16. Justin Sackett, Pierson; 17. Ryan Topf, Charter Oak; 18. Chris Abelson, Sioux City; 19. Jim Mathieson, Sioux City; 20. Sean Barragan, Sergeant Bluff; 21. Jason Mickelson, Storm Lake; 22. Travis Hatcher, Honey Creek; 23. Mike Hansen, Dickinson, N.D.; 24. Kyle Strickler, Mooresville, N.C.; 25. Lance Mari, Imperial, Calif. 
First heat (top three) – 1. Mari; 2. Laney; 3. Barragan; 4. Shryock; 5. Stephan; 6. Vogel; 7. Trey Kline, Schleswig; 8. Corey Bosma, Ocheyedan.
Second heat – 1. Rust; 2. Topf; 3. Strickler; 4. Elliott; 5. Briese; 6. Sackett; 7. Mickelson; 8. Hatcher. 
Third heat – 1. Marriott; 2. Christensen; 3. Hoeft; 4. Mashl; 5. Dotson; 6. Chase Conway, Westhope, N.D.; 7. Darin Miller, Dakota Dunes, S.D. 
Fourth heat – 1. Abelson; 2. Mullen; 3. Mills; 4. Hansen; 5. Dripps; 6. Mathieson; 7. Ashley Schaaf, Lincoln, Neb.
First "B" feature (top five) – 1. Shryock; 2. Mashl; 3. Stephan; 4. Dotson; 5. Vogel; 6. Conway; 7. Bosma; 8. Miller; 9. Kline. 
Second "B" feature – 1. Dripps; 2. Hansen; 3. Elliott; 4. Sackett; 5. Hatcher; 6. Bries; 7. Mathiesen; 8. Mickelson; 9. Schaaf.