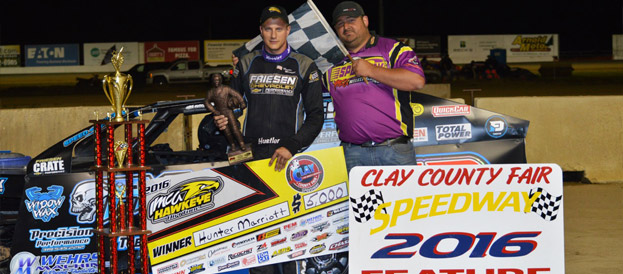 By Ryan Clark
SPENCER, Iowa (Aug. 8) – His second Hawkeye Dirt Tour win was the series' biggest payday for Xtreme Motor Sports IMCA Modified driver Hunter Marriott.
The Brookfield, Mo. driver took the lead at midway en route to a $5,000 winner's share Monday night in the tour's first-ever visit to Clay County Fair Speedway.
Marriott started in row two and was involved in a five-car battle for position before breaking through on the 15th of 30 laps.
Justin Medler paced the field from his pole position start while a handful of drivers gave chase. Ricky Thornton Jr., Kelly Shryock and Marriott took turns in the runner-up spot before Marriott made the high side work to his liking.
Exiting turn two, Marriott surged past Medler as the race approached halfway and led the remain­der of the event to score the win, his first since the 2014 series finale at Farley Speedway.
Point leader Chris Abelson took advantage of a restart with six laps to go to surge from fourth to second, however he was unable to reel in Marriott.
"We weren't good on the restarts," said the latest 2017 Fast Shafts All-Star Invitational ballot quali­fier in victory lane, "but we were good in the long runs."
"I knew we were really good over here in three and four," he continued. "I just picked the cars off one by one after they got me on the restarts."
The race played out in front of a solid grandstand crowd and was slowed just twice for caution, on laps five and 24.
Cody Laney, Medler and hard charger Ryan Ruter rounded out the top five. Ruter had started 18th.
Derek Green made a late pass on race-long leader David Smith to steal top honors in the IMCA Sunoco Stock Car feature.
Doug Smith dominated the Karl Chevrolet Northern SportMod feature to take the victory ahead of Nick Meyer.
Cody Nielsen raced past his brother Brandon on a late restart on his way to the feature win in the IMCA Sunoco Hobby Stock feature.
A field of 37 Modifieds signed in for competition at Spencer and many of those drivers will be at Hamilton County Speedway in Webster City on Tuesday night, Aug. 9 for the $2,000 to win Harris Clash.
Pit gates open at 3 p.m. for the 25th annual Clash and racing starts at 7:15 p.m.
The 2016 champion for the Hawkeye Dirt Tour will be crowned following the series finale this Wednesday, Aug. 10 at Buena Vista Raceway in Alta.
Wednesday's winner at BVR earns $1,000 and national, regional, state and local track points will be given. Pit gates open at 5 p.m. and the grandstand opens at 5:30 p.m. Hot laps are at 6:45 p.m. with racing to follow.
Both events are part of Iowa Speedweek and will be broadcast by IMCA.TV.
Results
Feature – 1. Hunter Marriott, Brookfield, Mo.; 2. Chris Abelson, Sioux City; 3. Cody Laney, Tor­rance, Calif.; 4. Justin Medler, Minot, N.D.; 5. Ryan Ruter, Kanawha; 6. Tim Ward, Harcourt; 7. Kelly Shryock, Fertile; 8. Jesse Dennis, Prescott; 9. Kyle Brown, State Center; 10. Jesse Hoeft, Forest City; 11. Corey Dripps, Reinbeck; 12. Clayton Christensen, Spencer; 13. Mike Hansen, Dickinson, N.D.; 14. Mark Elliott, Webster City; 15. Lance Mari, Imperial, Calif.; 16. Tad Reutzel, Burt; 17. Joel Rust, Grundy Center; 18. Jason Fisher, Lakefield, Minn.; 19. Cody Knecht, Whitte­more; 20. Stacey Mills, Webb; 21. Ricky Thornton Jr., Harcourt; 22. Ethan Dotson, Bakersfield, Calif.; 23. Jacob Murray, Hartford; 24. Tom Berry Jr., Boone.
First heat (top three) – 1. Brown; 2. Abelson; 3. Hoeft; 4. Dennis; 5. Elliott; 6. Berry; 7. Jim Mathieson, Sioux City; 8. Luke Lemmens, Kewaunee, Wis.; 9. Terry Berg, Sioux City; 10. Chad Ten Napel, Sioux City.
Second heat – 1. Thornton; 2. Rust; 3. Dotson; 4. Ryan Ruter, Kanawha; 5. Hansen; 6. Fisher; 7. Co­rey Bosma, Ocheyedan; 8. Mat Hollerich, Good Thunder, Minn.; 9. Stacey Mills, Webb.
Third heat – 1. Jacob Murray; 2. Marriott; 3. Medler; 4. Christensen; 5. Reutzel; 6. Jason Briese, Cleghorn; 7. Cody Knecht, Whittemore; 8. Ricky Stephan, South Sioux City, Neb.; 9. Bob Flesh­man, Merrill.
Fourth heat – 1. Shryock; 2. Ward; 3. Laney; 4. Dripps; 5. Mari; 6. James Slawson, Spirit Lake; 7. Aaron Krohn, Slayton, Minn.; 8. Chris Palsrok, Sibley; 9. Dustin Smith, Lake City.
First "B" feature (top five) – 1. Dennis; 2. Reutzel; 3. Christensen; 4. Berry; 5. Elliott; 6. Knecht; 7. Briese; 8. Stephan; 9. Lemmens; 10. Ten Napel; 11. Mathiesen; 12. Fleshman; 13. Berg. 
Second "B" feature – 1. Dripps; 2. Mari; 3. Ruter; 4. Fisher; 5. Hansen; 6. Slawson; 7. Krohn; 8. Palsrok; 9. Hollerich; 10. Bosma; 11. Mills; 12. Smith.