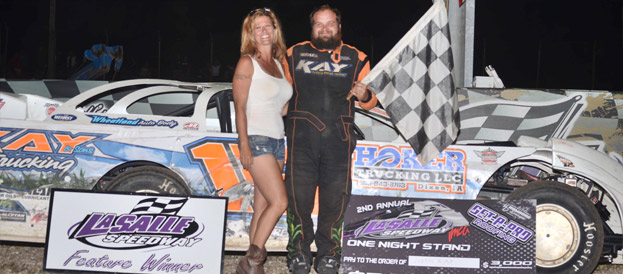 LASALLE, Ill. (Aug. 6) – One driver stood above the rest twice at LaSalle Speedway's One Night Stand.
Justin Kay topped both the $3,000 to win IMCA Late Model feature and the $2,000 to win Xtreme Motor Sports IMCA Modified main event Saturday night.
While he'd been to the Illinois oval twice before as a spectator, his weekend visit to LaSalle was Kay's competitive first. He led all but the first of 40 Late Model circuits and all 30 Modified laps.
Tyler Soppe was the $2,000 Karl Chevrolet Northern SportMod winner. More than 120 IMCA cars were entered in the second annual special.
"I've won weekly shows in both cars," said Kay, who started the Late Model feature outside Matt Ryan on the front row, "but it was pretty neat to win both times at a special with that many cars there."
Only one caution slowed Kay's march to the Late Model checkers. He had the race well in hand and was working his way through lapped traffic before the lap 28 yellow flew.
"The car was great. It felt good on the bottom, top, anywhere I wanted it to go," Kay said after relying on the middle groove most of the distance.
Chad Holladay, Jeremiah Hurst, Ryan and Andy Eckrich rounded out the top five.
Kay drew the pole for the Modified feature and held onto the front spot through numerous yellows. Already on the Fast Shafts All-Star Invitational ballot, he motored to the win ahead of Kurt Kile, Darin Duffy, Kenny Kostenbader and Hurst, another driver doing double duty at LaSalle.
"It was just like the Late Model feature, the car was good right out of the box," Kay said. "I ran the exact same line in the Modified. I went to the middle and stayed there."
Kay was admittedly lucky to make it as far as victory lane. He ran over debris on the backstretch on lap 17 and could hear his right rear tire going flat in post-race tech.
Soppe's Northern SportMod checkers came ahead of four Wisconsin hotshoes, defending race winner Jeff Steenbergen, Colten VanHierden, J.J. Andersen and Brian Bruechert.
Both the Modified and Northern SportMod divisions had 49 entries Saturday night.
Feature Results
Late Models – 1. Justin Kay, Wheatland, Iowa; 2. Chad Holladay, Muscatine, Iowa; 3. Jeremiah Hurst, Dubuque, Iowa; 4. Matt Ryan, Davenport, Iowa; 5. Andy Eckrich, Oxford, Iowa; 6. Joe Zrostlik, Long Grove, Iowa; 7. Denny Eckrich, Tiffin, Iowa; 8. Ray Guss Jr., Milan.; 9. Travis Denning, Sterling; 10. Rob Toland, Davenport, Iowa; 11. Ryan Dolan, Lisbon, Iowa; 12. Todd Malmstrom, Silvis; 13. Mike Zemo, Davenport, Iowa; 14. Sam Halstead, New London, Iowa; 15. Brad Stewart, Milledgeville; 16. Gary Webb, Blue Grass, Iowa; 17. Brian Meiners, Morrison; 18. Kevin Kile, West Liberty, Iowa; 19. LeRoy Brenner, Aledo; 20. Paul Conrad, Colo, Iowa; 21. Ryan Claeys, Grand Mound, Iowa; 22. B.J. Jackson, Milan; 23. Jay Chenoweth, Wapello, Iowa; 24. Kevin Miller, Freeport.
Modifieds – 1. Justin Kay, Wheatland, Iowa; 2. Kurt Kile, Nichols, Iowa; 3. Darin Duffy, Urbana, Iowa; 4. Kenny Kostenbader, Freeport; 5. Jeremiah Hurst, Dubuque, Iowa; 6. Chris Zogg, New Liberty, Iowa; 7. Kyle Brown, State Center, Iowa; 8. Bruce Hanford, Davenport, Iowa; 9. Greg Durbin, Silvis; 10. Dakota Hayden, Wilton, Iowa; 11. Matt Werner, Colona; 12. Chris Lawrence, Colona; 13. Bryce Garnhart, Shannon; 14. Milo Veloz, Colona; 15. Tim Hamburg, Dixon; 16. Andrew Schroeder, Keswick, Iowa; 17. Brandon Durbin, Colona; 18. Jason Buss, Freeport; 19. Jacob Waterman, Milan; 20. Devon Havlik, Iowa Falls; 21. Jason Pershy, Colona; 22. Joe Huenefeld, Cedarville; 23. Luke Lemmens, Kewaunee, Wis.; 24. Jeff Larson, Freeport; 25. Ray Cox, Maquoketa, Iowa.
Northern SportMods – 1. Tyler Soppe, Sherrill, Iowa; 2. Jeff Steenbergen, Watertown, Wis.; 3. Colten VanHierden, Oshkosh, Wis.; 4. J.J. Andersen, DePere, Wis.; 5. Brian Bruechert, Kewaunee, Wis.; 6. Matt Short, Maquoketa, Iowa; 7. Kevin Goben, Sherrard; 8. Hunter Parsons, Green Bay, Wis.; 9. Trent Wyssbrod, Monroe, Wis.; 10. K.C. Ansel, Dubuque, Iowa; 11. Jason Vandenberg, Kimberly, Wis.; 12. Jarett Franzen, Maquoketa, Iowa; 13. Tim Current, Bernard, Iowa; 14. Brandon Jewell, Clinton, Iowa; 15. Andrew Burk, Donahue, Iowa; 16. Bud Riedner, Waunakee, Wis.; 17. Rob Nylin, Colona; 18. Frank Parker, 19. Tim Sorn, Freeport; 20. Jeff Gear, Lena; 21. Jeff Schmuhl, Fall River, Wis.; 22. Jacob Copley, East Moline; 23. Jim Gillenwater, Keokuk, Iowa; 24. Ben Chapman, Clarence, Iowa; 25. Carter VanDenberg, Oskaloosa, Iowa.