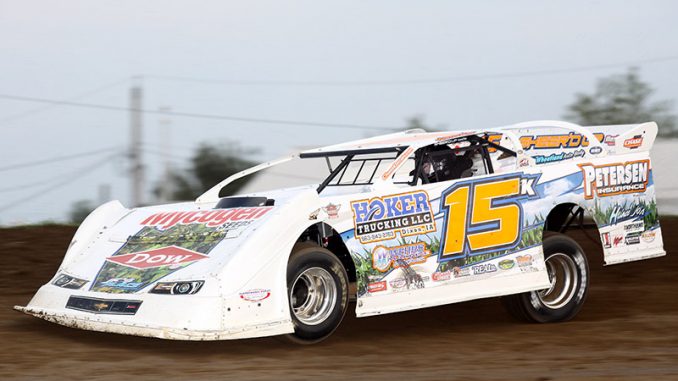 TIPTON, Iowa (Aug. 2) – A quick call to the assessor's office would reveal that Justin Kay does not own Cedar County Raceway.
It just seems like he does.
Kay won his third straight Deery Brothers Summer Series main event at the Tipton oval Tuesday night, leading the last 31 circuits in a fast-paced 50-lapper that ran caution-free.
The $2,000 victory was his IMCA Late Model tour career 18th and second this season.
"We've always run really well at Tipton. It's probably one of the tracks I have the most laps on, too," said Kay, who started racing there in his 4-cylinder days. "Everything about that track I love. It's always slick and smooth."
"I ran the bottom and when I moved up to get around lapped cars it was good there, too," he added. "I think I used about every inch of the track."
Cayden Carter was checking out on the rest of the field just six laps into the contest, but saw his big lead begin to evaporate after catching up with the back of the pack by lap 10.
Kevin Kile and Kay were soon close behind, with Kile using the lower line to take away the front spot coming to the line on lap 16.
Kay made his charge to the front, leaving Kile, Carter and Luke Merfeld to fight over the second and third positions. A straightaway soon separated Kay and Kile as the leader added to his lead despite heavy lapped traffic.
The yellow flag everyone else was hoping for never came out and Kay took the checkers nearly half a lap ahead of Kile.
Carter, Merfeld and Joel Callahan completed the top five. Tyler Bruening's seventh place finish was good enough to sneak him into the top spot in the series standings, one point ahead of previous leader Jeff Aikey.
Aikey needed a provisional, started in the back row and ended in 14th.
Winner of the $250 Sunoco Race Fuels feature qualifier drawing was Andy Nezworski.
Up next for the 30th annual Deery Series schedule is the $2,000 to win Tuesday, Aug. 16 show at Dubuque Speedway.  Pit gates open at 4:30 p.m. and the grandstand opens at 5:30 p.m. Hot laps are at 6:30 p.m. with racing to follow.
Feature results – 1. Justin Kay, Wheatland; 2. Kevin Kile, West Liberty; 3. Cayden Carter, Oskaloosa; 4. Luke Merfeld, Dubuque; 5. Joel Callahan, Dubuque; 6. Ryan Dolan, Lisbon; 7. Tyler Bruening, Decorah; 8. Matt Ryan, Davenport; 9. Joe Zrostlik, Long Grove; 10. Andy Eckrich, Oxford; 11. Tyler Droste, Waterloo; 12. Scott Fitzpatrick, Wheatland; 13. Rob Toland, Davenport; 14. Jeff Aikey, Cedar Falls; 15. Andy Nezworski, Buffalo; 16. Kyle Hinrichs, Swisher; 17. Chad Holladay, Muscatine; 18. Darrel DeFrance, Marshalltown; 19. Eric Pollard, Peosta; 20. Ryan Claeys, Grand Mound; 21. John Emerson, Waterloo; 22. Jonathan Brauns, Muscatine; 23. Jake Meier, Tipton; 24. Dan Shelliam, Hazel Green, Wis.
1st heat (top four) – 1. Merfeld; 2. Meier; 3. Kay; 4. Bruening; 5. Nezworski; 6. Ryan; 7. Eckrich; 8. Holladay; 9. LeRoy Brenner, Aledo, Ill.
2nd heat – 1. Dolan; 2. Toland; 3. Pollard; 4. Carter; 5. Shelliam; 6. Zrostlik; 7. Emerson; 8. Aikey; 9. DeFrance.
3rd heat – 1. Fitzpatrick; 2. Droste; 3. Callahan; 4. Kile; 5. Brauns; 6. Hinrichs; 7. Claeys; 8. Jay Chenoweth, Wapello.
"B" feature (top 10) – 1. Ryan; 2. Nezworski; 3. Shelliam; 4. Zrostlik; 5. Eckrich; 6. Emerson; 7. Brauns; 8. Hinrichs; 9. Holladay; 10. DeFrance; 11. Aikey; 12. Claeys; 13. Brenner; 14. Chenoweth.