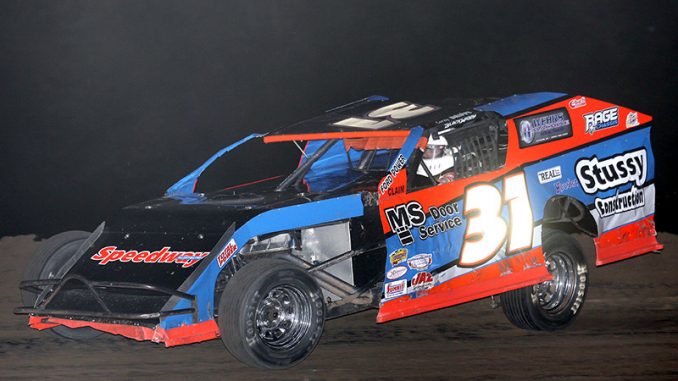 TIPTON, Iowa (Aug. 2) – Corey Dripps put another check on his bucket list by taking the $1,000 check at Tuesday's Hawkeye Dirt Tour event at Cedar County Raceway.
Dripps led all 30 laps of the Xtreme Motor Sports IMCA Modified feature at Tipton, outrunning defend­ing tour champion Kyle Brown for the midweek win at Tipton.
"This is one of the few tracks in Iowa where I hadn't won at. It's good to get that off my bucket list, es­pecially at a special like the Hawkeye Dirt Tour," he said, also noting the victory was powered by a Ford motor. "In the 1990s I was leading and almost had a lot of races won here but it didn't happen."
The front pair got a late break when coming onto traffic with three laps left. The first slower car they encountered pulled off and gave both plenty of track to determine the finish; Dripps got two lapped cars ahead of Brown before their 1-2 finish.
Brown had his best finish of the 2016 series season while point leader Chris Abelson was third, Darin Duffy fourth and Joel Rust rounded out the top five.
Justin Kay was shooting for a record third straight Dirt Tour win. He ended a credible ninth after tangling with another car and restarting at the rear, then hopped aboard his IMCA Late Model and won the Deery Brothers Summer Series feature.
Thirty-eight Modifieds were entered and Tuesday's win was Dripps' career tour second. He'd also topped the June 28 event at Hancock County Speedway.
""There was a stellar field of cars here again tonight," said the 2017 Fast Shafts All-Star Invita­tional ballot qualifier. "A lot of the best guys in the country were here. It's always good to be able to race with them and win."
The seventh annual series concludes with a pair of Iowa Speedweek events, starting with the $5,000 to win show at Clay County Fairgrounds in Spencer on Monday, Aug. 8.
Buena Vista Raceway at Alta hosts the $1,000 to win finale on Wednesday, Aug. 10.
Both HDT races and all six Iowa Speedweek events will be broadcast on IMCA.TV and are qualify­ing events for the 2017 Fast Shafts All-Star ballot.
Feature results – 1. Corey Dripps, Reinbeck; 2. Kyle Brown, State Center; 3. Chris Abelson, Sioux City; 4. Darin Duffy, Urbana; 5. Joel Rust, Grundy Center; 6. Ryan Maitland, Waterloo; 7. Richie Gustin, Gilman; 8. Kelly Shryock, Fertile; 9. Justin Kay, Wheatland; 10. Mark Schulte, Delhi; 11. Dakota Hayden, Wilton; 12. Kurt Kile, Nichols; 13. Jeff Waterman, Quincy, Ill.; 14. Chris Zogg, New Liberty; 15. Matt Werner, Colona, Ill.; 16. Patrick Flannagan, Cedar Rapids; 17. Tim Ward, Harcourt; 18. Dennis LaVeine, West Burlington; 19. Johnny Walker, Stanwood; 20. Mark Elliott, Webster City; 21. Jacob Murray, Hartford; 22. Brandon Maitland, Waterloo; 23. Joe Beal, Milan, Ill.; 24. Ricky Thornton Jr., Harcourt.
1st heat (top three) – 1. Dripps; 2. Walker; 3. Elliott; 4. Steve Johnson, Camanche; 5. Waterman; 6. Jacob Murray; 7. Nathan Hall, Orion, Ill.; 8. Brian Webb, Davenport; 9. Matt Stein, Cascade; 10. Matt Fulton, Muscatine
2nd heat – 1. Rust; 2. Ryan Maitland; 3. Brown; 4. Shryock; 5. Dave Hammond, DeWitt; 6. Ben Carpenter, Olin; 7. Werner; 8. Joshua Starr, Tipton; 9. Brian Irvine, Oelwein; 10. Thornton.
3rd heat – 1. Schulte; 2. Duffy; 3. Hayden; 4. Kay; 5. Gustin; 6. LaVeine; 7. Beal; 8. Brandon Mait­land; 9. Justin Rix, Olin.
4th heat – 1. Abelson; 2. Zogg; 3. Kile; 4. Matt Bodman, Muscatine; 5. Flannagan; 6. Ward; 7. David Brown, Kellogg; 8. Kyle Montgomery, Tipton; 9. Jason Murray, Hartford.
1st "B" feature (top five) – 1. Kay; 2. Gutin; 3. Waterman; 4. Jacob Murray; 5. Beal; 6. Fulton; 7. Hall; 8. LaVeine; 9. Brandon Maitland; 10. Webb; 11. Rix; 12. Johnson; 13. Stein.
2nd "B" feature – 1. Shryock; 2. Flannagan; 3. Ward; 4. Werner; 5. Thornton; 6. Montgomery; 7. Starr; 8. Carpenter; 9. David Brown; 10. Bodman; 11. Hammond; 12. Irvine; 13. Jason Murray.