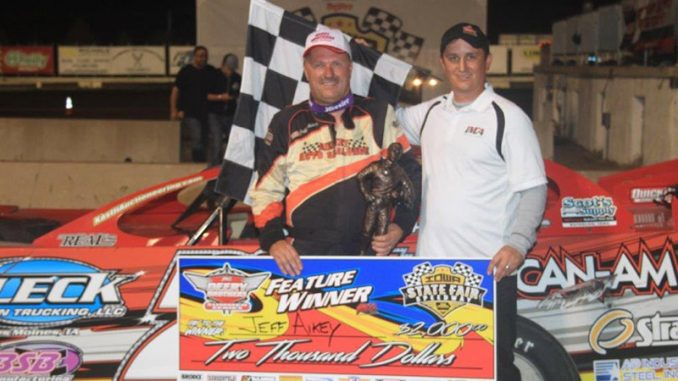 By Ryan Clark
DES MOINES, Iowa (July 29) – To say Jeff Aikey had to work for his Friday win at the Iowa State Fair Speedway would be an understatement.
The current point leader in the Deery Brothers Summer Series for IMCA Late Models rolled off from the pole but was pressured throughout most of the 40-lapper by Tyler Bruening.
Aikey, also the 2016 track champion in Des Moines, led the field through a pair of early cautions on laps three and nine, the only two stoppages of the event.
Bruening, who started outside of row three, took advantage of the lap nine restart and stole second from Matt Ryan before running down the race leader. The lead pair built a near straightaway lead over the field while they battled for the top spot.
Bruening remained within a couple car lengths throughout the rest of the first half of the event and pulled alongside Aikey when they encountered slower traffic just shy of midway.
Although Bruening drew even on numerous occasions, Aikey held him at bay as they sliced through traffic.
Exiting turn four on the final lap, Bruening tried a crossover move and dropped to the low side of the leader, however Aikey led the distance and held on at the checkers to take the win by less than a car length.
Ray Guss Jr. finished third, less than a half straightaway behind the leaders, after a hard-fought battle with Jake Neal.
"Midway through, I heard Bruening and then saw his nose," said Aikey in victory lane. "I knew I had to pick up the pace if we were going to win."
"When we came up to side-by-side traffic, I split between them. I had to make it work or Bruening was going to get me," he continued. "Bruening and I ran first and second in the heat and I knew he was going to be tough. I told my crew that he was going to be our trouble tonight."
The $2,000 win extended Aikey's series points lead, as well as his reign atop the series' all-time wins list. It was his series-leading 67th career victory and seventh tour win at Des Moines.
Charlie McKenna and Darrel DeFrance each advanced seven positions.
Joel Callahan won the $250 Sunoco Race Fuels feature qualifier drawing.
Next up for the Deery Series is another $2,000 to win event at Cedar County Raceway next Tuesday, Aug. 2.
The Hawkeye Dirt Tour for Xtreme Motor Sports IMCA Modifieds is also on the card at Tipton. Pit gates open at 4:30 p.m. and the grandstand opens at 5 p.m. Hot laps are at 6:45 p.m. with racing to follow.
Feature results – 1. Jeff Aikey, Cedar Falls; 2. Tyler Bruening; Decorah; 3. Ray Guss Jr., Milan, Ill.; 4. Jake Neal, Omaha, Neb.; 5. Chad Holladay, Muscatine; 6. Charlie McKenna, Clear Lake; 7. Joel Callahan, Dubuque; 8. Ryan Dolan, Lisbon; 9. Scott Fitzpatrick, Wheatland; 10. Matt Ryan, Davenport; 11. Darrel DeFrance, Marshalltown; 12. Craig Jacobs, Urbandale; 13. Cayden Carter, Oskaloosa; 14. John Emerson, Waterloo; 15. Paul Glendenning, Mount Ayr; 16. Tim Cooney, Corning; 17. Joe Zrostlik, Long Grove; 18. Curt Schroeder, Newton; 19. Andy Nezworski, Buffalo. 
First heat – 1. Holladay; 2. Fitzpatrick; 3. Callahan; 4. Neal; 5. McKenna; 6. Emerson; 7. Cooney. 
Second heat – 1. Bruening; 2. Aikey; 3. Zrostlik; 4. Guss; 5. Carter; 6. Schroeder.  
Third heat – 1. Ryan; 2. Dolan; 3. Glendenning; 4. Jacobs; 5. Nezworski; 6. DeFrance.