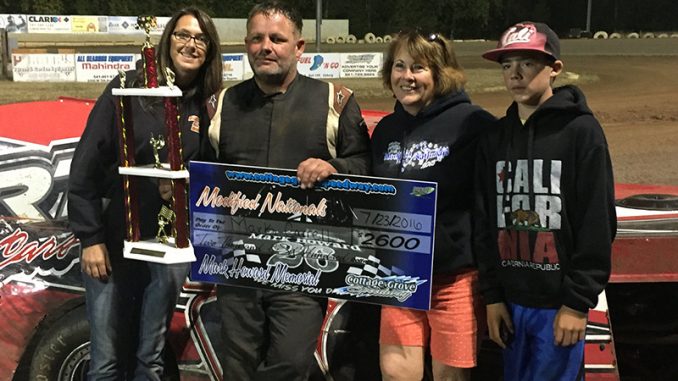 By Ben Deatherage
COTTAGE GOVE, Ore. (July 23) – Mark Carrell led the last 22 of 52 laps in winning Saturday's Mark Howard Memorial Modified Nationals at Cottage Grove Speedway.
The $2,600 Xtreme Motor Sports IMCA Modified victory put Carrell on the ballot for the 2017 Fast Shafts All-Star Invitational.
Craig Hanson took the lead on the opening circuit and stayed in front until lap 16 when Collen Winebarger finally found a way around.
The mandatory caution flew at lap 25 for refueling and Winebarger continued to set the fast pace after the restart, followed by Carrell and Craig Hanson.
Carrell made the pass around Winebarger and set a wicked pace, but a caution with five laps to go bunched everyone up for one final shot at the leader.
Carrell kept all challengers in check, however, and held on to win the Howard Memorial for the first time. Winebarger was second, followed by 24th starting Nick Trenchard, Jesse Williamson and Craig Hanson.
Feature results – 1. Mark Carrell; 2. Collen Winebarger; 3. Nick Trenchard; 4. Jesse Williamson; 5. Craig Hanson; 6. Brian Poppa; 7. Derrick Young; 8. Grey Ferrando; 9. Mark Wauge; 10. John Campos; 11. Bricen James; 12. Steven Sturdevant; 13. Justin Dittman; 14. Kyle Casson; 15. B.J. Wild; 16. Tyler Smith; 17. Curtis Towns; 18. Kevin Roberts; 19. Eric Ashley; 20. Shane Mille; 21. Kreg Britton; 22. Ethan Landers; 23. Jake Mayden; 24. Dustin Cady.