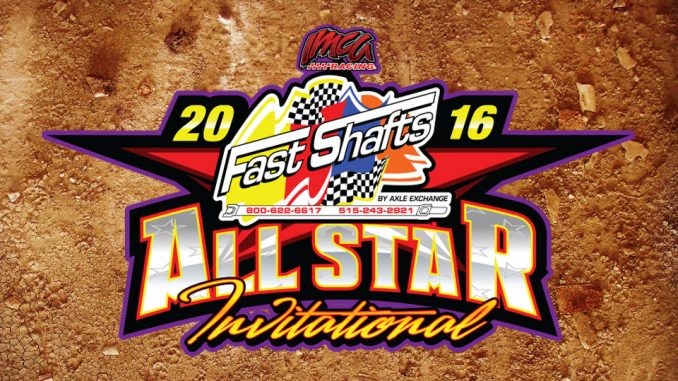 VINTON, Iowa – The first round of voting for the Fast Shafts All-Star Invitational begins Monday afternoon.
Two drivers from each of the five regions for Xtreme Motor Sports IMCA Modified regions will be voted onto the starting grid in electronic balloting that runs from July 25 through Friday, July 29.
Eighteen more starters will be elected at large between Monday, Aug. 1 and Friday, Aug. 5. Complet­ing the Friday, Sept. 9 All-Star field at Boone Speedway will be candidates with the high­est national point total and the most 40-point feature wins competing at the IMCA Speedway Mo­tors Super Nationals fueled by Casey's.
By home region, All-Star candidates now include:
Larry Shaw Racing Western Region – Randy Artz, Chaz Baca Jr., Hank Berry, Cody Burke, Kellen Chadwick, Zane DeVilbiss, Jake Donnelly, Ethan Dotson, Justin Elmer, Troy Foulger, Kyle Heckman, Bobby Hogge IV, Jake Holland, Eddie Kirchoff, Cody Laney, Ryan McDaniel, Lance Mari, Jeremy Meirhofer, Kenny Miller, Robert Miller, Matt Murphy, Jason Noll, Jeff Olschowka, Reed Payne, Jason Pike, Brad Pounds, Joey Price, Dusty Safley, Cory Sample, Robby Sawyer, Brian Schultz, Alex Stanford, Ramie Stone, Regan Tafoya, Wade Taylor, Nick Trenchard, Mark Wauge, R.C. Whitwell, Jesse Williamson, Alexander Wilson, Collen Winebarger and Justen Yeager.
Razor Chassis South Central Region – Dean Abbey, Dean Deming, P.J. Egbert, William Gould, Kevin Green, Matt Guillaume, Josh McGaha, Chad Melton, Kevin Sustaire and Keith White.
Jet Racing Central Region – Drew Armstrong, Steven Bowers Jr., Corey Burch, Tate Cole, Michael Densberger, Jeremy Frenier, Ryan Gaylord, Cody Gearhart, Troy Gemmill, Van Gemmill, Jordan Grabouski, John Hansen, Daryl Hay, Chris Heim, Jeff Hunter, Corey Lagroon, Hunter Marriott, Danny Morrison Jr., David Murray Jr., Mike Petersilie, Terry Phillips, Jesse Richter, Dylan Sherfick, Dylan Smith, Jeff Taylor, Cole Traugott, Danny Womack and Justin Zeitner.
BMS North Central Region – Chris Abelson, J.D. Auringer, Chad Bartel, Brandon Beckendorf, Jett Big Eagle, Kyle Brown, Clayton Christensen, Troy Cordes, Mark Dahl, Nick Deal, Corey Dripps, Tyler Droste, Josh Foster, Jimmy Gustin, Richie Gustin, Travis Hagen, Mike Hansen, Jesse Hoeft, Scott Hogan, Jeremiah Hurst, Brian Irvine, Jeff James, Wayne Johnson, Justin Jones, Justin Kay, Shawn Kilgore, Aaron Krohn, Benji LaCrosse, Adam Larson, Jeff Larson, Ronn Lauritzen, Colt Mather, Jeremy Mills, Mitch Morris, Brian Mullen, Mike Mullen, Jake Murray, Jay Noteboom, Justin Oestreich, Scott Olson, Travis Peery, Nick Roberts, Brandon Rothzen, Joel Rust, Ryan Ruter, Lucas Schott, Eric Scribner, Chris Schroeder, Kelly Shryock, Dustin Smith, Tony Snyder, Ricky Stephan, Shawn Strand, Ricky Thornton Jr., Matt Werner, Spencer Wilson and Jason Wolla.
Dirt Works Eastern Region – Jason Barnhill, James Cornell, Myron DeYoung, Mitchell Hunt, Keith Lamphere, Scott Sessions, Kyle Strickler, Kenny Wallace and A.J. Ward.