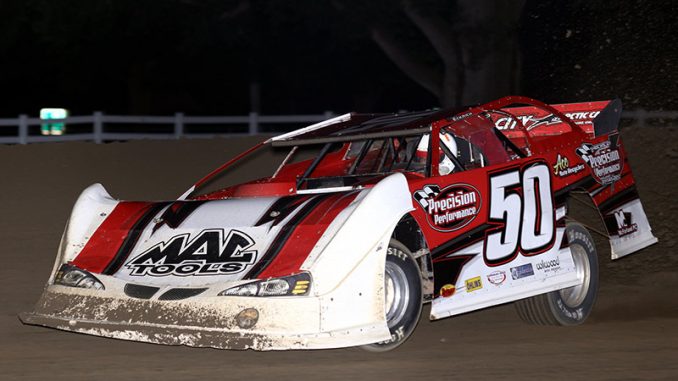 MAQUOKETA, Iowa (July 20) – After running three-wide for the lead, Denny Eckrich ran away with Wednesday's Deery Brothers Summer Series feature win at Maquoketa Speedway.
Eckrich battled Dan Shelliam and Luke Goedert for the lead before getting the front spot of the IMCA Late Model main event on the sixth of 40 circuits.
He'd be challenged up to midway. The last half of the race ran caution-free and Goedert was unable to catch Eckrich before the $2,000 checkers flew.
Point leader Jeff Aikey qualified out of the "B" feature, started 16th and finished third. Matt Ryan was fourth while Andy Nezworski, the "B" winner, completed the top five.
Eckrich drew the pole but it was outside front row starter Shelliam scored first across the line on each of the first five laps.
Shelliam brought out the first caution of the night after hitting an infield tire on lap 15. Three more yellows came out before midway but after that the green light stayed on and Eckrich motored away from the rest of the field.
He caught up with the back of the pack with three laps to go. Goedert closed before Eckrich stretched his advantage back to a couple car lengths.
The tour victory was the career fifth for Eckrich. He'd also topped the opening night event this season at West Liberty Raceway.
Winner of the $250 Sunoco Race Fuels feature qualifier drawing was Chad Holladay. Darrel DeFrance, making his 460th consecutive Deery start, lined up shotgun on the field and ended in 11th.
The 10th of 16 dates in the 30th annual Deery Series is Friday, July 29 at the Iowa State Fairgrounds. The main event pays $2,000 to win and a minimum of $300 to start.
Pit gates at Des Moines open at 4 p.m. and the grandstand opens at 4:30 p.m. Hot laps are at 6:30 p.m. with racing to follow.
Feature results – 1. Denny Eckrich, Tiffin; 2. Luke Goedert, Guttenberg; 3. Jeff Aikey, Cedar Falls; 4. Matt Ryan, Davenport; 5. Andy Nezworski, Buffalo; 6. Scott Fitzpatrick, Wheatland; 7. Tyler Bruening, Decorah; 8. Justin Kay, Wheatland; 9. Ryan Dolan, Lisbon; 10. Joe Zrostlik, Long Grove; 11. Darrel DeFrance, Marshalltown; 12. Dan Shelliam, Hazel Green, Wis.; 13. Chad Holladay, Muscatine; 14. Joel Callahan, Dubuque; 15. Jerry Miles, Bernard; 16. Stephan Kammerer, Blue Grass; 17. Jon Poll, Delmar; 18. Eric Pollard, Peosta; 19. Marty Scheckel, Long Grove; 20. Jon Merfeld, Dubuque; 21. Tyler Droste, Waterloo; 22. Don Pataska, Miles; 23. Curt Schroeder, Newton; 24. Richie Gustin, Gilman.
1st heat (top four) – 1. Merfeld; 2. Kay; 3. Pollard; 4. Shelliam; 5. Nezworski; 6. Poll; 7. Schroeder; 8. Aikey; 9. DeFrance.
2nd heat – 1. Bruening; 2. Zrostlik; 3. Scheckel; 4. Goedert; 5. Droste; 6. Kammerer; 7. Ryan Claeys, Grand Mound, Ill.; 8. Gustin; 9. Cayden Carter, Oskaloosa.
3rd heat – 1. Holladay; 2. Eckrich; 3. Dolan; 4. Ryan; 5. Pataska; 6. Fitzpatrick; 7. Callahan; 8. Miles; 9. Eric Sanders, Sherrard, Ill.
"B" feature (top 10) – 1. Nezworski; 2. Droste; 3. Pataska; 4. Aikey; 5. Poll; 6. Fitzpatrick; 7. Kammerer; 8. Gustin; 9. Schroeder; 10. Miles; 11. DeFrance; 12. Sanders; 13. Callahan; 14. Claeys; 15. Carter.